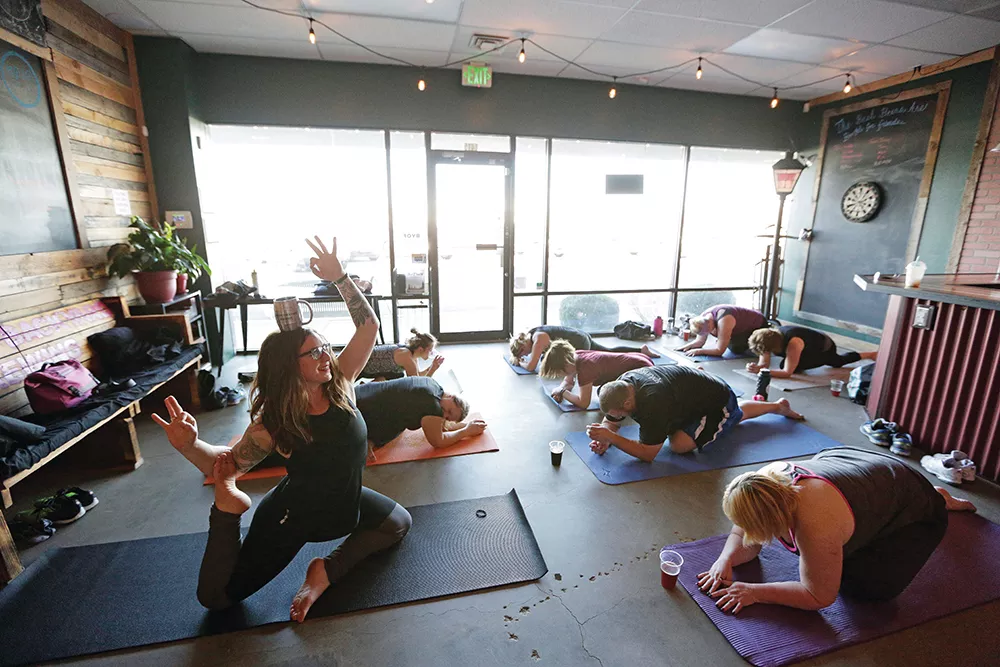 Maybe you're curious about yoga, but a little intimidated by the quiet atmosphere and 360-degree exposure of your body as you attempt to do unfamiliar poses. Maybe a whimsical pairing of yoga with something more familiar would offer an appealing and approachable introduction to the practice.
Enter mimoga — yoga with mimosas. Or how about boga, aka beer yoga? Maybe yoga with an animal partner sounds intriguing. All of those options, and more, are available right here in the Inland Northwest.
Despite the slight silliness, these types of classes often provide a fairly vigorous workout, and can help introduce newbies to the world of benefits that yoga offers. Several new students at South Perry Yoga, notes co-founder and instructor Shawn Brow, first tried beer yoga elsewhere, then signed on at South Perry for more in-depth pursuit of traditional yoga.
One popular combination is yoga with a beverage. Badass Backyard Brewing offers boga on Sundays from 12:30 to 1:30 pm at their Spokane Valley location. (A Coeur d'Alene location is in the works.) "Some of our customers report a relaxed atmosphere where they feel more comfortable, as opposed to a traditional yoga class," says owner and brewer Charlene Honcik, "and most importantly, the majority like the experience of something familiar done in a new and exciting way."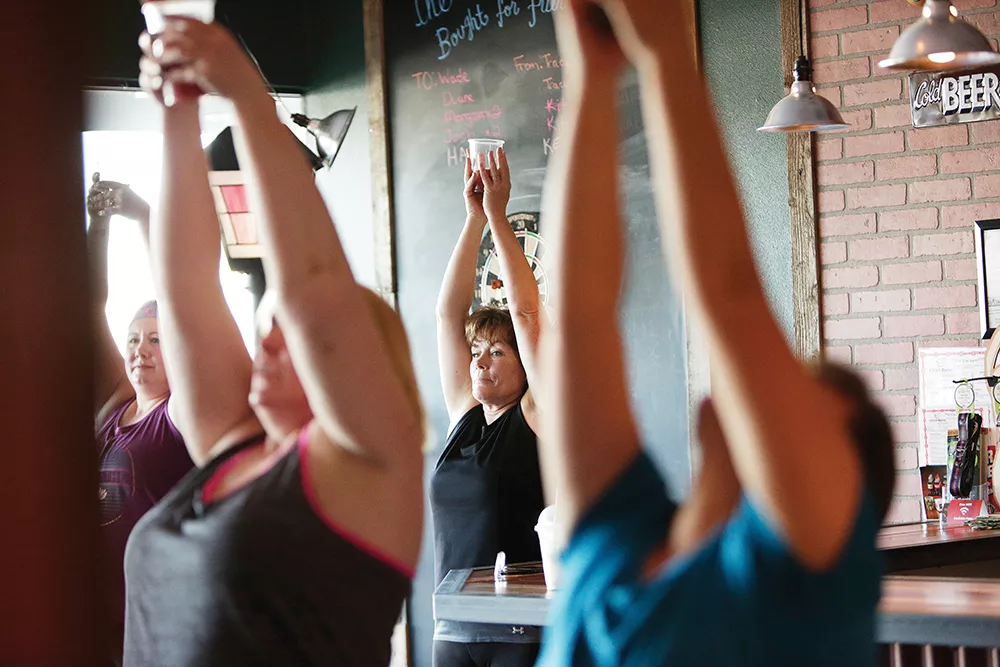 Badass teams up with Mellow Monkey Yoga Studio's Sara Murphy for the class. Murphy says she has fun with the poses, encouraging students to bend their arm and bring their drink closer to their mouth.
In Sandpoint, MickDuff's Beer Hall offers Saturday beer and yoga, where a beer (or root beer) is the reward for an hour of Vinyasa flow.
Yoga also pairs nicely with wine and champagne. Townshend Cellars has done several mimoga events at their Green Bluff tasting room, featuring fresh orange juice and their non-vintage Brut. Nectar has teamed up with Seattle-based yogi Taylor Apfelbaum, originally from Spokane, to offer Sips and Serenity, in which she balances meditative yin yoga and the more active Vinyasa flow style.
For a party-like atmosphere, check out the Union Studios, initially billed in Spokane as a hip-hop yoga and spinning studio when young entrepreneurs Nick Murto and Tyler Lafferty launched the first of two locations in 2014. The music is pumping and the black lights are on for an out-of-this-world yoga workout combining cardio and faster-paced Vinyasa flow.
"You definitely work up a sweat because it's warmer in [the studio] and you're moving a little bit quicker," says the Union's Elissa Wert, noting they've recently added a slower, more traditional-style class for beginners.
If you're interested in a restful experience, consider Yoga Nidra, which is a kind of semi-wakefulness or lucid sleep state achieved by focusing on breath, the body, emotion, energy and other aspects of self. During Yoga Nidra, participants lie face-up on the floor, guided by the yogi into deeper and deeper levels of relaxation through voice prompts, chanting, and even sound, such as ambient music, as well as gongs, rattles, chimes and singing bowls.
Usually made of brass or bronze, Himalayan or Tibetan Singing Bowls are actually upside-down bells played by striking or stroking the rim of the bowl with a special mallet, resulting in different harmonics and specific vibrations that resonate through the body.
"It's like having the best night's sleep you've ever had," says practitioner Lisa Koep. "You wake up feeling relaxed and refreshed... with a sense of pure joy with and around you."
South Perry Yoga, YogaJoy North and Harmony Yoga all offer Yoga Nidra sessions. Check out Dream Time Sound Healing Meditations, which holds sessions at Spokane Yoga Shala, as well as Dharma Sound Yoga for sessions combining yoga, sound healing and meditation.
If you're looking for an experience that is relaxing and fun without the alcohol, consider yoga with animals. At FatGirl Yoga, owner Stacey Sampson worked with Happy Heart Homestead in Deer Park, introducing baby goats to her regular yoga classes last spring.
"People who came to the classes were just enamored of them," says Sampson, who researched animal-assisted therapy prior to offering the class this past summer. (It was so popular she offered four additional classes, all of which sold out quickly.)
"What I really noticed, and the research lent to this experience," says Sampson, "is that the yoga part is important, but it's about the animal connection."
The diminutive Nigerian goats naturally jump on things, so as people are lying either on their back or stomach, the playful, lightweight goats are likely to jump onto them. They also get habituated to people and can be picked up, as well as given a good scratch behind the ears.
Sampson is looking forward to bringing goats into the studio again, most likely in early spring, when the next generation of kids are born and old enough to travel.
It's never too early to introduce actual human kids to the idea of yoga. There are a number of programs all around Spokane, including Beyoutiful Hot Yoga's Homegrown Kids program, which offers classes for toddlers on up to eighth grade (13- and 14-year olds).
"We have offered adult hot yoga classes [in a heated room] for almost five years now, and many of our clients have asked about kids' classes and/or classes they can attend with their kids," says studio owner Mimi Vimont, who also teaches many of the classes. "Other clients voiced that they were unable to participate in our classes due to lack of childcare. Instead of offering traditional childcare, we wanted to offer something more to our youth. Yoga!"
The classes are modified according to age grouping: 18 months to 3 years, 3 to 5 years, kindergarten-age to fourth grade, and fifth to eighth grade, as well as family classes. Kids' and parents' classes line up so adults can drop off potty-trained kids 3 and older to take their own class.
Through yoga-themed games, dancing and singing, kids not only learn body awareness, but Vimont says the practice helps them develop skills to manage stress, build concentration and "increase confidence and positive self-image [and] feel part of a healthy, noncompetitive group."
Yoga enthusiasts seem quick to embrace new opportunities and within a week of the grand opening of the Ice Ribbon at Riverfront Park, Yoga on Ice classes will debut. A complimentary ice yoga session will be offered every Tuesday from 5:30 to 6:30. Participants need to dress warmly, bring their own mats and arrive in time to fill out waiver forms before class starts. Enjoy a hot beverage and specials from event sponsor Athleta after each class. (No class on December 26.) ♦
---
CLASSES TO TRY
Badass Backyard Brewing
1415 N. Argonne, Spokane Valley
MickDuff's Beer Hall
312 N. First, Sandpoint
Townshend Cellars
8022 E. Greenbluff Rd., Colbert
The Union Studios
121 W. Pacific, Spokane
7704 N. Division, Spokane
South Perry Yoga
915 S. Perry, Spokane
Yoga Joy North
12501 N. Division, Spokane
Harmony Yoga
1717 W. 6th, Spokane
Spokane Yoga Shala
731 S. Garfield, Spokane
FatGirl Yoga
1512 N. Monroe, Spokane