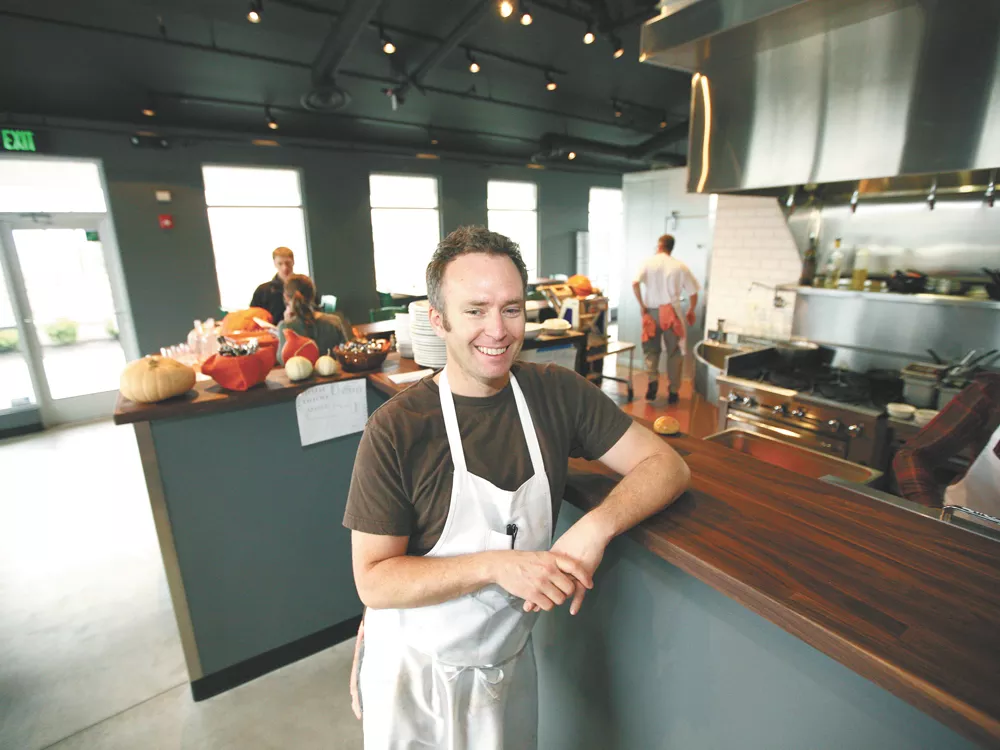 His restaurant has been open for just three weeks, and David Blaine is already getting hassled.
It started with the name — Central Food — a name that he says a lot of people can't seem to say without tacking an "s" on the end.
"I've had three people tell me that already I should change my name," says Blaine, the restaurant's chef-owner. "People say it sounds like a grocery store, and I go, 'No, it sounds like a ghetto grocery store. The kind of place that underage kids go to buy beer. 'Go to Central Foods, they don't care how old you are.'"
Blaine chose a name that was practical. Utilitarian — like the solid wood tables that dot the dining room space, the boring salt and pepper shakers that he says no one will steal and the plain white coffee mugs.
"There's nothing in here that wasn't pragmatically chosen," he says, looking around the airy space.
But there are other things about Blaine's new restaurant that might confuse those same name-critics. Little things — like the fact that you won't find traditional soda on the menu, or that the restaurant doesn't stock ketchup, only romesco — that set the restaurant apart.
And then there's the location: Central Food is the first established business in Kendall Yards, a district on the north bank of the Spokane River that's mostly just dirt piles and construction equipment today. It's in an area that appears to confuse some mapping websites, but it's a spot that boasts the best views in the city.
Though there are things that might make Blaine an outlier, the location isn't one of them. It's one that fell into his lap. After being contacted by Jim Frank (CEO of Greenstone, who is developing Kendall Yards) about opening a restaurant, Blaine couldn't refuse.
"After the meeting I came over to the site and I was like 'goddamnit. I don't want to work this hard.' But how do you say no?" he says. "It was going to kill me to do it, physically and mentally. But it was going to kill me emotionally to not do it."
Opening wasn't an easy process: Blaine says Central Food's opening was delayed for two years because of a need for streetlights or phone lines or a number of other infrastructural issues.
"I have been the pioneer out on the prairie, taking the arrows," he says.
But it gave him time to obsess over what this place could be. Blaine knew that to open the restaurant he wanted, he would have to shatter some people's expectations.
"When you put a brand new building in a million-dollar location, everyone is going to expect it to be pretty fancy," Blaine says. "And we were like, 'Oh, hell no.' I do not want to be a fancy restaurant."
"I get nervous about raising people's expectations. I don't think there's any value in it," he says. "So you come up with a name like Central Food — we use the word food.
"You will eat here, you won't dine here. Central Food lowers your expectations."
It's on the plate that Blaine hopes expectations rise.
The breakfast, lunch and dinner menus offer accelerated versions of dishes that people already love. At breakfast, there's a two-egg plate ($9) — served with house-made bacon and sausage — and French toast ($8). But there's also a breakfast pot pie ($9). At lunch there's a Saganaki sandwich ($9): olive oil-fried kasseri cheese with arugula on a homemade baguette. There's a hamburger at dinnertime, chicken and dumplings, slow-cooked pork roast, flat iron steak. Central Food bakes its own bread for purchase, too.
After working in restaurants around the Northwest for the past 25 years, Blaine is confident that this is food that people will want to eat again and again. It's not a place that fusses over presentation or trying too hard to impress. At lunchtime, the Violent Femmes and Bauhaus play over the restaurant's speakers. And as Blaine, in a T-shirt and a plain white apron, talks, his eyes track a server carrying a burger from the kitchen to a diner.
"It's a burger on a plate," he says, pointing. "When it's over you're gonna like it or you're not gonna like it. … What I can't do is pretend that you eating the food is about me in any way. It's not about me."
It's about you wanting to eat this food, he says. And it's about the connections you make while you're doing it.
"I like restaurants as a place where people interact," he says. "I tell you, I get all giddy inside when I see someone walk in the door and they see someone they know.
"It's like," Blaine pauses and jerks his fist down, "Nailed it."
Central Food • 1335 W. Summit Pkwy • Open weekdays 7 am-9 pm, weekends 7 am-10 pm • centralfood.net • 315-8036