Over the years, I have visited dozens of ski resorts around North America. At almost all of them, there's a core group of riders who ski together, and they usually have nicknames for their group like the Rat Pack or the Skittles.
One group that has etched a spot in my mind is the Red Dog Squad who ride Lookout Pass. This group of six skiers are some of the most technical skiers I have ever come across. I guess the technical part comes easy when many of them are certified ski instructors.
The Red Dog Squad is the brainchild of Tom Melhuse and Josh Christopherson who came up with the name one summer and eventually went so far as to have patches made. Red Dog is one of their favorite runs to ski and train on at Lookout Pass.
Melhuse, from Missoula, is the "captain" of the Red Dog Squad and, at 73 years old, Tom still knows how to bend a ski. His power, finesse and technical skiing skills make the young guns green with envy.
Husband and wife Josh and Kelli Christopherson come from Hamilton, Montana; Geraldine "Gez" Schneider, a transplant from Scotland, has made Coeur d'Alene her home; Todd Lund, with more than 30 years of instructing, is also from Coeur d'Alene. Last but not least is Lookout Pass marketing director Matt Sawyer.
Most days on the mountain you can either find this elite group skiing Lookout's infamous powder or instructing. One thing that makes this crew so special is the fact that they're always honing their ski skills and pushing each other with training exercises to become better ski technicians. This year some of them have stepped away from the instructional teaching aspect to simply enjoy skiing, plain and simple.
Josh, who's a level three alpine instructor, has 42 years of skiing under his belt. His background from ski racing, moguls and all-mountain skiing made his transition into ski instruction an easy one.
"I enjoy sharing knowledge and I like the challenge of finding different ways to communicate with different people," he says. "I love it when you see the lightbulb click on for people and they start having more fun."
Josh's wife, Kelli, who moved from Alabama to Montana for school, has only been skiing for 18 years. I guess when you have a "techie" ski technician living under the same roof, it's pretty easy to improve quickly.
Slow Start
With the latest dump of snow, and more in the forecast, most trails and chair lifts are open at our local mountains. Check their websites for the latest conditions. Despite the relatively late start, operators remain optimistic about the rest of ski and snowboard season.
With a sarcastic grin, Gez jokingly refers to Kelli as the rebel: "Kelli is the only one in the squad who has refused to become an instructor. As Josh's wife, we tried to recruit her for many years to become an instructor, she almost did. There's days she whispers, 'Let's go play,' and we'll head off into the trees to hit the untouched powder."
For Gez, skiing has been in her blood since a young age. "I first skied in Aviemore, Scotland, at 3 years old for a Christmas vacation," she says. "Then, as teenagers, we did family ski holidays in France, Italy, Austria and Switzerland."
Hooked on skiing, Gez wanted to live in a ski town, so at the age of 20, she came to America and started her dream in Park City, Utah, and eventually made her way to Coeur d'Alene in 1997.
It took Gez eight years to go from a Professional Ski Instructors of America level one to a certified level three instructor. It was hard work, she says.
"It took me three years and four attempts to pass my L3 skiing," she says. "I passed my teaching and written exam the first time, but my skiing was not good enough on the steeper pitches. It was Josh and Tom who took me under their wing and coached me to finally pass."
Both Matt Sawyer and Todd Lund have been involved in the ski industry for decades.
Matt started off in the industry back in 1983 as a ski instructor in Pennsylvania. Five years later he moved into ski resort marketing, which Matt has been doing for over 30 years and over that span, he earned his level three certification. Three years ago, Matt made the move from the East Coast to North Idaho to run Lookout's marketing program.
Todd started skiing on a tiny ski hill near Lake Chelan, which only had three rope tows. Over his life span, he attended the Mission Ridge Ski Academy, raced at the collegiate level and instructed at Mount Bachelor, Big Sky and Lookout Pass.
From all of their backgrounds, it's easy to see that the Red Dog Squad does not take their skiing lightly. They're still constantly training and running drills with Josh and Tom being the drivers.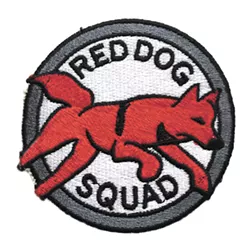 "Tom has over 55 years of experience to share with us from his lifetime of coaching and instructing," Gez says, "and Josh just loves 'geeking out' on body mechanics and cause and effect. We do line drills together, leapfrogging so we can observe one other. Some days we just go rip on carving skills, some days we focus more on movement drills trying to improve on a skill and then on powder days Josh leads us into the trees or bumps, showing us how it's really done."
All of these skiers have the skills to instruct at the mega resorts with the top instructors, but they all like to call Lookout Pass home.
For Josh it's the down-home feel he remembers as a kid: "It is a nice, small mountain feel which is what I grew up with. Awesome snow, fun terrain and great people — it makes me feel at home"
Now for Gez, it's more about the people: "I've skied a number of places and Lookout is where I call my home mountain. The snow quality is the best, but it's the people who have become my family that adds true joy to my life. I look forward every November to being reunited with my winter friends. Our Red Dog Squad is spread out over 250 miles away from each other, living in Idaho and Montana. Lookout Pass is what brings us all together to do what we love to do." ♦