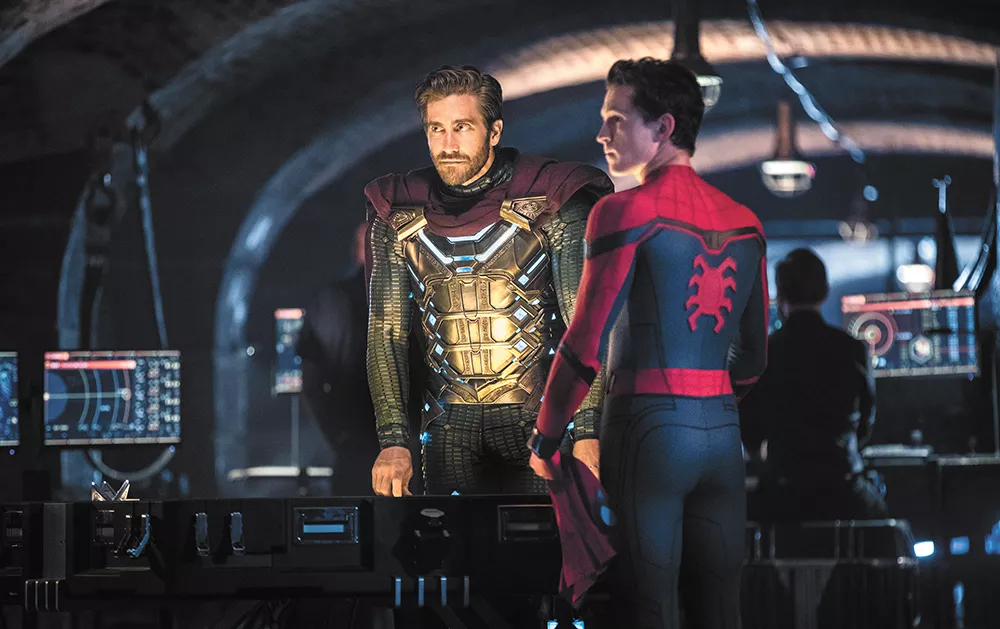 Being a teenager is tough enough already, what with the hormones, crushes, school drama and societal pressures. Throwing in a spell of nonexistence, the death of a mentor and the power to defend Earth? Well, safe to say it might drive one to crave a vacation from it all.
Enter Spider-Man: Far from Home.
Set shortly after the seismic events of Avengers: Endgame, Peter Parker (Tom Holland) must adjust to a world where he's no longer literally dust in the wind. He (and, conveniently, all the important people in his life) reappeared five years after Thanos wiped out half the universe's population — an event referred to as "the Blip." Stressed out by the intergalactic battling and pressure for Spider-Man to step into an Iron Man-esque superhero role, Peter is really looking forward to putting the hero business aside on a class vacation to Europe, where he'll hopefully have the chance to spend some time with his crush, MJ (Zendaya).
That all gets torn asunder when elemental monsters start attacking major cities, continually thwarted by a new Dr. Strange-like character named Mysterio (Jake Gyllenhaal). Soon, Nick Fury (Samuel L. Jackson) recruits Spider-Man to help fight these creatures alongside Mysterio by rerouting his school trip to important destinations.
Far from Home makes the struggle of Peter's internal life more the focus than the world-destroying baddies, which works in its favor after Marvel's decades-spanning parade of world-destroying baddies. The burden of Tony Stark's trust in the friendly neighborhood web slinger, including Stark's A.I. global defense system EDITH, is palpable via Holland's performance. And the film's thematic wrestling with who we should trust and what we should believe resonates in 2019.
The film's comedic voice might actually surpass that of its predecessor, Spider-Man: Homecoming, which is quite the accomplishment. Holland's knack for awkward teen humor brings out Peter's nerdy quirks, and Jacob Batalon is once again a beacon of glee as Peter's bestie Ned (his romantic storyline is a delight). Credit to the returning team of director Jon Watts and screenwriters Chris McKenna and Erik Sommers for having a deft enough touch to make scenes like melodramatic in-memoriam packages or a potential drone strike on a bus of high schoolers into comedic set pieces. Adding the clearly mutual crush between MJ and Peter provides an additional energy that manages to be both believable and funny due to the nervous chemistry both actors create.
Based solely on what is presented on screen, Mysterio is a great character thanks to a fantastic performance by Gyllenhaal, who just oozes charisma as he buddies up to Peter Parker. Unfortunately, the character's flaw is one of personal history for Marvel fans. I envy filmgoers who have no knowledge of Mysterio from other Spider-Man properties: They're in for a treat that's simply not possible for an informed viewer.
And while Gyllenhaal is magnetic, the real star of Far from Home is the digital effects team. It's an achievement to stand out from other Marvel movies in terms of special effects, but this whole movie feels like a flex for those computer wizards. The action scenes dazzle in a way that belies some other Marvel features where the battles are actually the least thrilling parts. And while Peter swinging around Venice sans Spidey suit is an underrated visual treat, Mysterio's illusion-based battles provide the real showoff sequences, especially a jaw-dropping, mind-bending one in the latter part of the film.
Far from Home can't quite match the near perfection of Homecoming, but it still successfully checks all the action and comedy boxes you'd want from a summer blockbuster. It's a strong first step for the post-Endgame Marvel Cinematic Universe, and the post-credits scenes — perhaps the most shocking and storyline-important ones in any Marvel movie to date — set up a truly wild future for the MCU. ♦