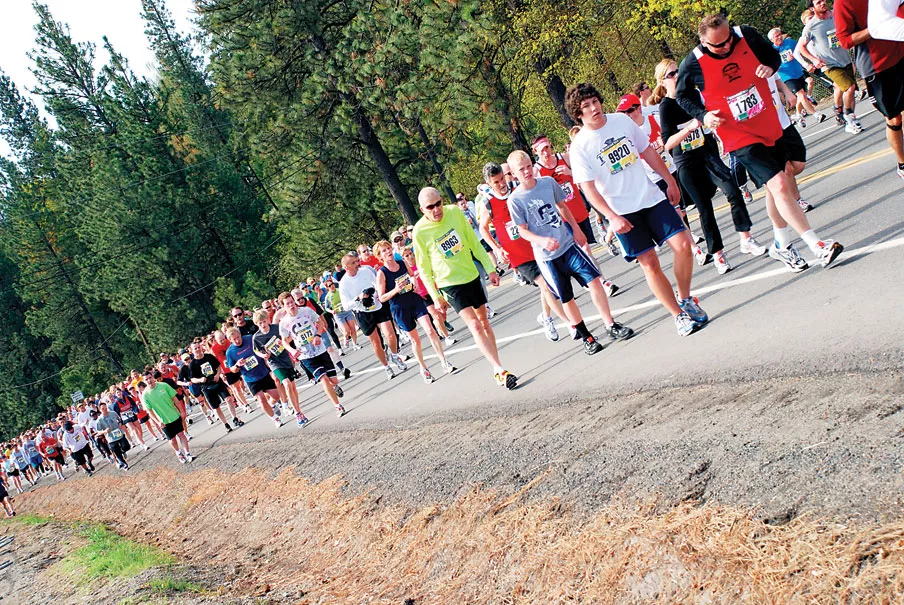 Drunk on the haze of heat and sweat and wheezing and lactic acid, muffled by the swarm of the shuffling crowd beside him, you don't notice the click-click of the camera taking your picture.
You aren't an elite runner by any means. (Let's be honest: You're an aging middle-of-the-pack schlub, happy just to be jogging the whole way without stopping.)
But 10 hours later, your image briefly flashes on a screen in Dallas-Fort Worth, in a 100-foot-square room packed with 40 desks, 40 computers and 40 workers. One of those workers quickly pecks out your race number onto a 10-key number pad.
The next day, back in Spokane, you log onto bloomsdayrunphotos.com, type your last name into a search field — and up pops your own personal Bloomsday gallery. There you are at Mile One and Mile Three. There you are wiping sweat off your grimacing face while crossing the T.J. Meenach Bridge; there you are with a determined glare atop Doomsday Hill. Finally, there you are, near the finish, mere seconds from vomiting all over Monroe Street.
You're the star of eight or 10 Bloomsday pictures. From there, if you want, you can order dozens of copies of any given photo. You can plaster your pained face on a poster, a key chain, mug, a mouse pad or even a soccer ball. You can get your race number etched into a commemorative plaque beside a framed photograph.
And so can every single one of the other 50,000 runners.
This is the work of Brightroom Event Photography. They're the massive operation that photographs the New York City Marathon and the Nike Women's Marathon, and now, for the first time, Bloomsday.
Come Sunday, Brightroom's team of 35 professional photographers swarms Spokane. Bob Badalucco, a freelance photographer from Florida, will camp at an iconic location of the race, photographing everyone from the fastest Ethiopians to stroller-pushing soccer moms. A chopper, rented from Inland Helicopters, will buzz above, while Orlando-based photographer Cleave Frink leans out and clicks photos of the Bloomsday throng below. When their shutters finally go silent, they'll put more than 200,000 Bloomsday pictures online.
For the past three years, Sean Walkinshaw, Brightroom sports account manager, has attempted to woo Bloomsday. Brightroom wants to be the contracted photography service for the largest marathon in the country, the largest half marathon, and the largest 10-kilometer race. And since Bloomsday is one of the biggest 12-kilometer races in America, Brightroom wanted Bloomsday.
The pitch to the Bloomsday board of directors sold it. Brightroom bragged about its unprecedented image count, and promised a 24-hour turnaround time.
"It just seemed like they're able to capture so many photos with people at so many places, we thought people would really like this," race director Don Kardong says. "They seem to have a really good handle on not interfering with race operations. That was really important to us."
The sweetener: A percent of the profit from every Brightroom Bloomsday image sold goes back to Bloomsday. That could be a significant amount of revenue, Kardong says.
For a Brightroom photographer like Badalucco, the challenge is to ensure photo quality.
"When you're shooting a race, it's like an assembly line," Badalucco says. "[But] hundreds of thousands of people have my work on their wall or on their desk. Personally, when I'm shooting, I try to keep that in mind."
But from the helicopter, Frink says, getting a great shot is just a matter of asking the pilot to hover in the right spot. "It's easier to get something wonderful, if you can get off the ground," Frink says.
The instant Bloomsday ends, the Brightroom team has to rush its external hard drives, stuffed with pictures, back to their Dallas-Fort Worth headquarters. Time is ticking to meet their 24-hour-turnaround promise. Eighty percent of the photos are manual data-entry. Workers see a picture, read the race number, and type it in — 160,000 times.
"The faster you can sort, as you go through the images and ID them, the more you get paid," Walkinshaw says. "It's almost like a big sweatshop… It's not something you want to make a career out of."
The other twenty percent of the pictures get an assist from the Bloomsday microchip. The personal timing chip automatically matches with the timestamp of the photograph.
In another part of Brightroom headquarters, any image purchased is professionally touched up. After that, it can be used on, well, essentially anything. It's up to the runner.
"It used to be, 10 years ago, nothing was personalized," Walkinshaw says. "Everything is now."
On Monday, visit bloomsdayrunphotos.com to find pictures of yourself, prices and ordering details.