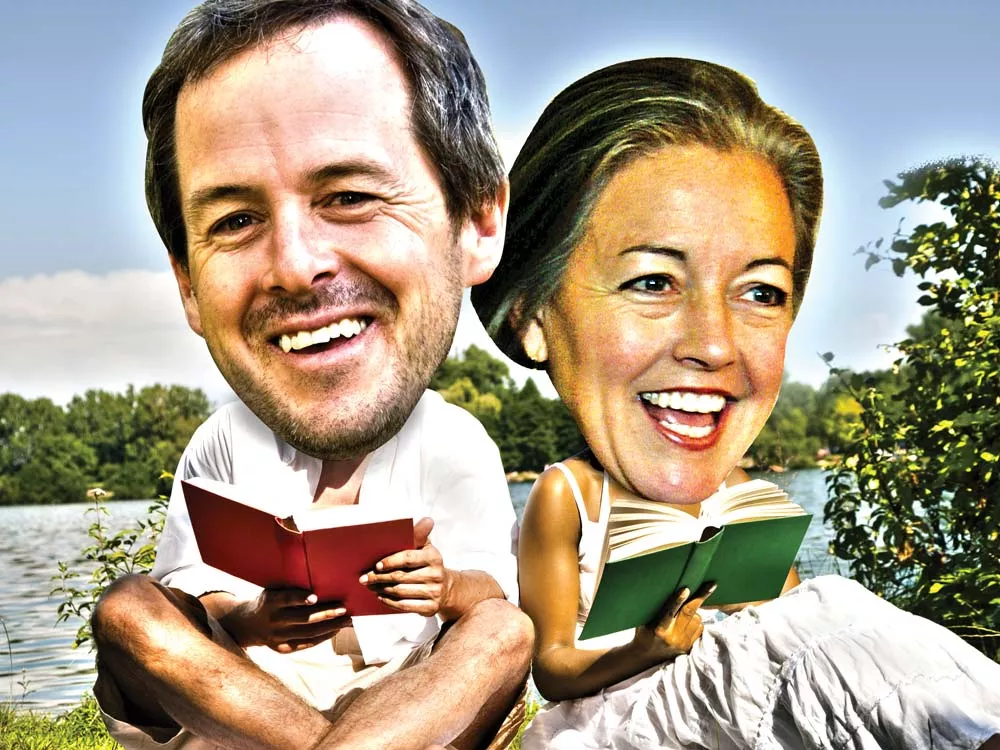 Theology, political theory, doorstop biographies ... those are the books of drizzly autumn nights. On lazy summer afternoons, what you want is to cuddle up with an escapist book, curl your toes in the lakeside sand and get lost.
Here are suggestions for recent and soon-to-be-released books in variety of summer-escape genres, along with a peek at the tottering piles of tomes on some local folks' nightstands. (For upcoming books, publication dates are specified.)
Mystery
SKYJACK: THE HUNT FOR D.B. COOPER, by Geoffrey Gray (Aug. 9)
It's been 40 years since an as-yet-unidentified man jumped off the rear stairs of a Boeing 727 with $200,000 in cash and into a nighttime rainstorm somewhere near Mount St. Helens. Gray surveys the suspects and describes the many lives that Cooper contorted.
The Snowman, by Jo Nesbo
Norway's answer to Stieg Larsson: A little boy's mother has just died — and somebody just made a snowman in his front yard ... facing back at the house, and wearing his mother's scarf.
Murder One, by Robert Dugoni
A Seattle lawyer defends a revenge-minded fellow attorney for murdering the Russian drug lord who done her wrong.
Sci-Fi
ROBOPOCALYPSE, by Daniel H. Wilson
In the near future, our cell phones, ATM machines, traffic lights and animatronic dolls will conspire to murder us all. Comparisons have been made to the likes of Asimov, Heinlein and Crichton; Wilson, who lives in Portland, has a doctorate in robotics; and Spielberg has optioned it with himself as director.
The Wake, Watch, Wonder trilogy, by Robert J. Sawyer
After an eye operation, Caitlin Decter can visualize all the Internet's connections. But is Webmind benevolent — or a worldwide threat?
The Steampunk Bible, by Jeff Vandermeer
From Jules Verne to The League of Extraordinary Gentlemen, an illustrated guide to mashups of 20th-century technology with a Victorian sensibility.
"Summer" Chick Lit
THE SUMMER OF US, by Holly Chamberlin
(Three strangers — one's rich, one's engaged, one's from a small town — wonder about finding Mr. Right over several weekends in a rented beach house on Martha's Vineyard)
Summer Rental, by Mary Kay Andrews
Three friends — one's insecure, one's been betrayed, one's just been fired — interact with their landlord (so handsome!) and a woman on the run, this time on North Carolina's Outer Banks
Summer Secrets, by Barbara Freethey
Dad and his three teen daughters won an around-the-world sailboat race, but now Dad's drinking too much and a reporter's prying.
Fantasy
Miss Peregrine's Home for Peculiar Children, by Ransom Riggs
George R.R. Martin is dominating the lists, with his fifth Ice and Fire novel, A Dance with Dragons, set to appear on July 12. But for another side of fantasy, try Riggs' debut novel: Grandpa has died after a lifetime of telling occult stories, and now his grandson travels to a remote island in Wales, where things start to get creepy. (The accompanying photos may be even creepier.)
The Last Werewolf, by Glen Duncan (July 12)
What if you thought your species, on the very brink of extinction, might be better off just vanishing? And then you find out about the powerful groups that will stop at nothing to keep you alive ....
Historical Fiction
THE JEFFERSON KEY, by Steve Berry
For Dan Brown and National Treasure fans: There's a centuries-old conspiracy to assassinate more U.S. presidents than you may realize, with a major clue in the text of the Constitution! Oh, and the conspirators are pirates.
Caleb's Crossing, by Geraldine Brooks
An American Indian attends Harvard in the 1660s while local Calvinists assume he's still just a savage.
Doc, by Maria Doria Russell
Wyatt Earp and Doc Holliday when they were just starting out in Dodge City

What's On Your Nightstand?
MARY VERNER
Mayor of Spokane
Her Honor doesn't have much time for leisure-time reading, but when she does, her idea of a classic is Don't Stop the Carnival, by Herman Wouk (in which a middle-aged New Yorker runs away to a Caribbean island). She also considers anything written by Sherman Alexie a classic. (Apparently, her opinion of The Absolutely True Diary of a Part-Time Indian is a bit higher than that of the Richland school board.)
JEN MENZER
Manager, Boo Radley's
"Patricia Briggs, Silver Borne. It's the fifth book in the Mercy Thompson series. It's set in Kennewick and Spokane, and it has a good heroine. She's a shape shifter - she can change herself into a small coyote. I just like books where the woman gets to be a badass, you know? She gets herself into fights with witches and fairies and werewolves - she sticks her nose in it. She's got moxie. I read some historical stuff, too, but mostly I read to escape. Why would I think when I want to relax?"
KAREN MOBLEY
Spokane Arts Commission
"I just finished a wonderful book about meteorites, by Christopher Cokinos, which is called The Fallen Sky: An Intimate History of Shooting Stars. This is a delightful book with a balance of history, science and memoir. I particularly enjoyed learning about his adventures in Antarctica looking for meteorites.
"I have four new ones in the stack - Conversations with Martin Scorsese by Richard Schickel, Between Grace and Fear: The Role of the Arts in a Time of Change, Walking in Paris, and The Help."
GREGORY SPATZ
Professor and Director of EWU's Inland Northwest Center for Writers
On top of Spatz's pile: Radiance, by Louis B. Jones, which is "seemingly about death and madness and physics, so far. Nobody writes quite like him. Brilliant, precise and lyrical." Next, The Hair of Harold Roux, by Thomas Williams, a book about a professor writing a novel within a novel, "which I'm re-reading after 20 years to see if it still knocks me out. So far, yes."
Spatz also lists a few old-favorite novels, including Jon Williams' 1965 work, Stoner, about an English professor whose wife tries to undercut his love of literature, and Hard-Boiled Wonderland and the End of the World, by Haruki Murakami, in which a man receives a replacement consciousness and struggles to regain his identity.
TOD MARSHALL
English professor and poet, Gonzaga University
Marshall just finished In the Lake of the Woods, by Tim O'Brien ("excellent but unsatisfying — the premise of the unknowability of the other, even the beloved, tied to an open ending, frustrated me"). Marshall's also reading The Voice That Is Great Within Us, an anthology edited by Hayden Carruth: "A great overview of American poetry, with sampling from lots of different types of poems," he says. Next in line: The Practice of the Wild by Gary Snyder - essays about respect for wildlife and the environment.
JON SNYDER
Spokane City Council
Snyder loves his graphic novels: In particular, he recommends Artichoke Tales, by Megan Kelso, and Richard Stark's Parker: The Outfit, by Darwyn Cook.
Snyder also recommends City Rediscovering the Center, by William White: "It's a fascinating book about cities and how they're built. There are parts about how pedestrians experience a street and how light is dealt with in a city. There's a whole chapter about steps and entrances - little things that people wouldn't think about, but when they're put in a book like this, they're just fascinating. I love looking at the possibilities to make the city better."