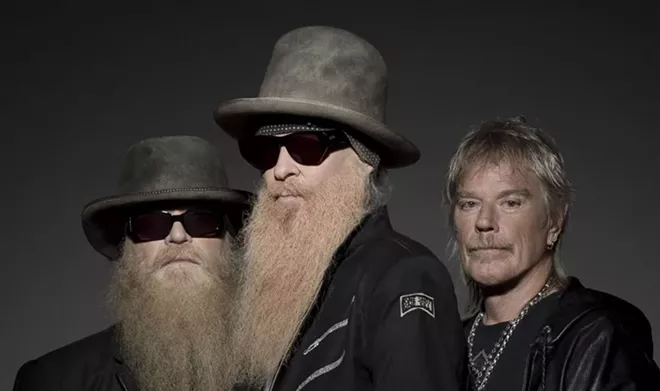 Z
Z Top announced Thursday
afternoon that an illness for drummer Frank Beard meant the band had to cancel four shows at the front end of the band's American tour celebrating their anniversary.
That includes the show scheduled for Northern Quest Resort & Casino on Saturday, Aug. 17. The venue will be issuing refunds automatically to ticket holders.
None of them will be more disappointed than me, because while I was looking forward to seeing the trio for the first time in about a decade, I also had already interviewed ZZ Top leader Billy Gibbons for a story in next week's
Inlander
. Oh well.
You, though, as someone who clicked on this post, can now see the gems of homegrown humor and thoughtful responses that Gibbons delivered to my questions! Here's the interview that will now never be in the paper:
INLANDER: Fifty years together as a band is pretty incredible, especially with the same lineup. What is it about the combination of yourself, [bassist] Dusty Hill and [drummer] Frank Beard that let ZZ Top stick together and keep kicking ass through all the changes in the music biz?

GIBBONS: Not really a secret, and if it is, it's not one that we've kept well: We have a grand time doing this without a reason to stop. When we get to a venue, it's like a reunion of long-lost friends. Who doesn't like hanging out with a bunch of friends, turning it up and playing loud?
If I only had one album to introduce to someone who's never heard ZZ Top, which would you recommend and why?

That would, I suppose, be Tres Hombres. The first two tracks, "Waitin' For The Bus" and "Jesus Just Left Chicago" are, in essence, an unexpected composite as a result of a glorious mastering error. There's another couple good'n's, "Beer Drinkers & Hell Raisers," and "Precious and Grace," which Clutch had the good sense to cover recently. The band's first top 10 hit, "La Grange." Not to mention the gatefold photo spread featuring that sumptuous chile pepper feast of fine Mexican cuisine. It checks a whole lot of boxes.
Your guitar sound is both distinct and obviously vital to the band's sound. Was there a particular player or record that inspired you to really dig in to that instrument?

Ah, yes… the guitar. It started with bearing witness to a recording session with B.B. King when I was 7 or 8. My Dad, the consummate entertainer, led me into that momentous hour and I knew what I had to do: Spank that plank! There were many who came afterwards, the other "Kings," Albert, Freddie, and, of course, Muddy Waters, who had that ominous electrified sound all his own. As far as particular recordings, it's a toss-up between Jimmy Reed's "Big Boss Man" and Freddie King's "Hideaway" — a great couple romps most assuredly!
Music videos and MTV helped ZZ Top reach a whole new audience with its '80s-era albums. Did someone have to talk you guys into making videos, or was it a process you enjoyed and embraced?

We were totally into it. We thought it best we be mostly ghostly, on the edge of the narrative action. In a way, we became spectators in our own videos, kind of like a rock 'n' roll Greek chorus.
ZZ Top has been synonymous with Texas for pretty much your whole 50 years as a band. How do you think Texas fueled the ZZ Top sound at the band's beginning, and what kind of inspiration do you find from the state all these years later?

All three of us grew up in different parts of the Lone Star State, yet we heard the same sounds from the super, high-powered "border blaster" stations down Mexico way. Those late night blues and loads of R&B hits. Part and parcel of the art of recorded sound. There was also the great Texas sonic ritual of Lightnin' Hopkins. And, for that matter, Johnny 'Clyde' Copeland, B.J. Thomas, Roy Head, Van Cliburn, the 13th Floor Elevators, well… make that, tons of others to clear the path.
You've made a couple solo albums the last few years. What inspired you to work outside the ZZ Top world on new music, and are there plans for new ZZ Top in the near future?

It's the move made out of curiosity and a sense of experimentation. With the blessing of Dusty and Frank, those works extend the legacy. As far as the future is concerned, there's this 50th anniversary tour, following the release of a feature-length documentary film, continuing with something from studio. We're juggling as fast as we can!