Annual Manual is the insider's guide to living in the Inland Northwest, published by the Inlander. If you're new to the area — or even lived here your whole life — this guide is your essential source to... everything. Keep it all year long, and use it to plan Date Night, discover the hottest boutiques, sample the region's booming beer scene or take advantage of the biggest cultural events in the coming year.
click to enlarge
Find your copy of the 2014-15 Annual Manual at one of the thousand locations you find the Inlander every week. Free while quantities last!
Inside the magazine:
Annual Report
Transportation, housing, employment, health care — the Annual Report covers the nuts and bolts of life in the Inland Northwest.
Education
Kindergarten through law school, our new Education section covers trends in learning and provides a snapshot of the many educational opportunities in the Inland Northwest.
Food
From soup to nuts, or boutique butcher shops to Thai cuisine, let our Food section be your guide to eating out in the Inland Northwest. You'll find more than 300 restaurant listings in these pages.
Nightlife
It's all about the beer in the Inland Northwest. Let our Nightlife section be your guide to the 24 breweries that make up this Land of Suds. If beer's not your thing, find your scene with our bar listings, and get up to speed on karaoke and comedy nights.
Shopping
We're keeping it local in our Shopping section. Locally made purses. Locally made jewelry. Locally crafted soap and candles. Not to mention 145 local boutiques, furniture stores, pet shops and toy stores.
Recreation
Need help getting off the couch? Our Recreation section will connect you to the resources you need to explore the Inland Northwest. Running clubs, kayak outfitters, bike clubs and tennis leagues — they're all in there.
Arts
Our Arts section opens with the Must-See Shows of the 2013-14 arts season. It takes you on a walking tour of some of Spokane's greatest sculptures and introduces you to five writers who've made Spokane a real page-turner.
Family
Yes, some of the best things in life, and the Inland Northwest, are free. Let this section be your guide to Free Family Fun, family-friendly dining, turn-key birthday parties and more.
Directory
Sync your calendar with ours. Annual Manual's directory features a region-wide events calendar and a local directory, connecting you to the people, companies and resources you need in the Inland Northwest.
---
Previous issues of the magazine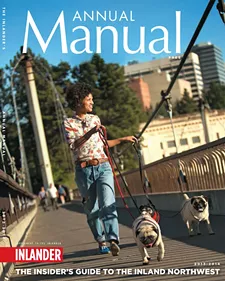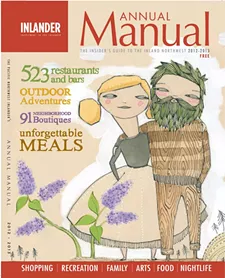 To submit story ideas, email [email protected] To request additional copies for recruiting or relocation packets, contact [email protected] For advertising information, contact [email protected] All contents of this magazine are copyrighted @ Inland Publications, Inc. 2014