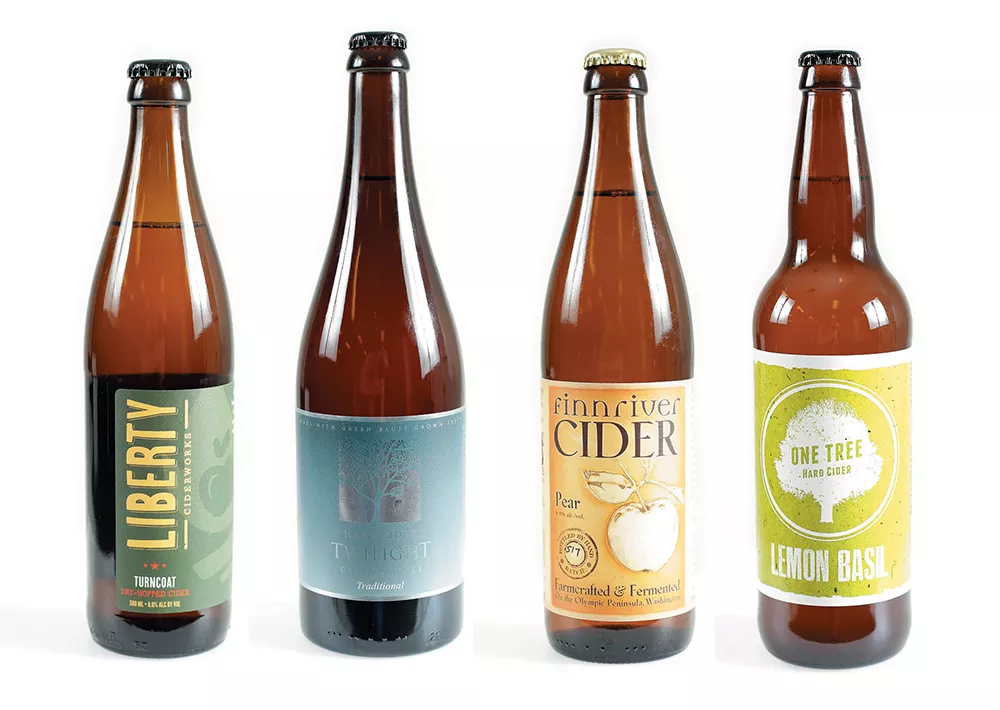 While Washington's craft breweries seem to be having their moment in the spotlight, the state's growing number of hard-cider producers is also deserving of adulation. Here's a tasting guide, broken down by style, to sampling some of the region's best cider:
DRY
Turncoat Dry-Hopped Cider
Liberty Ciderworks, Spokane
Adding European hops to this American apple-based cider gives it big citrus aromas and flavors with a bright finish. 8.5% ABV
Golden Delicious
Washington Gold Cider, Chelan, Wash.
Light and crisp with just a slight touch of sweetness in the finish, this is a thirst-quenching cider. 5.5% ABV
SEMIDRY
Traditional
Twilight Cider Works, Mead, Wash.
Striking a balance between dry and sweet, this cider is full-bodied and has a rich apple flavor. 6.9% ABV
Wild Washington Apple Cider
Tieton Cider Works, Yakima, Wash.
This cider has tropical fruit aromas and slightly tart, green apple and citrus flavors. 6.9% ABV
SEMISWEET
Thai Ginger
Locust Cider, Woodinville, Wash.
A complex cider with earthy and ginger-spice flavors, balanced with apple sweetness. 5% ABV
Pear Cider
Finn River Cidery, Chimacum, Wash.
Made from a blend of dessert apples and organic pears, this cider is bright, with a touch of earthy pear flavor. 6.5% ABV
SWEET
Lemon Basil
One Tree Hard Cider,
Spokane Valley, Wash.
Lemonade-like tartness paired with apple sweetness and a touch of herbal flavors in the finish makes this cider a unique, delicious and refreshing beverage. 6.5% ABV
Mischief Maker Pomegranate Cranberry Cider
Schilling Hard Cider, Seattle
This full-bodied, fruit-forward cider combines sweet, fruity and cranberry-tart flavors into a tasty drink. 6.6% ABV