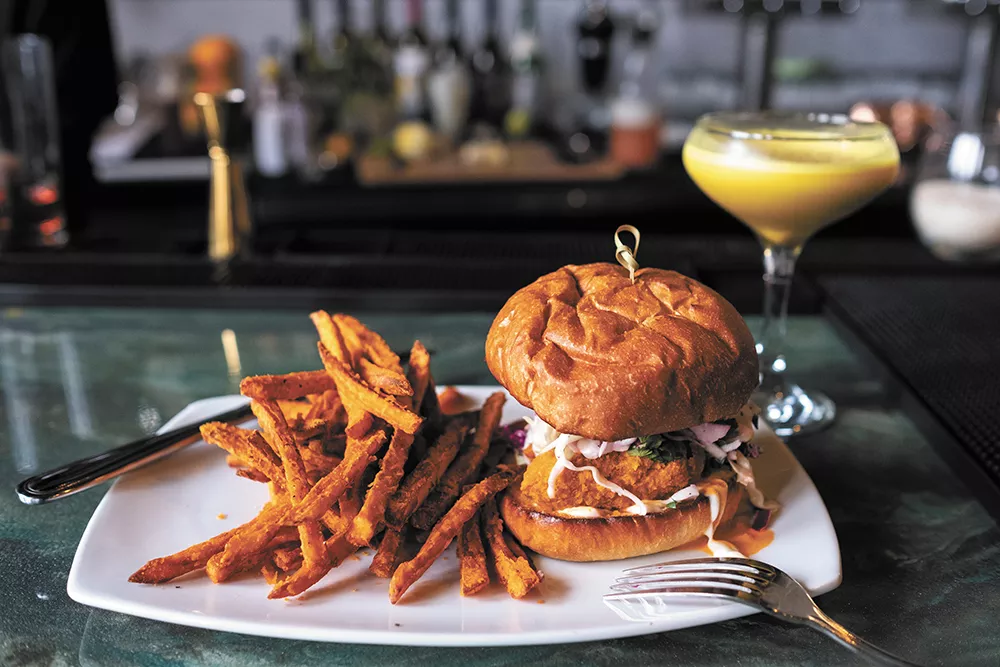 If you're vegan in Spokane, you're well aware of the drool-inducing pumpkin waffles with chai "butter" at Boots Bakery & Lounge. You've already devoured a pizza or hearty brunch at Allie's Vegan Pizzeria & Cafe. Vegan Spokanites also know that Main Market Co-op and Huckleberry's both carry non-dairy yogurts. Mizuna, Wild Sage and Queen of Sheba are all well-loved spots for meatless celebration dinners and fancy dates.
But what if fancy isn't in your budget? What if you're a vegan lunching with someone who'd rather eat chicken than chickpeas? Conversely, what if you're a beef lover who's in love with a hardcore vegan? Fear not, because here we're rounding up several Spokane restaurants that offer delicious compromises and not-so-obvious vegan options.
Lucky You Lounge
How do you create a menu that's diverse enough for a bar, a restaurant and a music venue, all while catering to different dietary restrictions? For Lucky You Lounge chef Josh Grimes, starting with a foundation of vegetables and vegan ingredients is a great start. Lucky You's counter-service menu, available from lunch time through late night, makes clear which dishes are gluten-free or vegan. Not to be confused, the "veg" notation on the menu here means a dish is truly vegan, like Grime's popular green curry with potatoes, zucchini, spinach, kumquat relish and tofu (those who eat meat can order it with chicken). Savory shiitake dumplings served in a black vinegar broth, also stand out on the appetizer section. 1801 W. Sunset Blvd.
Rüt Bar & Kitchen
Newcomer to the local dining scene as of spring 2019, Rüt on the lower South Hill is a safe place for all vegans, as the restaurant's entire menu is plant based. Owners Josh Lorenzen and Justin Oliveri, both practicing vegans, opened Rüt to fill a need for more vegan-friendly restaurants in the area. Rüt's menu consists of less than 20 items, but offers a range of textures and flavors, including several dishes that convincingly mimic animal-based ingredient counterparts for those dining with omnivores. The comfort food-inspired truffle mac has coconut "bacon bits," broccolini, bread crumbs and chili flakes. Another standout is the fried "not-chicken" sandwich, consisting of a plant-based chicken substitute made from vital wheat gluten, or seitan. It's breaded and topped with coleslaw, Buffalo sauce and vegan ranch-mayo. 901 W. 14th Ave.
Garageland
Garageland serves plenty of vegan fare, but meat's on the menu, too, and most appetizers can be made vegan by simple omissions or substitutions. Ask for a vegan version of any burger and the kitchen will send you a falafel patty instead of beef. Garageland also does cruciferous vegetables justice. Their Buffalo cauli — hunks of cauliflower treated like Buffalo wings — boasts a golden tempura coating that gives way to tangy, creamy white sauce inside. Its crispy, tender texture and spiciness make dipping sauce truly optional. Garageland's pad thai fries, meanwhile, are a zippy, peanut-topped innovation. The house fries, hand-cut daily and served with curry ketchup, are great, too. 230 W. Riverside Ave.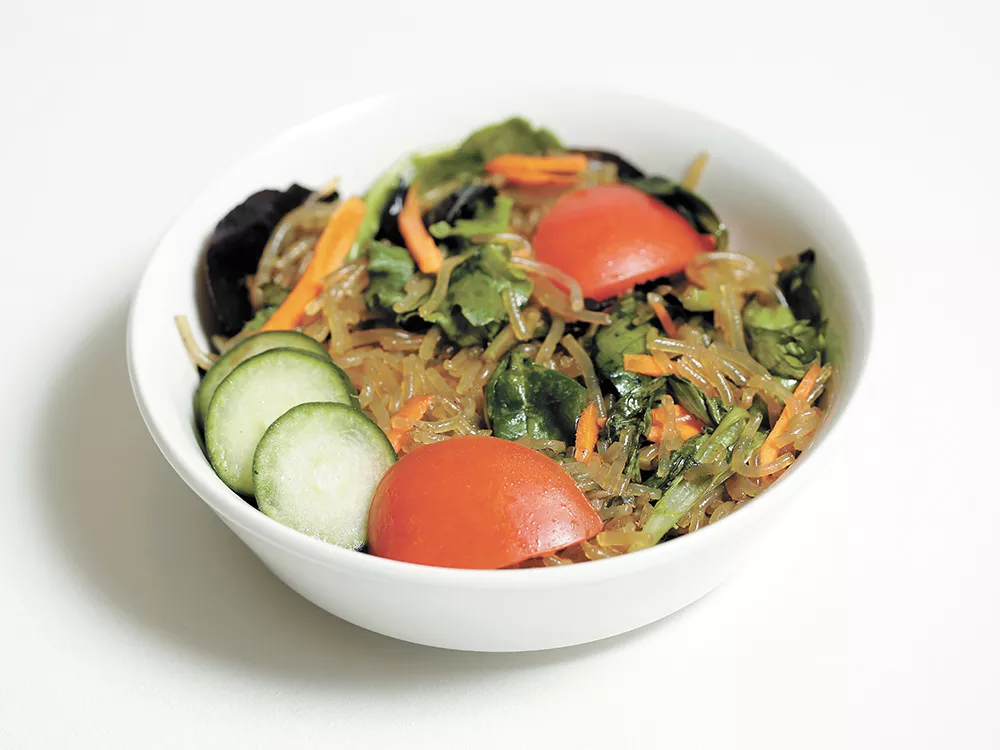 Ephata Cafe
With an emphasis on fresh ingredients and a large dispenser of cucumber-lemon ice water in the corner, Ephata feels a little like a health spa. The eclectic food menu includes Korean dishes, pastries, meaty croissant breakfast sandwiches and avocado toast. Vegetarians will find plenty here, and vegans can sub tofu in many dishes. For a late lunch, try the mung bean pancake, a crispy vegetable pancake that's more of a savory omelette than a sweet flapjack. The chewy pancake comes with salty-sour sauce flecked with sea vegetables. Thin strips of carrots, napa cabbage and protein-rich sprouted mung beans made the dish filling, but not too heavy. 1908 W. Northwest Blvd.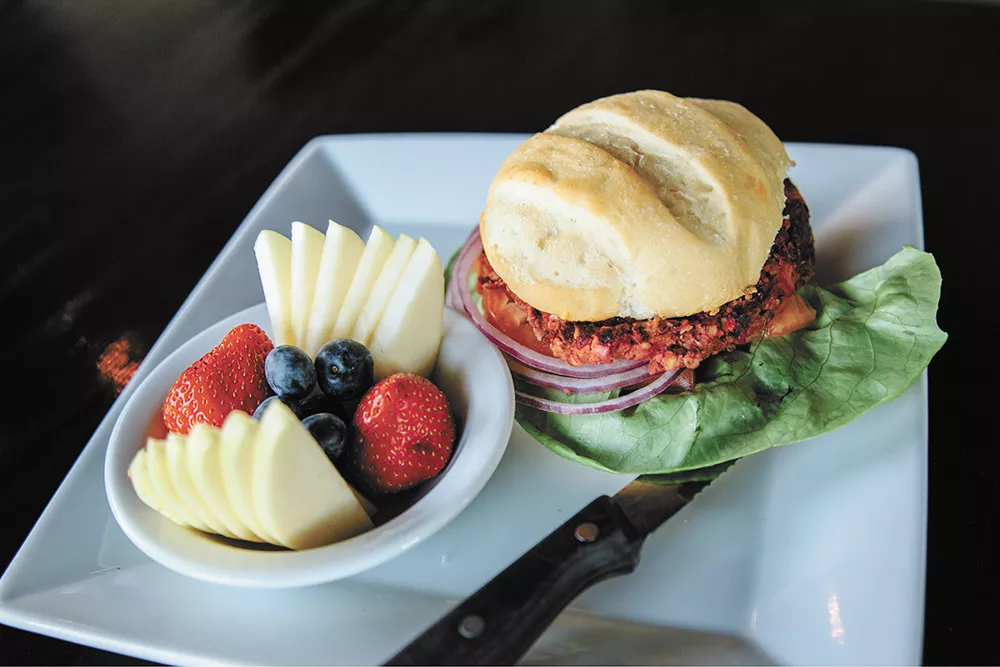 Cascadia Public House
Cascadia's vegan chef and co-owner Justin Oliveri (co-owner of the aforementioned Rüt) is the culinary force behind the many dairy-free and meatless choices on the menu at this casual neighborhood establishment with flat screens tuned to ball games. From cheeseless curry mac to three types of meatless patties, Cascadia's menu features many plant-based possibilities for both meat and cheese. The pub serves both the Impossible and Beyond Meat burgers, two heavily hyped vegan patties designed to turn meat eaters on to plant-based eating habits. A heaping plate of Cascadia's cashew queso nachos is more than enough for two people. And while vegan cheese is hard to get right, Cascadia's nutty, scratch-made cashew cheese is impressive. 1908 W. Northwest Blvd.