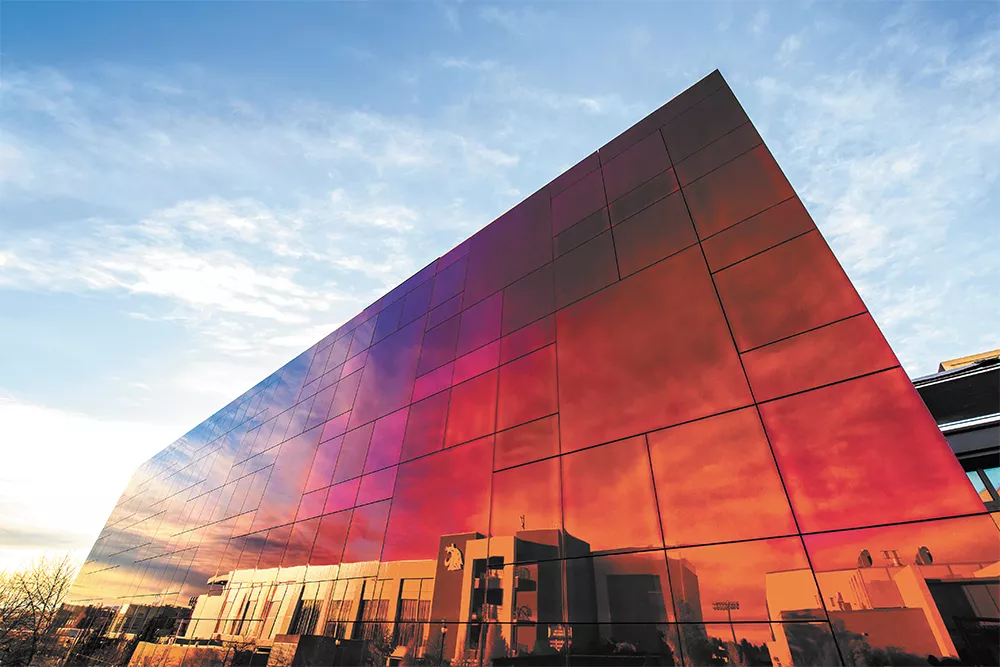 The Inland Northwest is home to several universities and colleges, each of them dedicated to showcasing the arts in myriad ways, whether through live performances of student dance, theater and music groups, or by hosting stunning visual arts displays from across the globe.
Here are a few of the highlights of the 2019-20 school year that everyone — student or not — should make a point of experiencing:
Hit the Myrtle
Gonzaga University opened its stunning new Myrtle Woldson Performing Arts Center in the spring of 2019 with the perfect introduction, a production called A New Season that blended work by student dancers, musicians, singers and actors. The $30 million, 52,000-square-foot structure is a monument to the collaborative spirit exemplified in that show, and the university plans on using the Myrtle for all manner of student productions, as well as touring events. Among the events scheduled for the 2019-20 season are the Gonzaga Wind Ensemble Concert (April 22), two nights of the musical Considering Matthew Shepard (March 28-29), Gonzaga's always-stirring Candlelight Christmas Concerts (Dec. 7-8) and the Gonzaga Symphony Orchestra Concert (Nov. 25). Visit gonzaga.edu/myrtle-woldson-performing-arts-center to see all they have to offer.
Cultural Coexistence
Makoto Fujimura was born in Boston and spent most of his childhood in his parents' native Japan before returning to the states as a teenager. His art education follows his upbringing, blending fine art and abstract expressionism learned in America with traditional Japanese painting techniques learned at the Tokyo National University of Fine Arts and Music. Gonzaga's Jundt Art Museum is showcasing a series of his large-scale paintings taken from his Silence & Beauty Series in a show called Makoto Fujimura: Silence-Mysterion. Running from Sept. 7-Jan. 4. Visit gonzaga.edu/student-life/arts-culture/jundt-art-museum to see the year's complete schedule.
Gleam the Cube
The Jordan Schnitzer Museum of Art WSU is quite a mouthful of a name for the stunning museum that opened on Washington State University's Pullman campus in the spring of 2018. So we're thankful for the Crimson Cube nickname that is both easier to say, and an apt description for the building exterior that makes it easy to spot for visitors or students. In its first year the museum showcased everything from sound installations to video art, pop art to a celebration of the Crow's Shadow Institute of the Arts on the Confederated Tribes of the Umatilla Indian Reservation. The 2019-20 season offers ever-more-impressive shows, and Polly Apfelbaum: Atomic Pinwheels and Other Mysteries from the Collections of Jordan D. Schnitzer and His Family Foundation, running through March 14, 2020, might be the perfect start of the new season. This colorful show of more than 60 complex works on paper is the first exhibition dedicated solely to Apfelbaum's printmaking, and navigating the three galleries dedicated to her work should be a treat. There's plenty more happening at the Crimson Cube, though; visit museum.wsu.edu to see their entire schedule.
Cheney Sights
The EWU Downtown Student Gallery unfortunately closed its doors in the summer of 2019, but thankfully there's still the EWU Gallery of Art located in the campus's fine and performing arts complex. The space has an intriguing 2019-20 season, starting with the work of sculptor Rob McKirdie (Oct. 2-25), whose work often employs found objects, and painter and installation artist Resa Blatman (March 11-April 24, including an artist lecture April 11). Visit sites.ewu.edu/artdepartment for their full schedule.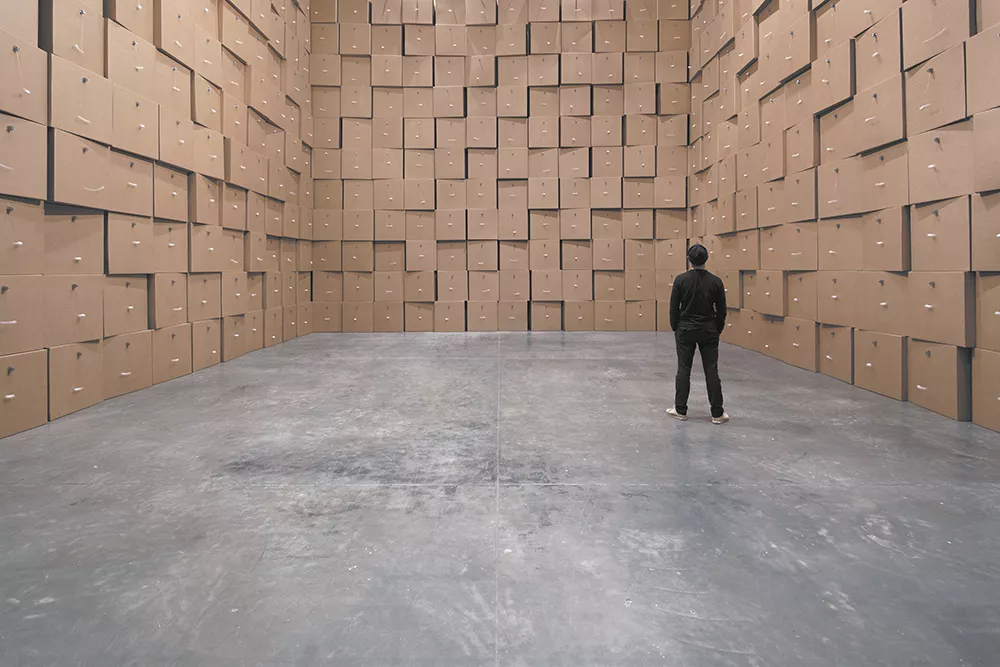 Sound Decisions in Moscow
Running through Sept. 22 is the University of Idaho Prichard Art Gallery's most ambitious show ever, a site-specific sound installation by renowned Swiss artist Zimoun (yes, he's an artist with one name, so you know he's a big deal). He uses everyday industrial items to create his pieces, a "reference to the chaos of the modern day," and his Prichard show uses no less than 618 motors, more than 800 meters of rope, 172 boxes, 341 sticks and more. It really needs to be seen — and heard — to be believed. Visit uidaho.edu/caa/galleries-centers-and-labs/prichard to see the gallery's full schedule.
Jazz Up
Jazz fans from throughout the region will descend on the University of Idaho campus in Moscow for the Lionel Hampton Jazz Festival (Feb. 28-29, 2020), which somehow manages to cram more than 400 student performances, nearly 100 workshops and clinics and dozens of visiting guest artists into two days of world-class jazz. In 2020, vocal powerhouse quartet Vertical Voices will be one of the headliners.
School Pride
Whitworth University's Bryan Oliver Gallery has a schedule full of its own alumni for 2019-20, a strong indication of the kind of talent that comes through the small campus in North Spokane. Among the featured artists are multidisciplinary artist Matthew Whitney (Nov. 12-Jan. 24), whose work includes "drawing, painting, photography, collages, video interventions, walking performances, technological experiments, and contemplative silence," according to his website. Learn more about Whitworth's season at whitworth.edu/academics/art/bryan-oliver-gallery. Whitworth's Theatre Department is taking on Shakespeare, and taking their show to the Bing Crosby Theater stage, with a production of A Midsummer Night's Dream Oct. 11-13.