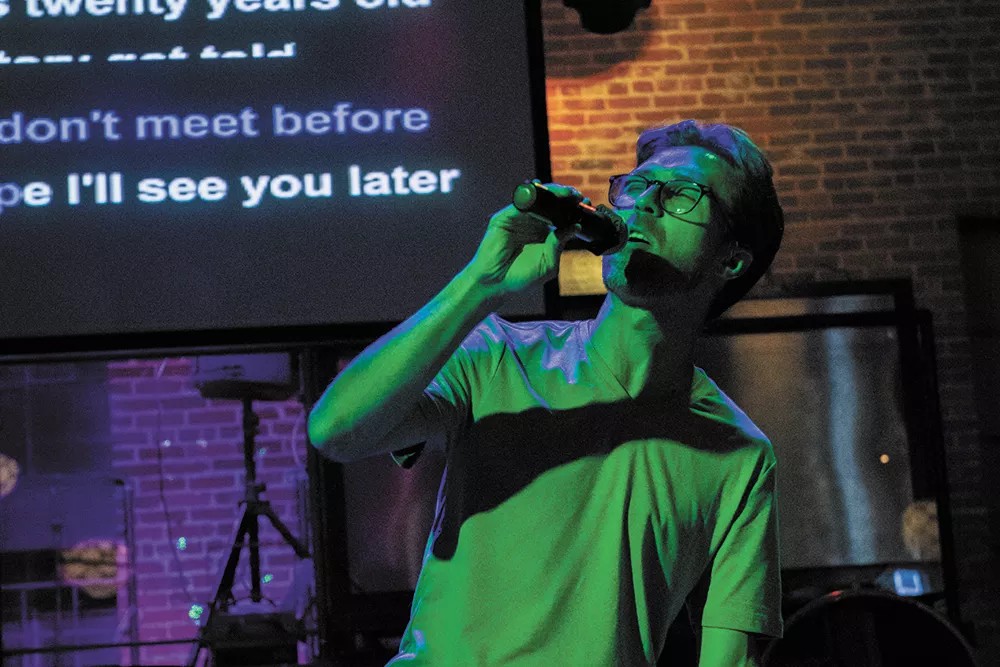 It's been said that the only definitive way to get a musical earworm unstuck from your head is to actually sing it. But sometimes it's not enough to merely belt it out while you're in the shower, or to put it on the car stereo and crank the volume up all the way. No, sometimes you need an audience.
Here's a rundown of some of the best karaoke spots in the area, where you can live out all your American Idol fantasies.
Monterey Cafe 9 N. Washington St. Every night, 9 pm
This is the go-to downtown spot for karaoke, and it's particularly a destination in the summer when the bar's garage doors open up onto the street. You can pick up a mic every night, if you have the urge to get a party started on a weekday.
nYne Bar 232 W. Sprague Ave. Wednesdays, 9 pm
People take their karaoke seriously at nYne. Every Wednesday night, you can expect to hear faithful renditions of beloved Disney songs and show tunes in between the Top 40 pop hits.
The Rock Bar and Grill 13921 E. Trent Ave., Spokane Valley Wednesdays, 7 pm; Saturdays, 9 pm
This Spokane Valley bar hosts biweekly karaoke nights, as well as a "mystery song" giveaway: If you perform a designated tune based on a prescribed set of clues, you can win cash prizes.
Boombox Pizza 221 N. Division St. Tuesdays and Fridays, 9 pm
The downtown bar and pizza place is '90s-themed, though its karaoke songbook is more extensive than that. Stay on brand by paying tribute to the pictures of luminaries like Kurt Cobain and the Notorious B.I.G. on the walls.
Corby's Bar 2828 W. Seltice Way, Post Falls, Fridays and Saturdays, 8 pm
This Post Falls spot promises an extensive karaoke catalog and short rotation times, so ideally you're not waiting for hours in between songs.
219 Lounge 219 N. First St., Sandpoint Tuesdays, 9 pm
The 219 in downtown Sandpoint offers a diverse lineup of live music most nights of the week, and they break that up with weekly karaoke on Tuesdays.
The Roxie 5201 N. Market St. Wednesdays, 9 pm
You can do a whole lot at this spacious Hillyard neighborhood watering hole — play arcade games and beer pong, take in live music and dance to DJs. Wednesday nights are when the karaoke fans take over, and take advantage of the bar's weekly whiskey specials.
Also Try: The Star Bar, Hogfish Bar CDA (Coeur d'Alene), the Iron Horse Restaurant (Coeur d'Alene)