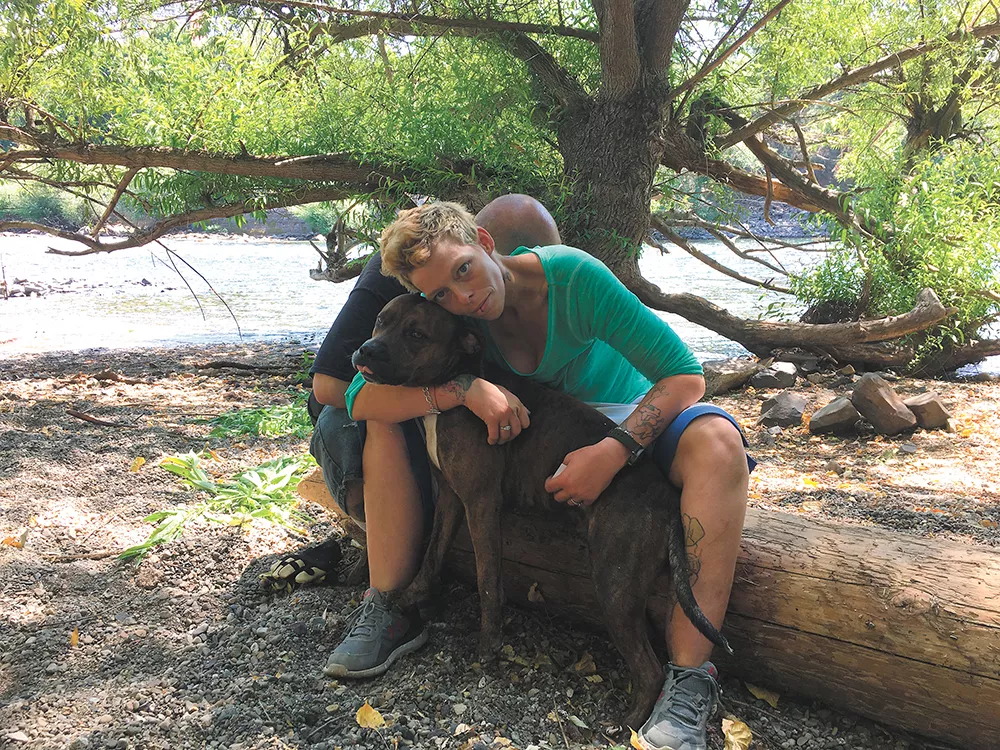 Just below a hip wine bar and an artisan pizza joint, and below the boutique shops and high-end condos in the booming Kendall Yards neighborhood, sits Destiny Brown's camp.
The homey space is decorated with wind chimes, a homemade bee trap and a smear of peanut butter hanging from the branches.
"There's a little baby porcupine that comes around," Brown says. "He likes the peanut butter."
She lives here on the north bank of the Spokane River with a handful of other people, and her dog, Mister. The site is tidy except for the tennis balls and a chew toy spilling out of Mister's doghouse.
Brown's red tent is hidden from sun and prying eyes under a canopy of driftwood and branches. She has been homeless for the past few years, and in that time she's learned to disappear. When you're homeless, people can tell. They stare. They judge. Even other transient people will steal her stuff — or worse. The police are constantly on her ass to pick up and move, she says. Here, she's finally found a place where only a few know she exists.
But after two months of invisibility, she's got a new problem. A KHQ TV reporter is standing on the other side of the river, mocking her and the other six people at the camp. In a live Facebook video, reporter Peter Maxwell calls their camp a "little Spokane Riviera Country Club," and speculates that one man stole a pair of football shoulder pads. He tells viewers that he's called the city's code enforcement to ask what they can do to "evict these people out from this camp."
Brown stays hidden while Maxwell films, but later she says it's just one more reminder of their status as a spectacle — as second-class citizens. Maxwell didn't bother to talk to her or the others, Brown says. If he had, he would have learned her story, why she's homeless, and how she's struggled to climb back on her feet.
"Maybe they should try and put their feet in our shoes," she says. "See how well they would do."
Brown is from Pennsylvania, Ashley Moore is from Portland and Dustin Earwood, the man they call "Country," is from South Carolina.
Each one of them will tell you how they ended up here.
Brown "went a little crazy" after her mother died. She started hitchhiking across the country and got stuck in Spokane. She's addicted to drugs, she says, and has been trying to quit.
"That's part of the reason why I'm down here," she says.
She also has three kids, and has been entangled in a custody dispute for the past few years.
Earwood says he moved to Washington state for the legal marijuana. He prefers the outdoors to shelters.
Moore also struggles with addiction. She came to Spokane for treatment. It's an ongoing battle.
"I'm just trying to live," she says. "I don't ask for handouts, and I'm not up there going through people's garages, stealing shit. I don't believe in that. None of us believe in that."
In the video — since deleted — posted to KHQ's website last week, Maxwell explains that it was too dangerous to lug 50 pounds of equipment down to the camp. His news director, Traci Zeravica, says they looked into the camp after a viewer whose apartment looks down on it called the station.
"I'll take ownership for this," Zeravica says. "The reporter was flip. It was based on how the tip came in to us, and I think he's learned something from it."
Two days after the segment aired on KHQ, two Spokane police officers gave Brown and the rest of the people living by the river three hours to pack up and leave.
"If you want to get a job and get a piece of property and make your own kingdom, that's your right," Officer Dale Wells tells one of the men living there. "At some point you have to take responsibility, but we can't let this become a transient camp."
The police are gone, and Brown begins to pack her things. She knows she can't carry everything.
"I'm spending most of my time trying to hide from the police or making sure my shit is concealed so that we don't get chased off," she says. "We're constantly having to move. I don't know what we did to people to piss them off, but we're not all that way. We're not."
Days later, the tents are gone, and so are the people. Now, the site is littered with clothes and blankets they couldn't carry. Mismatched shoes, a skillet and spatula and a half-bottle of Maker's Mark bourbon are scattered across the ground.
The rotting eggs left behind emit a horrible stench, and fastened to the tree that once shaded Brown's tent is a notice from the Spokane Police Department.
"It is unlawful to reside on and store personal property on City of Spokane property," it reads. "You are hereby advised that you have 48 hours to remove your property by order of the City of Spokane."
A list of shelters and social services centers is at the bottom.
The land wasn't this filthy when the homeless people lived here. Walter Vielbig, one of the men who camped here, has found another spot elsewhere in the city. He says he saw Brown at the House of Charity recently, but doesn't know where she's staying now.
Before they were kicked out, Brown told the Inlander that she's been on the waiting list for low-income housing for two years. She checks in with Spokane Neighborhood Action Partners weekly. So far, nothing.
"I just think people need to open their hearts and close their eyes, because we're no different than them," Brown says. "And if they can't see us, then they can't judge us." ♦