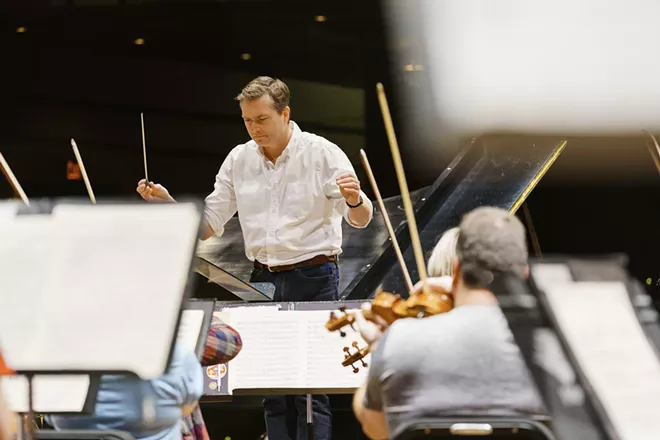 What's the point of a symphony, anyway? What is an orchestra's job?
Jeff vom Saal races around his office all day asking these questions. An energetic trumpet player from upstate New York, he's been the executive director for the Spokane Symphony for seven years, with plenty of previous experience in Massachusetts, North Dakota, Iowa and California. But for all his years around orchestras, his questions don't seem to be getting any easier.
The Spokane Symphony launched an emergency fundraising campaign last spring to try to close the gap between funding and operational costs before the end of the fiscal year in June. That's actually pretty common for any orchestra across the country, vom Saal says. Spokane isn't particularly in danger of losing its symphony, and the volatility of COVID is waning, knock on wood. But costs are high (about $1 million over income), and it's not clear where more money could come from. It's an old problem. It's vom Saal's (tough) job to find new solutions.
It doesn't help that the age-old dance between artist and audience is changing.
At certain cultural moments, an orchestra might have been the leader, with musicians deciding what was excellent and expecting an obedient audience to listen. Today, the audience usually leads, often expecting to be given an experience they already know they enjoy, like The Nutcracker or Handel's Messiah in December and John Philip Sousa in July.
Plus, with today's infinite entertainment opportunities, orchestras must provide an experience that the audience not only wants, but can't get anywhere else.
"Our job is to listen actively and to adapt," vom Saal says. "To learn and to stay vulnerable and modest, and continue evolving.
James Lowe grew up in the UK listening to ABBA and Motown. His mother was a typist, and his father was a health inspector. One day, a teacher played Rossini's William Tell Overture (otherwise known as the Lone Ranger's theme song) in class. Lowe loved it. He got the record for Christmas and wore it out. He had no idea there was a whole genre of music to which the overture belonged.
Today, Lowe is the music director of the Spokane Symphony. His job is to conduct major performances and guide the artistic direction of the orchestra.
"The most important thing is that we as artists have to make the greatest art we can," Lowe says, noting that the group is "punching above its weight" as a symphony in a midsize city. How many orchestras get to play with Yo-Yo Ma, much less one in a metro area of half a million? (Read our review of the sold-out season opener.) It reminds Lowe of another, more famous team.
"I want to have the orchestra spoken in the same breath as the Zags," he says.
To Lowe, great art is art and entertainment that everyone in the community needs. It's a "universal tool" that can benefit everyone from dementia patients to kindergarteners.
American orchestras are now on the offensive, needing to prove to their communities that their jobs are valuable and helpful. In a midsize city like Spokane, the symphony has unique access to audience input and can react more quickly to community needs.
Take, for example, its collaboration with speech pathologist Heidi Farr of the Central Valley School District. Together, Farr and the symphony organized a special sensory-friendly evening of music for people easily overstimulated by lights, noise or crowds. The house lights stayed on and audience members were encouraged to get up and move.
The energy was amazing, says Shira Samuels-Shragg, who conducted the performance. It was such a hit that the symphony hopes to offer sensory-friendly Nutcracker performances to include more people this December.
This is Samuels-Shragg's first season as an assistant conductor for the Spokane Symphony. Her job includes conducting some orchestra performances while being Lowe's eyes and ears for others. She's also involved in educational outreach to students, which she loves.
"So many of them love orchestral music. They just don't necessarily know it yet, right?" she says. "It's in their video games. It's in their movies. But nothing beats hearing a live orchestra."
Video games? Movies? What do they have to do with classical music?
Andrew Angelos puts John Williams in the same progression as Bach, Mozart, Beethoven, Tchaikovsky, Mahler and Strauss. Angelos is the symphony's operations and personnel manager, plus its third French horn player. His job is to coordinate outreach events and guest artists coming to Spokane, and then to play in the concerts he helped organize behind the scenes.
Angelos is just as excited about "popular" concerts like Symphonic-Con (Oct. 28-29) or Star Wars: The Empire Strikes Back (May 4-5, 2024) as he is about more traditional "Masterworks" programs, because he himself is a pop concert success story — he got hooked on classical music through film scores.
"I think anybody and everybody can relate to that," he says. "You hear Star Wars, and you're like, 'I love that.' That's technically classical music. Indiana Jones. E.T. I went to Yellowstone a couple of weeks ago, and my friends and I were all listening to the How To Train Your Dragon soundtrack. It's just pretty epic."
The symphony's job, at the end of the day, is to be there for you, the community, its leaders agree.
"I have a strong belief that the symphony is for everyone," Lowe says. "Music still speaks no matter who you are."
Vom Saal and his team are betting that as long as the orchestra holds a meaningful place in the city, the money will come. When they're performing, they're listening for a response, ready to follow the city's lead. ♦
Check out the 2023-24 season schedule and get tickets for the Spokane Symphony at spokanesymphony.org.