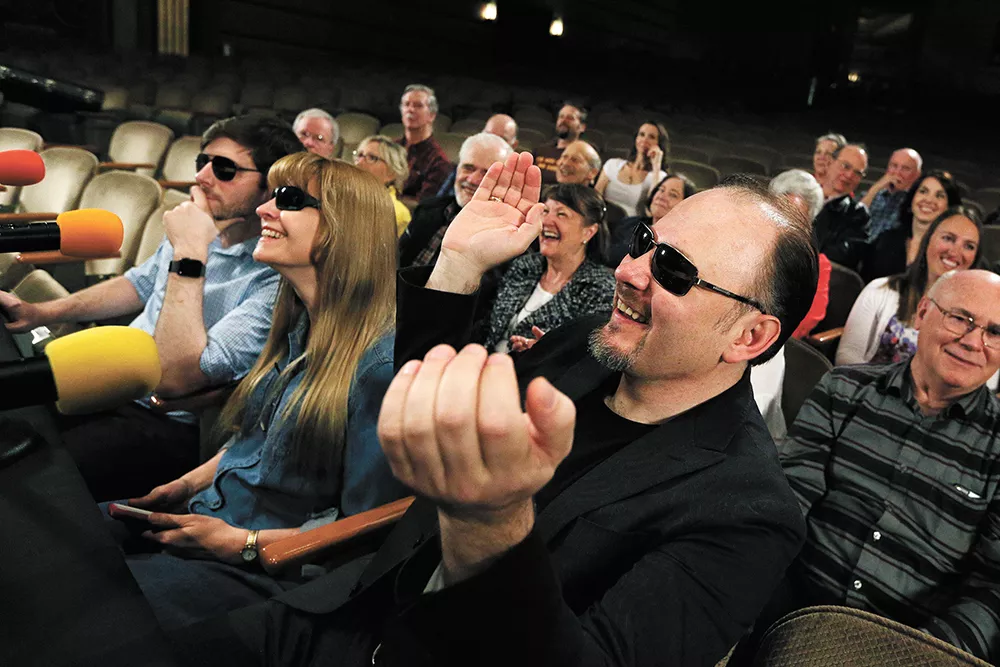 On the stage of the Fox Theater, beatboxer Brotha Nature stands alone on the conductor's podium. He's sporting a tuxedo and waiting for the cue to begin waving his baton in time to Rossini's William Tell Overture.
"My parents are going to be so proud," he says in an off-camera moment, eliciting hearty laughter and applause from the small audience of Spokane Symphony boosters who are here for the taping of a fictional conductor audition a la American Idol.
The audio recording begins, a brassy, rousing score that's instantly recognizable to anyone who's ever watched The Lone Ranger or a Bugs Bunny cartoon. Brotha Nature, whose given name is Eli Dyer, gestures conventionally enough for the first few bars. Then he pauses, cups his hand over his mouth and picks up where the recording leaves off, creating a rhythmic oral orchestra of mmmphs and ngumps and chks.
When he's finished, there's some back-and-forth with the videographer over whether he should let the baton fall like a mic drop. Or whether Dyer should leave the stage with a George Jefferson strut. They decide to do both over several more takes.
Once Dyer has finished giving a post-show interview where he describes the experience as "the funnest thing I've ever done in a tux," the cameras will turn on the audience, capturing gasps and cheers on demand. They'll also get a series of staged responses from the three symphony musicians who are posing as judges: concertmaster Mateusz Wolski, principal bassoon Lynne Feller-Marshall and principal trombone Ross Holcombe. Holcombe adopts a Simon Cowell persona, comparing the performances to roadkill and the "vaguely unappetizing" idea of pineapple on pizza.
Later, all of this — along with earlier footage featuring local guest stars — will be scrubbed and spliced to create an amusing five-minute video segment for The M Show, a brainchild of Wolski's that is approaching classical music from unconventional angles and stripping it of some of its stuffier decorum.
"The way it all came about is that we had a couple tries with different program ideas. One was called Symphony with a Splash, where we would play short, easy classical music. The whole goal was to attract new audiences and make it more accessible," he says, "but it wasn't really achieving the desired result."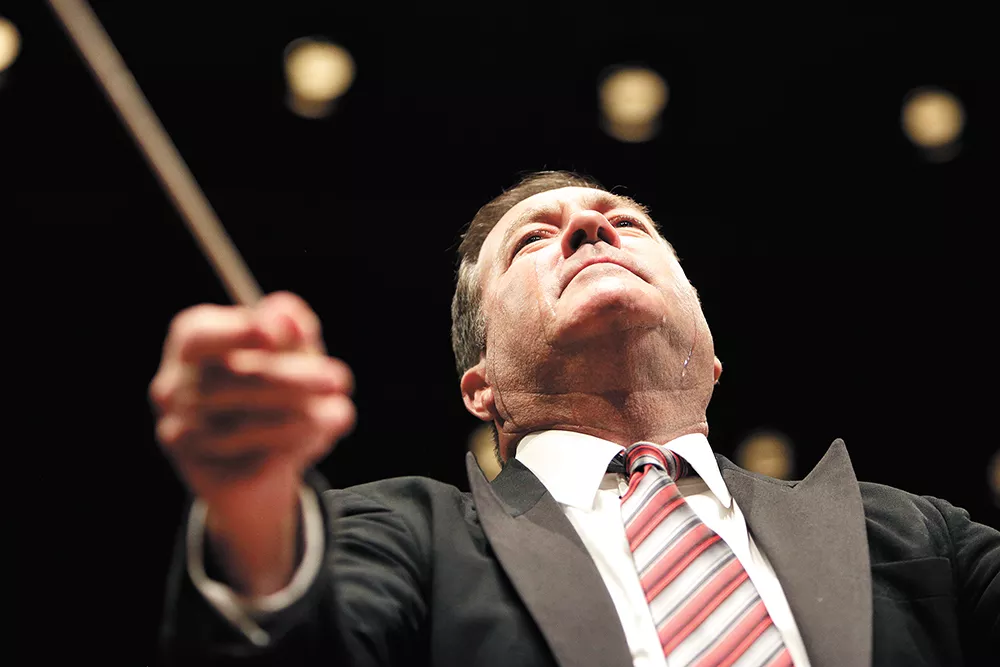 The Spokane Symphony hasn't been alone in experimenting with new, hipper programming like Symphony with a Splash. Nor has it been alone in occasionally meeting with underwhelming results. In America especially, where, tellingly, Donald Trump and the Kardashians are pre-eminent political and cultural figures, classical music as a genre has for decades been struggling with diminishing popular interest and a confounding degree of apathy when attempts are made to rekindle that interest — typically among younger audiences — with the help of some zhoosh. A 2014 article in Slate, ominously titled "Requiem," compiled some of the grimmest statistics, including the rising median age of classical concertgoers (40 in 1982, 49 in 2008) and the increasing marginalization of classical music (around 3 percent of all albums sold) among wider sales trends.
The M Show, however, is a live, hosted, partially interactive multimedia performance that's venturing much further afield than the symphony's past efforts, making it more than a selection of Star Wars tunes or classical "lite" with a wine or craft beer chaser. It's not even held in the symphony's usual performance space, opting instead for the Washington Cracker Co. Building and its aura of creative cool.
"I'm a car enthusiast, so one of the shows I watch is Top Gear, and the crazy thing I read [was] about Top Gear being one of the very few automotive shows that women watch. And sure enough, if you actually look at the concept of the show, it's entertainment. Cars just provide the backdrop," says Wolski, adding that "competitiveness and humor" are the real components to the show's global success.
In conceiving The M Show, he's applied the same general idea, the hope of achieving a seamless combination of the inquisitiveness of MythBusters, the sketch comedy of Saturday Night Live and, yes, the crossover appeal of Top Gear — only this time with classical music as the backdrop. For the first one, which took place back in January and had the work-in-progress ethos of a TV pilot, Wolski gave an impromptu violin lesson to KXLY's Kris Crocker, who dazzled the audience with her immediate progress. (She'd actually played in her youth.) He also enlisted wind musicians to inhale helium before playing their instruments to see if it would change the pitch (it did) and pitted a trumpet and a trombone against a violin in the frigid outdoor weather.
"We went in just goofing around, and we ended up getting very science-y. There's stuff I learned about brass instruments that, even though I've been in the orchestra for a while, I had no idea about because I didn't play them," he says. "I didn't know they have a cold-weather valve oil and plastic mouthpieces ... for when you're in a marching band and it's freezing."
The M Show No. 2 is building on that format by incorporating new challenges, more ambitious set pieces, more refinement. The short prerecorded segments, like the American Idol sendup, are designed to segue into topics by giving Wolski "the zoomability of an idea," he says, "which means that I can get super close to very minute elements and things that you cannot truly appreciate when we are on a concert hall stage."
The videos' slick artifice is a deliberate contrast to the semi-spontaneous authenticity of the live show. This time around, the American Idol video will springboard into Brotha Nature delving into the history and mechanics of beatboxing. He'll then face off against a drummer in an instrumental showdown.
"With a twist," adds Wolski, as if that weren't enough.
Whether or not the swift, curiosity-driven format of The M Show succeeds in drawing newcomers to classical concerts is another matter, but the symphony is certainly going all in on the series' success. Wolski says he's already aware of some new faces, friends of friends of friends, who were "intrigued" by the debut and "want to come back and see what happens next."
Any changes in attitude will be a byproduct of The M Show, though, not the end in itself. The primary aim, he says, is "for people to come in, have a good time and walk away with a little more appreciation for the craft, for the music." Then, over time, "they start to see us very differently from what the typical perception of the classical musician is — some bored guy sitting on a stage in a tuxedo counting notes." ♦
The M Show No. 2 • Thu-Fri, May 24-25, at 8 pm • $25-$60 • Washington Cracker Co. Building • 304 W. Pacific Ave. • spokanesymphony.org • 624-1200