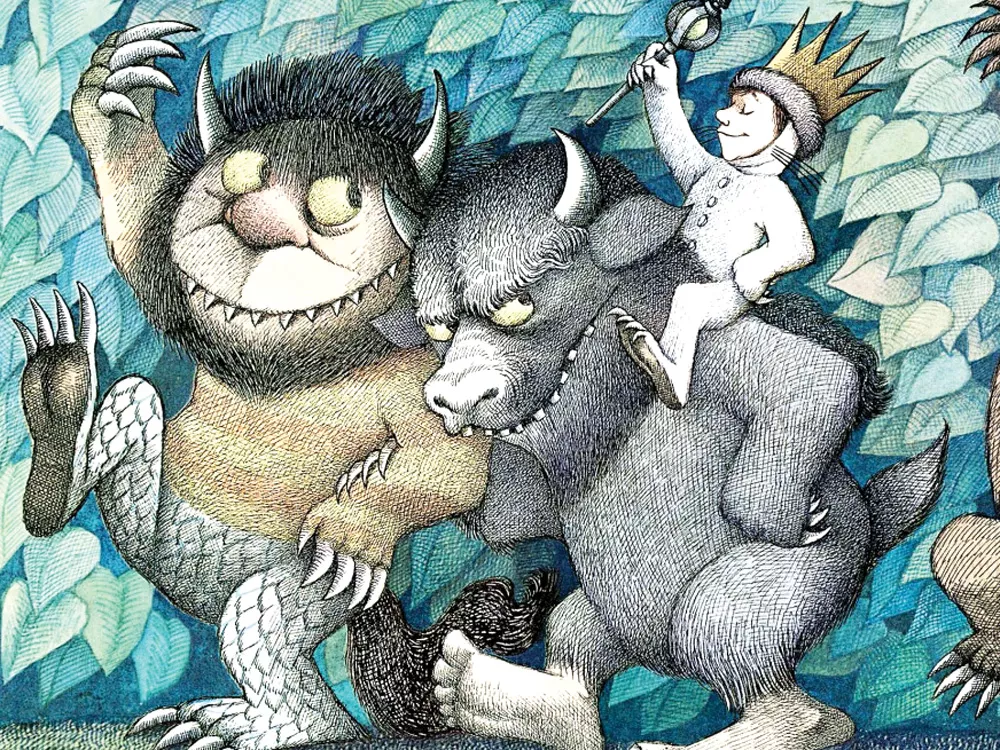 Their teeth were terrible. Hair spilled out of their noses. They would eat children if they were hungry enough.

Later, these images — Maurice Sendak's earliest impressions of his foreign aunts and uncles — would become the basis for the Caldecott award-winning children's book, Where the Wild Things Are. It's the story of a boy who imagines gallivanting in the company of grotesque monsters, and since it was published in the early '60s has sold over 19 million copies.
But Sendak's 1988 book, Dear Mili, shows the author and artist thinking differently. In it, Sendak bears witness to the Holocaust by filling his illustrations of the Grimm fairytale with subtle memorials: gravestones with Hebrew lettering, the guard tower of Auschwitz, frightening tree trunks and roots that evoke memories of the emaciated bodies of concentration-camp victims.
Sendak incorporates his family history and dark Jewish heritage throughout many of his works. And a new exhibition, "In a Nutshell: The Worlds of Maurice Sendak" (showing at Eastern Washington University), explores the push and pull of Old and New World influences — from the foreignness of his strange European relatives to the sights and sounds of 1930s New York — in his books
"In everyday children's literature, by digging deeper, you'll find all these other layers," says Karrie Brown, past president of Spokane's Temple Beth Shalom.
"In a Nutshell" was organized by Philadelphia's Rosenbach Museum & Library and developed by nonprofit organization Nextbook, Inc., and the American Library Association. Eastern's John F. Kennedy Memorial Library is one of just 35 libraries nationwide selected to show it.
"It's an opportunity to show one of our sort of invisible communities in the Inland Northwest — our Jewish community," says Nadean Meyer, learning resources librarian and project lead. Many people have mentioned to her that they didn't even know Sendak is Jewish.
In order to extend the content of the exhibit itself, the library is sponsoring four events — from a screening of Tell Them Anything They Want: A Portrait of Maurice Sendak to a performance of Really Rosie, Sendak's musical — that showcase diverse aspects of Jewish culture. The school's board of trustees awarded the library a grant last spring, under its diversity initiative, to pay for three of them and to bring over 300 eighth-graders to see the exhibit.
Today, as a third grade teacher, Karrie Brown appreciates Sendak's books for their attention-grabbing illustrations, which engage kids so well. She says that kids can see a little bit of themselves in his characters. But as a professional storyteller of Jewish folktales, she also values his connections to the Jewish faith.
Artistic work can help fight anti-Semitism, Brown says. "People that we value historically may have been Jews. … We may not even be aware of that, and we value their work." She says that although the Spokane-area Jewish community is small, this exhibit "helps us to have a pride in who we are."

"In a Nutshell: The Worlds of Maurice Sendak" • On display through Dec. 15 • Free • Eastern Washington University John F. Kennedy Memorial Library • Cheney, Wash. • Opening reception: Wed, Nov. 2, at 6 pm • research.ewu.edu/sendak • 359–2264