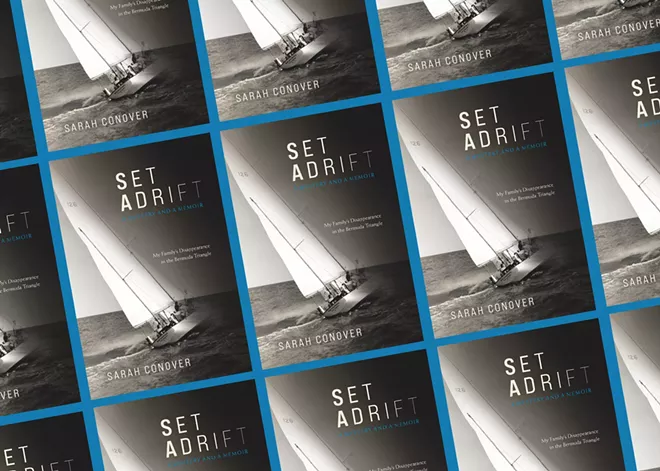 Unforeseen and tumultuous, 70-mph winds and 40-foot-tall waves brought the newly built, agile sailing yacht Revonoc down to the bottom of the Bermuda Triangle in 1958, where it has remained undiscovered ever since.
Harvey Conover Sr. was at the helm, cruising through the tropical waters on a New Year's escapade with a friend, his wife, their son Larry and daughter-in-law Lori on board. Their families were left shattered after their disappearance.
"When a ship goes down, it's only the hull and the bodies that vanish, and everyone ends up circling the absence," says Sarah Conover, Spokane-based author of Set Adrift: A Mystery and a Memoir – My Family's Disappearance in the Bermuda Triangle, which documents the known details of the infamous accident and its impact on Conover and her family.
Conover was only 18 months old when the Revonoc — Conover spelled backwards — fell victim to the whirlwind storm. She and her sister Aileen subsequently lived with her father's sister Fran, her husband Dick, and their children Rick and Carolyn.
Growing up, Conover's family never spoke of the tragic accident or held a memorial for their vanished relatives, yet curiosity prompted her to spend a decade investigating the accident and interviewing family members about her parents and grandparents.
"The funny thing about early childhood loss is you can't mourn what you don't know," she says. "You have to spiral back in to find out what some part of you knows."
Conover didn't originally plan to write a memoir, but as she uncovered more stories about her family, the book began to write itself.
"When I wrote the first paragraph, and really the first line, it was like, oh, there was a lot of energy behind this, this story wants to be written," she says. "It pulled me along for the most part."
While a tragedy of that magnitude may bring some families together, Conover says it blew hers apart, and it took talking about the past and her writing the memoir to bring them together.
"It was a gradual opening to see that it was more of a 'we-moir' than 'a me-moir,' and that tragedy at that level affects a lot of people," she says. "You see that yours was only one small part of it."
As she wrote Set Adrift, Conover realized how dangerous tragedy can be, and how the grief her relatives experienced impacted their perceptions of different events and relationships.
"Story is how we give our lives meaning, but here are all these people telling stories about each other, giving their lives meaning in a way that might not have been very kind to the other people," Conover says. "But it was the only way they sort of knew what to do with their suffering."
It was eye opening to Conover and her family to hear each other's stories from perspectives outside of their own, she says, and while writing she wanted to weave together a universal narrative that wasn't solely about herself so that readers could relate to the overlying theme of Set Adrift.
"That's kind of one of the themes of the book, that everybodys got a story, and maybe none of them are totally true," she says.
Conover organized Set Adrift into short chapters with brief excerpts from interviews, news clippings documenting the accident and succinct definitions of words such as "orphan," which became another theme interwoven throughout Set Adrift.
"I could see the patterns that were established," she says. "I say orphan is not just a noun, it's a verb. That's how we survive. We orphan other people — that's how we stay safe."
To Conover, it was also important to create something beautiful with Set Adrift. She also teaches writing workshops, such as a recent session titled "Bitterness: On Finding the Language for Loss and Love," in which she guided participants through writing about grief.
While the Revonoc has never been found, an upcoming episode of the History Channel series The Bermuda Triangle: Into Cursed Waters documents a monthslong search for the wreckage and includes films, photos, and interviews with Conover and her sister about their family.
Conover says she didn't have a desire to find the wreckage until recently, when she learned the Revonoc model that never returned was made by a different builder, raising questions about possible construction errors causing the yacht not to be able to escape the violent waters.
"To me, it's not a mystery," Conover says of the accident. "But I am curious now whether or not it was a mechanical failure."
While Conover notes that Set Adrift may not be the easiest or most enjoyable read, she hopes it reminds readers that tragedy and grief should bring us together, not separate us.
"I think if you've been exposed to trauma and you're willing to kind of stick with that, there's kind of a beautiful redemption at the end," she says. ♦
Writing to Wisdom, Writing to Wonder: A Weekend Memoir Workshop • Sat, July 29 and Sun, July 30 from 10 am-4 pm • $100 • Harmony Woods Retreat Center • 11507 S. Keeney Rd. • sarahconover.com