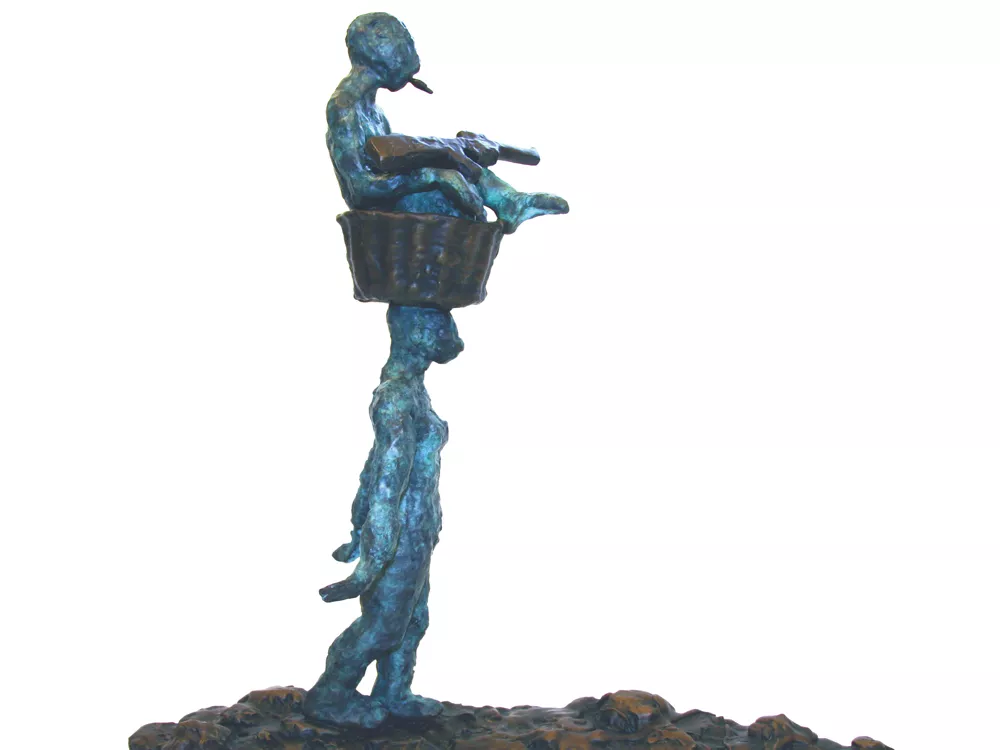 Ildikó Kalapács didn't set out to make a war memorial, yet that's what her Bearing Project is becoming. Not the larger-than-life, imposing political statues of her Hungarian youth, though.
"I have an aversion to Socialist war sculptures," she says, in slightly accented English.
What the Bearing Project memorializes, rather, is the refugee, the veteran, the survivors of war — so many of them often women. "More and more civilians are casualties of war," she says from the sun-lit dining room of the South Hill home she shares with husband Wayne Kraft.
The couple met in Budapest, when both belonged to the same folk dance troupe. Like most Soviet bloc countries at the time, Hungary was in the final throes of Communist rule and would, in 1989 — two years after Kraft and Kalapács left the country for the United States — finally open its borders. The Soviet Union would dissolve five years later.
The couple relocated to Eastern Washington, where Kraft would become a professor of German at Eastern Washington University and Kalapács would pursue visual art at the college. Although trained in classical drawing and sculpting, Kalapács' style is more expressive and more universal, something she attributes to years of travel with the dance troupe.
Visiting foreign cultures, writes Kalapács in her artist statement, "taught me the concept of inclusivity and appreciation of others' cultures for a life-time, including languages." It's a concept she applies to her artwork, which often features men and women without any telltale clothing or other defining cultural characteristics. No ethnicity, sometimes no age or even gender; just humanity. And the mark of the artist.
"I have a dancer's temperament," she says of her expressive style of markmaking.
Although she typically works in terra cotta, the Bearing Project is bronze, cast from sculpted and layered wax that reveals the artist's every gesture. The long, narrow base is a frozen river of irregularly dripped wax. On top of it, poised as if walking, is a heavy female figure, one arm outstretched for balance. Atop her head sits a man inside a round basket, an automatic rifle on his lap. In his mouth is a cigar.
It's about the burdens we carry, says Kalapács, who was inspired to make the piece by photos she saw of destitute women in war-torn Afghanistan. It brings to mind Tim O'Brien's Vietnam-era story about the personal impact of war on the soldiers, in which he writes, "the things they carried were largely determined by necessity."
Yet Kalapács includes more than just the soldiers in her assessment of war's cost. She includes the families, the partners, the friends, the community. To her, the Bearing Project could be a destination, much like the Vietnam War Memorial, where conversation and healing could occur.
But first it has to be built. The existing sculpture is only 15 inches tall, a mockup that Kalapács would like to see grow to life-size. For that, Kalapács needs funding, a dedicated space and even more support.
The cost to create the piece in bronze is a minimum of $230,000, or about $10 per square foot, confirmed Walla Walla Foundry's Dylan Farnum. The process takes about eight weeks and will likely result in several pieces requiring assembly on-site.
The site, notes Kalapács, is actually the more crucial issue right now, because additional funding is dependent on securing an insurable, appropriate location. Although the Bearing Project's board of directors has considered colleges, hospitals, and charitable organizations, nothing has been decided.
In the meantime, the board is proceeding with fundraising on its Facebook page, through grants and at an upcoming auction. Donated items include a spa package from Northern Quest, wine and a Club Nectar membership from Nectar Tasting Room, and food by Glover Mansion, which is where the auction will be held.
Support for the project has been steadily increasing. Wellwishers include Shaun O'L. Higgins and Ann Glendening, Senator Lisa Brown, the Spokane Arts Commission's Karen Mobley and the Veterans for Peace, Chapter 35, of Spokane.
Kalapács acknowledges that the process is going to take some time, yet she's already envisioning similar sculptures throughout the world, including in Africa, Japan and especially Hungary.
"It will happen," she says, every bit the survivor whose faith in what is possible inspires us all.

The Bearing Public Sculpture Project Silent Auction Fundraiser • Wed, May 2 from 6 to 9 pm • Glover Mansion • 321 West Eighth Ave. • Suggested donation, $5. • thebearingproject.com • 459-0000