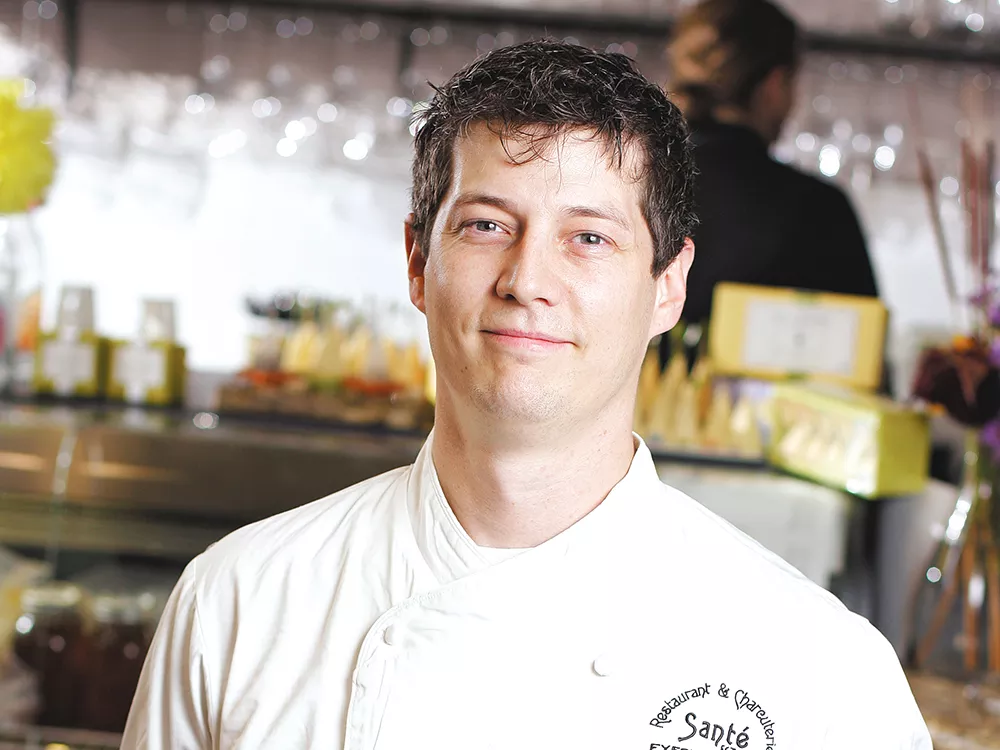 Jeremy Hansen stands near a table in Santé's dining area. Behind him, sheets of opaque plastic and green velvet curtain panels cordon off a remodeling area. August is typically downtime in the Spokane restaurant business, explains Santé's owner and chef.
"But," he says, "this August…" His eyes widen in amazement.
By August 15, which is also Santé's fifth anniversary, a bar that is destined to serve local craft liquors and cocktails is planned to fill the now-empty space behind the velvet curtains. The opposite side of the restaurant, where the cold cases and register stand, is also undergoing a transformation. Customers will order sandwiches at a deli counter or call ahead for pick-up. Full table service will still be available, but a quick, quality lunch — meats smoked and cured on site, layered between slices of freshly baked bread — will now be served to those on short lunch breaks. To keep the cases fully stocked, the basement charcuterie is expanding and updating with floor drains, improved lighting and more cold storage.
So there's that. And then there's this: Hansen and the majority of the Santé kitchen crew will be in New York City, preparing a special menu of Inland Northwest cuisine for the James Beard House, several days prior to the reveal.
The James Beard House is an invite-only "performance space" for chefs who embody the James Beard Foundation's goals of educating, inspiring, entertaining and fostering a greater understanding of culinary culture. It's a big deal.
Hansen got an invite two months ago and immediately started brainstorming a menu. He knew he wanted to feature Inland Northwest cuisine, so he came up with hors d'oeuvres and a five-course dinner including items like Green Bluff peach chips, Rocky Ridge Ranch Berkshire pork loin, purple stripe garlic and Mount Spokane huckleberry mostarda.
Getting all those goods to NYC requires funds — about $25,000, according to Hansen. His friend Cade Walker set up a Kickstarter campaign to help raise the funds. Hansen wants to take his whole crew if he can — from his newest 16-year-old hire, straight out of North Central's culinary program, to his most experienced chefs.
They'll arrive on site at 7 in the morning and spend the day cooking until the first guests arrive that night. Everything those guests (journalists, chefs, food writers and other industry people) eat will have originated right here.
Hansen provides an interesting twist on what is typically thought of as Northwest cuisine. Instead of salmon, he will serve Columbia River sturgeon. Wineglasses will hold Washington Rieslings from Dunham Cellars and cabernet from Spokane's Barrister Winery.
Hansen, born and raised in Spokane, is enthusiastic about sharing local ingredients with those beyond our region. He wants gourmands to appreciate the variety of locally produced ingredients and the proximity of those ingredients to Spokane's urban center. According to Hansen, there's no other farm-to-table region like ours, and he wants everyone to know it.
"It's more important than me being there, or the restaurant being there," says Hansen. "Because if we can get more people to recognize Spokane as a place to be, it's better for all of us."