Coeur d'Alene's newest brewery has a unique perspective on beer making that emphasizes the importance of brewing fundamentals and beer history.
"A lot of American breweries, they Americanize other countries' beers," says Kevan McCrummen, Vantage Point Brewing Co.'s co-owner and head brewer. These beers, he adds, are "usually more hoppy, they have more flavor, aroma or bitterness" than the original version that inspired it.
McCrummen starts by looking into a beer's history, including where it first came from, before building his brewing plan.
"All the beers that I brew I try to brew true to the origin of the beer style," McCrummen says.
To master the nuanced craft of brewing, he attended the 151-year-old Siebel Institute of Technology in Chicago and spent a month in Germany. In addition to using traditional German, continental European, and English hops and grains, McCrummen is very particular about the water he uses.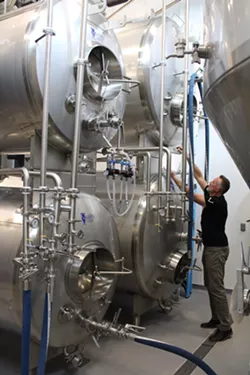 As your bladder is well aware, beer can be upwards of 95 percent water. The remaining ingredients are a variation of hops, malted grain and yeast, not including flavor additives like coffee or fruit. That makes water crucial to the process. McCrummen's brewing regimen starts with transforming tap water to specific, exact standards based on the country of origin that birthed the beer he's making.
"I carbon filter the water, dechlorinate it, soften it and put it through a reverse osmosis system — it pulls all the minerals out — and then I rebuild the water based on the water profile of the origin beer," McCrummen says.
Pilsner, for example, has a soft water profile, so he adds magnesium and calcium back in before brewing. That ensures a chemical profile as close to what might have been used in Czechoslovakia, where pilsner originated more than 180 years ago.
"Theoretically the goal is to have, like a true Munich-style Helles lager when you come here. And a true Mexican lager profile. Or a true London porter experience," McCrummen says.
The beer lineup will vary at Vantage, which opened this February with a 15-barrel system. Its current lineup includes several beers of German and Celtic origin, and a variety of IPAs, all with straightforward names and none higher than 8 percent alcohol by volume.
The Helles lager, for example, lives up to its name — helles is German for bright — and translates to a crisp, refreshing beer with just a hint of hoppiness. At 5 percent ABV, it's eminently drinkable, while a hoppier punch can be found in either the West Coast or Hazy IPAs.
Vantage Point's porter has all the necessary roasted, slightly sweet notes, yet if you're used to drinking an American brand such as Black Butte, you might find the mouthfeel of Vantage's version a bit thinner.
Try a single, 5-ounce taster ($3), a flight of five tasters ($2 each) or an 8-ounce pour ($4). For non-beer drinkers, Vantage Point also serves a draft cider ($7) like 2 Towns Ciderhouse's BrightCider, along with canned cocktails ($8), or wine by the glass ($6-$9).
Located in Coeur d'Alene's burgeoning east end, Vantage Point offers a spacious venue for anyone looking for a less "pubby" brewpub.
"I lived in Portland, Seattle and Chicago," McCrummen says, noting that he wanted a more urban vibe that still conveyed aspects of the Northwest.
The entryway features large glass doors and a vertical arrangement of squared timbers in a gentle S-curve separating the entrance from the main seating area. Reminiscent of Spokane's Uprise Brewing, the two-story space has an industrial feel with concrete floor and assorted seating. Behind the bar, a wall of Japanese-style charred wood known as shou sugi ban is a nod to McCrummen's connection to firefighting and the region's history with fire lookout towers. A fire lookout tower is also incorporated into the brewery's logo.
Vantage Point is family friendly, with a large outdoor space and kids' play area stocked with toys, games and books.
"Our whole thing was that we wanted to be a center in Coeur d'Alene for recreation and entertainment," McCrummen says.
At a whopping 7,800 square feet, with ample free parking, Vantage Point can accommodate around 100 people indoors, plus another 100 or so out-of-doors. An upstairs space can be rented for private events.
When the weather warms, Vantage can open up its two massive garage doors to bring the outside in. Or visitors can enjoy the brewery's greenspace, complete with a fire pit and regulation-size cornhole game area.
The food menu is in transition as Vantage Point fine-tunes its offering, McCrummen says. For now, try the Bavarian pretzel ($10), smoked salmon dip and baguette ($14), or the Reuben ($16).
Both desserts ($12 each) feature its beers in some way, including the spent grain brownie with vanilla bean ice cream and salted caramel sauce. The Beeramisu is Vantage's riff on the Italian dessert using its own porter in the coffee-infused cakes. ♦
Vantage Point Brewing Company • 208 E. Coeur d'Alene Lake Dr. • Open Sun-Thu 11 am-8 pm, Fri-Sat 11 am-9 pm • vantagepointbrewing.com • 208-551-2653