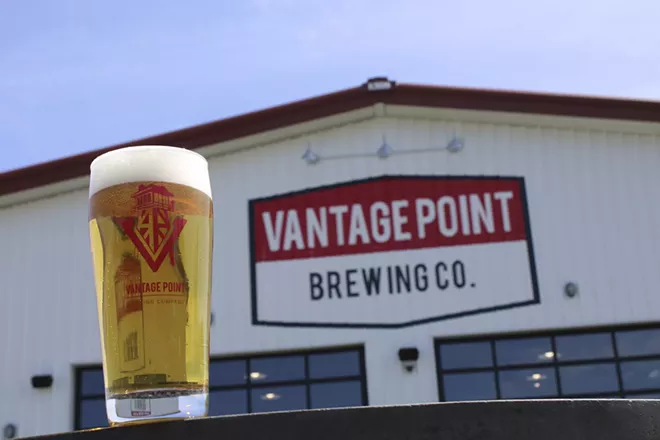 To master the nuanced craft of brewing, Kevan McCrummen, Vantage Point Brewing Co.'s co-owner and head brewer, attended the 151-year-old Siebel Institute of Technology in Chicago and spent a month in Germany. But in addition to using traditional German, continental European, and English hops and grains, McCrummen is very particular about the water he uses.
As your bladder is well aware, beer can be upwards of 95 percent water. The remaining ingredients are variations of hops, malted grain and yeast, and perhaps flavor additives like coffee or fruit. But water is crucial to the process. So McCrummen's starts his brewing regimen by transforming tap water according to exact standards based on the beer's country of origin.
"I carbon filter the water, dechlorinate it, soften it and put it through a reverse osmosis system — it pulls all the minerals out — and then I rebuild the water based on the water profile of the origin beer," McCrummen says.
Pilsner, for example, has a soft water profile, so he adds magnesium and calcium back in before brewing. That ensures a chemical profile close to water that might have been used in Czechoslovakia, where pilsner originated more than 180 years ago.
"A lot of American breweries, they Americanize other countries' beers," says McCrummen. These beers, he adds, are "usually more hoppy, they have more flavor, aroma or bitterness" than the original version that inspired it.
McCrummen starts his brewing process by looking into a beer's history, including where it first came from, before building a plan. "All the beers that I brew I try to brew true to the origin of the beer style," McCrummen says.
"Theoretically the goal is to have, like a true Munich-style Helles lager when you come here. And a true Mexican lager profile. Or a true London porter experience," McCrummen says.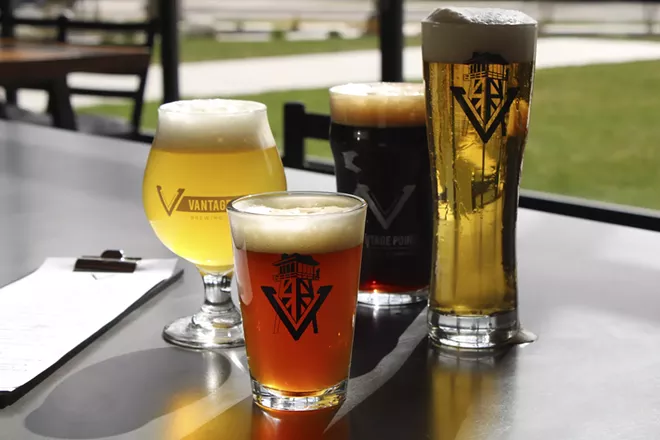 Though there's plenty of beer on tap, Vantage Point, which is located in Coeur d'Alene's burgeoning east end, is a family-friendly venue for anyone looking for a less "pubby" brewpub.
The two-story space has an industrial vibe, with a concrete floor and behind the bar, a wall of Japanese-style charred wood known as shou sugi ban. The wood is a nod to McCrummen's connection to firefighting as well as the Northwest's historical fire lookout towers. A fire lookout tower is also incorporated into the brewery's logo.
"I lived in Portland, Seattle and Chicago," McCrummen says, noting that he wanted a more urban vibe that still conveyed aspects of the Northwest.
Vantage Point offers a large outdoor space and kids' play area stocked with toys, games and books, and this fall, live music is slated for Tuesday, Friday and Saturday evenings.
"Our whole thing was that we wanted to be a center in Coeur d'Alene for recreation and entertainment," McCrummen says.