C
ynthia Monroe hated mushrooms.
She'd see sliced button mushrooms on pizza or at the salad bar — no fun, no flavor, and looked awful, she'd think.
Even as a trained chef, she didn't give fungi a second thought. That is, until Gem State Mushrooms, a gourmet mushroom farm in North Idaho, brought pounds of Blue Oysters to the American Culinary Federation meeting last March. As ACF president, Monroe had to do something. She sauteed the shrooms, put some on rice, and tasted it.
"I was like, 'OK. That has flavor. That has texture,'" she says. "Now it was like, 'All right, what else can we do with these?'"
Monroe is an ACF-certified executive chef, a culinary instructor at NEWTech Prep, and a regular cooking demonstrator at farmers markets, public libraries, and community fundraisers. As a chef, she has supervised kitchens for Gonzaga and chef Chad White. As an ACF coordinator, she has worked with culinary celebrities Duff Goldman, Marco Pierre White and Gordon Ramsay. But she's happiest as a gracious host and teacher — she spends most of her time feeding and educating her community about the food around them, whether that be Idaho mushrooms, Palouse lentils or the edible weeds in their own backyard.
Monroe donates so much of her time to supporting others, like cooking for the Camp Fire and Christ our Hope fundraisers this fall or providing demos at Kootenai County Farmers Market and Shadle Park Library, that the Spokane Independent Metropolitan Business Alliance honored her as Volunteer of the Year in its first Marmot Awards. She's been dubbed "The Community Chef" by nonprofits in the area.
Monroe doesn't care much about specific titles or awards. She mostly cares that people realize that mushrooms can, indeed, be delicious.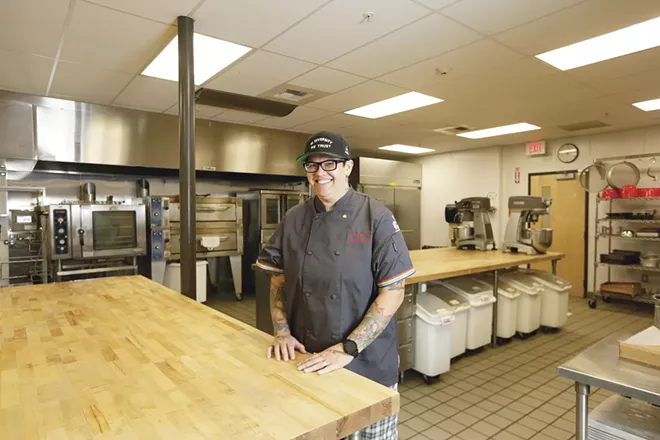 Monroe is an unlikely chef. As the child of a restless single mother (Monroe attended 43 different elementary schools), money was tight, and food was mainly sustenance.
"I didn't know asparagus didn't come out of a can," Monroe says. "I had no idea I would like asparagus. I love it. Asparagus is amazing. There's different kinds! There's different colors of asparagus!"
Monroe originally went to school for business. After graduating from Spokane Falls Community College, she started caring for her wife's sick father. Monroe was the only one who could make food that he would eat. Her wife suggested Monroe try culinary school. She found a world of exciting new knowledge and meaningful, service-oriented camaraderie.
Now, when Monroe teaches cooking, she prioritizes three principles: Respect the ingredients. Know where they come from. Highlight each component in the best way possible. Monroe wants chefs to let each ingredient, from veggies and lentils to meat and potatoes, shine for what they are.
Although, when it comes to her NEWTech students, Monroe has ulterior motives.
"Really, I'm just trying to make them decent humans," she says. "If I'm lucky, I get to teach them some food. But getting them to be an employable person is our first goal in this environment."
NEWTech Prep is a skills school in the Spokane Public Schools district. Monroe teaches about 100 students a semester, preparing them with professional skills like punctuality, work experience and resume writing as well as kitchen skills.
Monroe has learned some hard lessons herself. As the "chronic new kid" (See: 43 elementary schools), she was "in a shell" for a long time. She's had times of abusing drugs and alcohol, and says she has all the letters her students throw around — BD (bipolar), PTSD, OCD.
She's willing to talk about her past in the hopes that it can help someone right now. Her experiences have given her an eye that notices when a student is struggling, the attentiveness to listen to them, and the wisdom to know when to be gentle and when to be firm.
"My philosophy is that we are on this journey together," she says. "I just happen to know how to guide the ship a little bit."
The kitchen at NEWTech is easy to find, because you can almost always hear Monroe laughing.
"I don't want to be somebody else's negativity," she says. "I've seen what damage that can do. So if I can be somebody else's light for just even a moment, hearing my barreling laugh up and down the hall — it's worth it."
Monroe's ultimate dream is to have a local grocery processing store, similar to Grange Restaurant and General Store in Snoqualmie Valley, where farmers can bring in fresh produce, Monroe can make dishes with it, and hungry shoppers can come buy or eat. She wants to shorten the local food chain and see to it that food grown locally is eaten locally, so people would be more connected to where their food comes from.
"We rely so much on a grocery store," Monroe says. "I think we need to start relying on each other."