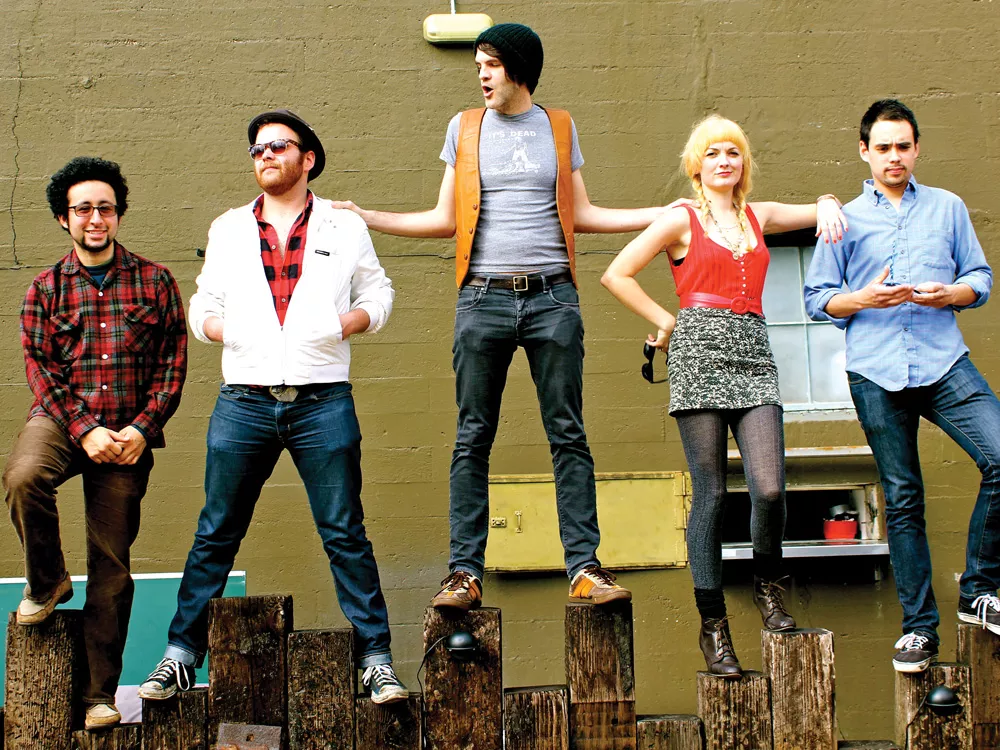 There´s a widely held belief that creative types aren't good at business. Vincent Van Gogh, for instance, sold only one painting during his lifetime, while Herman Melville allegedly died surrounded by unsold copies of Moby Dick.
But then there's Jared Mees, the living contradiction to the rule. In addition to heading Jared Mees and the Grown Children, the Portland resident runs a successful small label and store called Tender Loving Empire with his wife, Brianne. The store hosts the work of local artists and crafters, while the label is home to Portland luminaries such as Typhoon, Loch Lomond and Hosannas.
Mees started writing music seriously about five years ago, when he and his wife were living in Panama. They created Tender Loving Empire on a whim to release that music — an album called If You Wanna Swim With the Sharks.
"It was spontaneous," he says. "I had a bunch of friends in bands, making short stories or comics. Everyone was doing something awesome, and I thought it was good enough for other people to hear. When we moved to Portland, there were a lot more artists that could use it — sign artists, crafters." Basically any type of artist who was underrepresented.
At first, it was scary, he says, likening the experience of opening a business to "stepping out into the unknown and hoping you're not going to fall." But there's a lot of satisfaction to owning a business that supports your (and others') art. "You get to go to shows and it's your job, [you get to] buy CDs as work expenses," he says. "The perks are that you get to do what you love, as far as taking in creativity, [and] you can do good things for other musicians."
After the release of his first solo album, Mees started collaborating with other musicians, working with 25 different people before settling on the current lineup two years ago. In May, the Grown Children released their third album, Only Good Thoughts Can Stay, a record that preserves the core of their folk-pop sound, while representing a slight change of course in songwriting. Good Thoughts features several songs from a perspective other than Mees' own. "There's a tightrope between being overly verbose and losing the listener and also getting the story across," he says.
With the Grown Children touring several months out of the year and the Tender Loving Empire store moving to a bigger location in downtown Portland, Mees is increasingly torn between the two. Sometimes he writes songs at work, singing melodies into his cellphone recorder. "It definitely makes being creative difficult," he says of the business's expansion. "You have to really focus on it." But if he had to choose, the label or the store, which would it be?
"You called me while I was at work, so I would choose dealing with a lot of people's art rather than my own. But if you called me when I was on tour, I would have said, 'Definitely my own,' he says. "Ultimately, it just depends on the day, but hopefully I won't ever have to make that decision."

Jared Mees and the Grown Children play with Finn Riggins • Fri, Aug. 19, at 9 pm • nYne • $5 • 21 • 474-1621 • Jared Mees, Finn Riggins and CDA Rock School • Sat, Aug. 20, at 4:30 pm • Hayden City Park • 8930 N. Government Way, Hayden, Idaho • Free • All-ages • haydenchamber.org