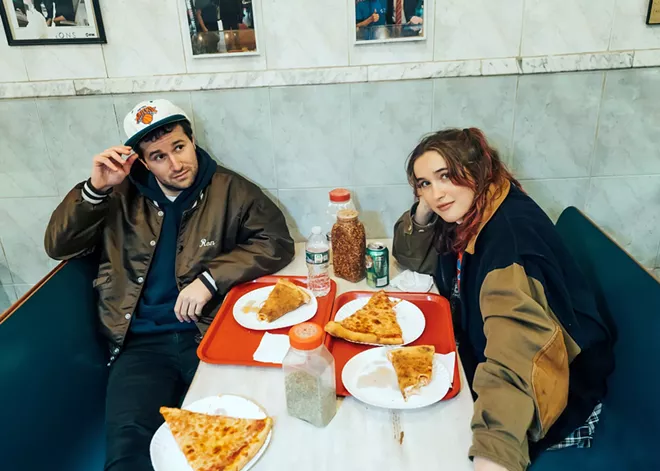 The members of Lawrence have been making music together for as long as they can remember.
No, literally.
"We met quite young," says Gracie Lawrence, as her brother and bandmate Clyde Lawrence chuckles in the background. "And we were always making music together around the house."
The two grew up in a creative household — mom is a dancer, and dad is writer and director Marc Lawrence of Miss Congeniality and Music and Lyrics fame — so forming a band seemed like the most natural path forward for the two musically-inclined siblings.
"It was a constant throughout our childhood," Gracie says. "When I was in middle school and Clyde was in high school, we'd play shows in cafes around New York to like 20 people. That's where it started for us."
Given their four-year age difference, Clyde went off to college at Brown University while Gracie stayed back to finish high school. Brown is where Clyde began forming sonic bonds with other musicians and creating what would eventually become Lawrence. The group invited Gracie to perform with them on various occasions, and the connection was too strong to ignore.
Lawrence's melodies take turns listeners wouldn't expect, catapulting them into a funk-filled stratosphere thanks to vocal gymnast Gracie. Once up in the sky, Clyde lends his soulful voice to the soundscape for a jolt of grit and power. (All while dressing in his stage outfit of choice — a shirt that reads "Thank God It's Chicken Finger Friday" or a custom Lawrence baseball jersey depending on the night.)
Now both Lawrence siblings are in their mid-20s and still making music together — just on a bit larger scale than the small New York cafes they once frequented.
Lawrence's rise to prominence started when the band's single "Don't Lose Sight" was used in a Microsoft Surface ad and consequently started trending on TikTok in 2022. The band subsequently has toured with "Gen-Z Mozart" Jacob Collier, collaborated with everyone from Jon Bellion to Doobie Brother Michael McDonald, and embarked on its own headlining tours.
The Lawrence siblings now get to play their biggest gigs to date, having been tapped to open the Jonas Brothers' arena tour (which stops at Spokane Arena on Nov. 7).
When opening for a group like the JoBros, Gracie says that their set is their time to show audiences what Lawrence is all about.
"When we're opening for another band it's a different experience, as opposed to our headlining shows where, you know, 100% of the audience is there to see Lawrence," Gracie says. "As a performer, playing to a crowd of people hearing you for the first time can be scary, and it comes with its own challenges. But it's really rewarding to perform for them and invite new listeners into our world."
And what a world Lawrence creates. Along the way, the duo has expanded their musical family with a six-piece band consisting of friends from various stages of their lives. Joining them on stage is Sam Askin on drums, Johnny Koh on guitar and Michael Karsh on bass, with Marc Langer, Jordan Cohen and Sumner Becker forming the band's horn section.
"Some of them are college friends," Clyde says. "Some are from preschool. It all happened naturally — super organically. We call ourselves a family band because that's what they feel like to us."
Together, Lawrence puts on a show packed with raw energy, talent and passion that audiences can feels from the moment the band stomps onto the stage.
"We all feed off of each other for energy," Clyde says, "Me, Gracie, the band and the audience. We have the best time up there because we're all family and best friends doing what we love."
As for being on the road with the Jonases — another band composed of siblings — Clyde and Gracie agree that it's brought a loving feeling to the entire tour.
"It's an extremely unique experience to be able to connect with your sibling in that way," Gracie says. "It's cool to see that happening at, you know, the most massive level for [the Jonas Brothers], and it's an honor to be on the tour with them. Family is a huge part of what they do, and it's something so significant to us that we carry with us wherever we go." ♦
Jonas Brothers, Lawrence • Tue, Nov. 7 at 7 pm • $50-$230 • All ages • Spokane Arena • 720 W. Mallon Ave. • spokanearena.com