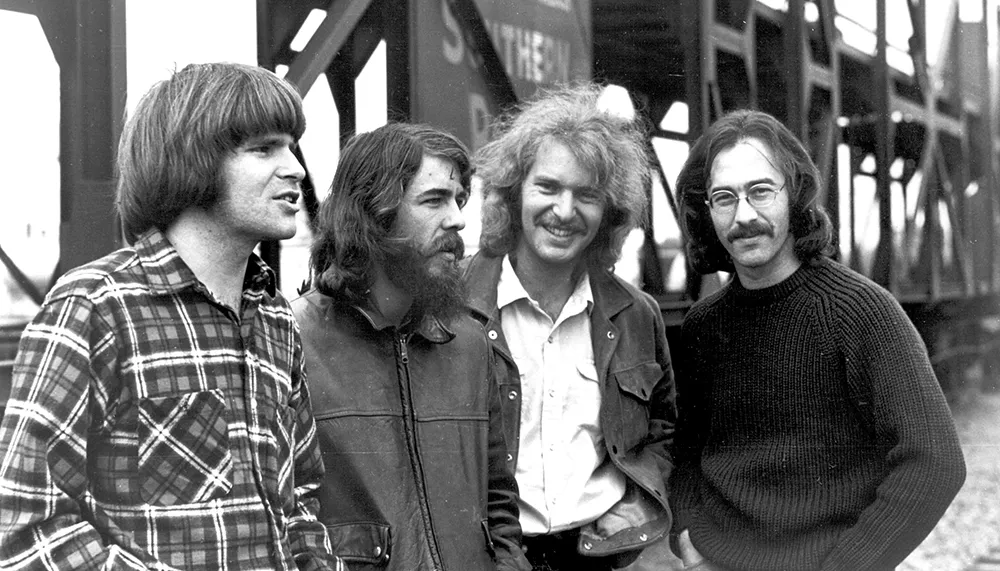 It seems there's a Beatles tribute act for each of the eight days in a week.
There are the groups that focus on the band's early years of mop tops and matching suits, and the ones that dig into the kaleidoscopic experimentation of the Sgt. Pepper's era. And then there are the entire career retrospectives, requiring multiple costume changes and stylistic shifts.
But the Reunion Beatles Fantasy Tour is a different beast entirely, and it's driven by an unusual and intriguing conceit. It presents an alternate timeline wherein all four Beatles are still alive and are playing together again, something that never happened after the band's fractious 1969 split, and it mixes Fab Four classics with hits from their respective solo careers.
So we decided to explore the same hypothetical scenario with other now-defunct bands, skipping over the obvious ones (Led Zeppelin with a resurrected John Bonham, or Brian Jones-era Rolling Stones). Here are a few imaginary tribute acts we came up with.
THE BAND

What if The Last Waltz wasn't actually the last? The Band, who long backed Bob Dylan before branching out on their own, were the subject of Martin Scorsese's genre-defining 1978 concert film, which documented the final live performance of its most famous, Robbie Robertson-led lineup. It features all the Band's best songs, including "The Weight" and "The Night They Drove Old Dixie Down," which still elicit shivers.
Our Fantasy Reunion Idea: A beat-by-beat recreation of The Last Waltz, featuring a murderer's row of great '70s musicians — Neil Young, Van Morrison, Joni Mitchell, Emmylou Harris, Dylan himself and, uh, Neil Diamond. It all ends with the entire company crowding the stage for a rendition of "I Shall Be Released," and it'd be stunning.
CREEDENCE CLEARWATER REVIVAL

Like the Beatles, CCR burned fast and bright, had a hell of a lot of hits and developed a sound that's distinctly, uniquely theirs. Problem is, personal acrimony and legal issues drove a wedge between its surviving members long ago. In one corner, frontman John Fogerty; in the other, bassist Stu Cook and drummer Doug "Cosmo" Clifford, who founded the touring "tribute" act Creedence Clearwater Revisited. Each side hates the other. Fogerty even refused to play with his old bandmates when CCR was inducted into the Rock & Roll Hall of Fame in 1993.
Our Fantasy Reunion Idea: OK, so that's a lot of backstory, but it's important. Here, the three surviving members are forced to get back together for financial reasons, so there's an edge of contempt and disdain lurking beneath all that rock-solid musicianship. A bad moon rising indeed, and an entertainingly unpredictable one.
THE FUGEES

What do you do after recording a musical masterwork? In the case of the Fugees, whose 1996 LP The Score is one of the greatest rap records ever, you throw in the towel. The trio of Wyclef Jean, Lauryn Hill and Pras have played together a few times since their commercial peak (see the concert doc Dave Chappelle's Block Party), but Hill's personal and legal problems seem to have stymied a full-on reunion. "You will have a better chance of seeing Osama bin Laden and Bush in Starbucks having a latte," Pras once said, "before there will be a Fugees reunion."
Our Fantasy Reunion Idea: In this alternate universe, Wyclef never tried running for president of Haiti, Hill is on her third or fourth critically-acclaimed solo record — her only studio album is 1998's The Miseducation of Lauryn Hill, another masterpiece — and Pras gets along with both of them. Hip-hop heaven.
FLEETWOOD MAC

There's always gotta be drama with the Mac. It actually seems to fuel them: When they made their defining album, 1977's Rumours, its members were famously breaking up and screwing around with each other. Forty years later, they're still up to their old tricks. They recently recorded an album, released as Lindsey Buckingham/Christine McVie, sans iconic frontwoman Stevie Nicks, and made headlines when legendary guitarist Buckingham had quit the band. Or maybe he was fired. It's hard to tell.
Our Fantasy Reunion Idea: Fleetwood Mac started life as a blues band fronted by guitarist Peter Green, and they went through nearly a decade of lineup changes and stylistic about-faces before Buckingham and Nicks propelled the band to pop superstardom. A "reunion" show should cover the band's whole catalogue, from blues to AM pop, with members quitting right there on stage ala Spinal Tap. They could then have a change of heart and return just in time for the encore. ♦
The Reunion Beatles Fantasy Tribute • Fri, May 11 at 8 pm • $22-$45 • Bing Crosby Theater • 901 W. Sprague • bingcrosbytheater.com • 227-7638 • Sat, May 12 at 7:30 pm • $26 • Panida Theater • 300 N. First Ave., Sandpoint • panida.org • 208-263-9191