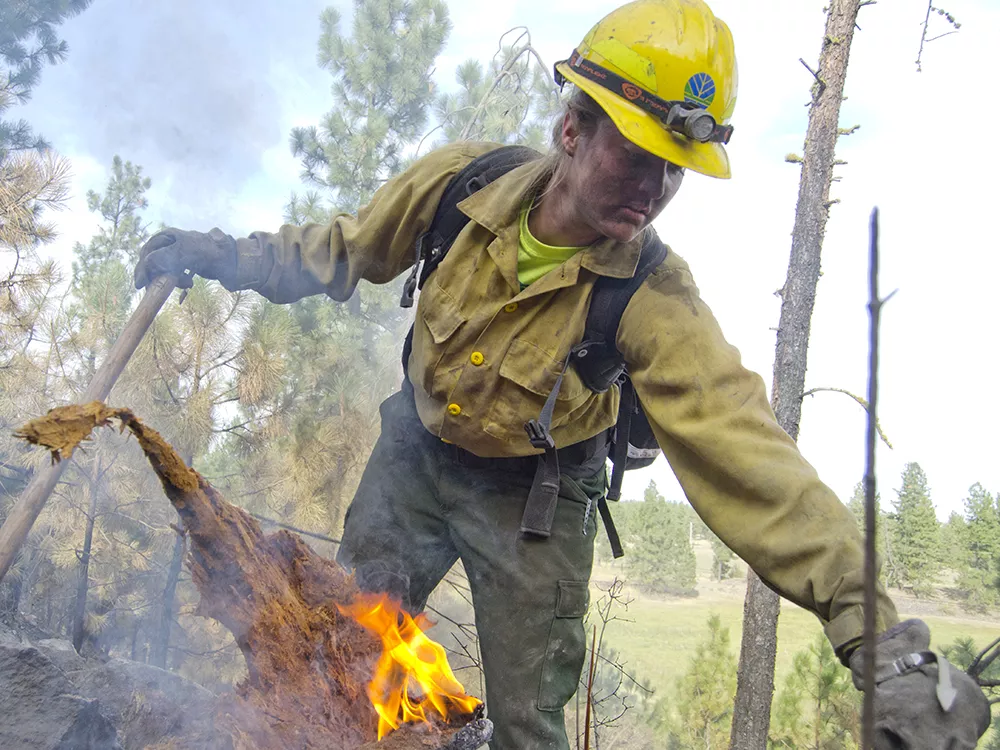 Scattered across a rocky wasteland of charred pine and scorched brush, stubborn flames flicker against the blackened earth. Yellow-clad firefighters carve trenches into the smoldering hillside, their bent silhouettes breaking the ghostly ribbons of smoke still hanging in the trees. Crew leaders call out work orders over the clinking of shovels on stone.
Behind a pair of rhinestone-studded sunglasses, Emily Harpel's face is streaked with ash. A first-year wildland firefighter, she adjusts her pack and crosses the fire line into "the black." Heat bakes through the soles of her work boots as she hikes up the incline.
"It was a pretty big fire," she says.
Driven by high winds and dry weather, the Depot Springs Road fire burned 50 acres of ponderosa and pastureland in late August. Wildland firefighters with the Department of Natural Resources and other agencies contained the blaze along this small ridge, about 7 miles east of Cheney.
In the two months since she completed her initial training, the 21-year-old Harpel has worked dozens of fires on Engine 446 out of the DNR's Arcadia District in Deer Park. With the help of her crewmates, she has learned to run a chain saw, operate an engine, decipher radio chatter and identify fire hazards.
But Harpel says she also found a new confidence amid a tight-knit community where people work hard, where firefighters can depend on the crew members next to them and where the worst situations often bring out the best in the team.
"You see a lot of things that a lot of people don't get to see," she says of firefighting. "You really don't start to understand until you experience it."
Washington state's Department of Natural Resources hires hundreds of seasonal firefighters each summer to protect private and state-owned forestland, often recruiting college students or part-time firefighters from local stations. The regional Arcadia District usually brings on about 30 firefighters to cover approximately 2.1 million acres throughout Spokane, Stevens, Lincoln and Pend Oreille counties.
Officials report the DNR has spent about $14.7 million this season on wildfire operations statewide with the height of activity between June and mid-September.
A 2013 graduate of Whitworth University, Harpel says she joined the DNR this summer for a challenging and exciting new experience. In June, she spent a week at the DNR's introductory guard school, learning fire behavior and safety protocols. Alongside more than 40 other recruits, she soaked up PowerPoint presentations on command structures and exercises on different hand tools before getting cleared for duty.
"I like doing something a little different," she said in June. "If you're adventurous and willing to learn, firefighting's a great thing."
After guard school, she became one of about 12 first-year firefighters assigned to the Arcadia District. She found herself on Engine 446 with engine leader Roger Holloway and firefighter Kris Whitfield.
Holloway, an eight-season firefighter, says Harpel always shows up ready to work and excited to learn. She has proven a quick study at sharpening saw blades and stripping hose. An informal mentor, he often stops to quiz her on safety issues or proper firefighting techniques.
With a chuckle, Holloway recalls how psyched Harpel was to first see the column of smoke rising from the Depot Springs Road fire as they approached.
"She was jumping up and down inside the truck," he says. "She was pretty excited."
Dropping their gear in the tall grass, the soot-stained crews spread out in the shade for a quick lunch break. The Depot Springs Road fire still smolders nearby, but they have dug out a fire break all around the head of the fire by now. It's not going anywhere.
Harpel, Holloway and Whitfield perch on the open tailgate of a pickup truck. They wipe sweat from their foreheads with their sleeves and relax. Whitfield pops open a can of dip. Holloway munches an apple, saying it's the best way to brush your teeth out on a fire.
Engine 446 has spent almost every day together this summer. Once strangers, Harpel says they've grown close through the fires, work projects, long drives in the engine and other assignments.
They chat about the effects of the day's weather and the strategy used to contain the Depot Springs fire. Every job is a chance to learn.
"Is this the hottest part of the fire?" Harpel questions, referring to the head of the fire.
"It's all like this," Holloway says.
Ed Lewis, a DNR fire suppression forester and supervisor for the Arcadia engine program, soon roars up on a four-wheeler and checks in with each crew on their work assignments for the afternoon.
Looking back at the end of the season, Lewis says the Arcadia District has seen more lightning strikes that sparked fires, but fewer new fire starts overall. He estimated Arcadia had responded to about 145 fires by mid-September, well below the average of about 170 fires.
"It was just enough to keep us busy and keep the troops busy," he says.
Recounting the season, the crew of Engine 446 ticks off specific fires and memorable moments: Getting doused by aircraft dropping water on the Bluebird fire in July, staging overnight outside a fire near Omak, spending 27 hours straight on a fire line at the Homestead Way fire.
"There are times it really stretches you," Harpel says. "I've learned a lot about hard work. … The adrenaline rush of working on a fire really keeps you going."
Just two weeks after Harpel finished guard school, 19 well-trained firefighters died in the Yarnell Hill Fire near Prescott, Ariz. As the country grieved, fire investigators worked to piece together how the experienced hotshot crew was overrun. Not since 1933 had so many wildland firefighters died in a single blaze.
Arcadia District dedicated a day to mourning the lost crew, emphasizing safety precautions and discussing the deadly ramifications of fire danger. Harpel says the day of reflection helped reinforce the stakes of her work as well as the kinship of the fire community.
"It really was eye-opening, I think, to know that those kinds of things still happen," she says. "It ... hit us pretty hard."
Lewis says Harpel worked hard to rise to the expectations of the job. As the wildfire season starts to wind down, Lewis says he hopes to see her return to firefighting in the future.
"She's a great worker, great work ethic," he says. "She will be missed."
With a bittersweet excitement, Harpel has already started on her next adventure. She checked in her firefighting gear and bid farewell to her crew on Aug. 31. A few days later, she flew to Tanzania in southeastern Africa to teach English for the next year.
Harpel says firefighting helped build her sense of independence and self-reliance as she prepared to work overseas for the next 12 months. The money she earned will help her get reestablished when she returns, but the experience was the true reward.
"It goes fast," she says. "I feel like I just started at guard school, and now it's over."
Taking on a wildfire can make a person feel small, Harpel says, but it also offers some staggering perspective. Disaster brings people together, ranks of crew members labor together at something bigger than themselves. Thousands of firefighters, shoulder-to-shoulder, working saws and shovels to push back an unwieldy inferno.
In those moments, she's learned to trust the firefighters next to her — the often grimy and good-natured crew of Engine 446. She's tried to return that same support.
"I feel like they're my brothers now," she says. "No matter what, we were always there for each other."
On long shifts and late nights, the crew stood together, far from home and surrounded by flames. They traded jokes and shared secrets. Those were some of the best times, she says, when the intensity of the work cleared away all of life's other distractions.
In the darkness, she could occasionally look up from her shovel and gaze out over acres of glowing embers, counting herself lucky to behold such an overwhelming sight.
"It's just kind of incredible how powerful fire can be," she says. "When we're working sometimes, we'd take a moment and just be like, 'Wow.' It's kind of hard not to watch."