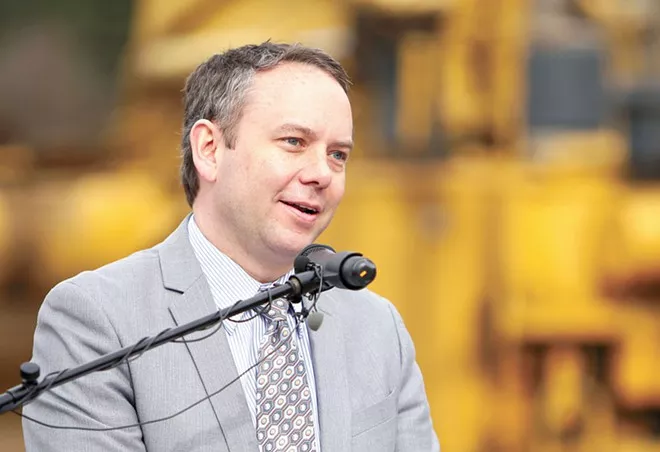 HELP WANTED
Spokane might soon have another police ombudsman — if only briefly. Three months after the city's first ombudsman, Tim Burns, resigned in January, the city announced its search for an INTERIM POLICE OMBUDSMAN, leaving some critics asking the question why it took so long.
According to the announcement, which was posted April 8, applications will be accepted through the end of the month, at which time the selection committee will pick three of the most qualified candidates for the Office of Police Ombudsman Commission to choose from. So far, the selection committee has received 21 applications for the permanent job and two to serve as interim.
"The goal is to get an interim as soon as possible," commission chair Rachel Dolezal says. "Having an ombudsman is completely necessary for all the gears to be moving with the largest degree of effectiveness in police oversight."
Responsibilities and qualifications for the interim position are identical to those for the permanent ombudsman, but the interim is not required to relocate to Spokane, as the initial appointment is for a four-month term, according to the city's municipal code. Ombudsman commissioners can opt to extend the interim's term another four months if the permanent position still has not been filled. (MITCH RYALS)
IN THIS CORNER...
Mayor David Condon has drawn his first challenger seeking to unseat him this fall: SHAR LICHTY, an organizer with the Peace and Justice Action League of Spokane.
Lichty, who is 48 and has lived in Spokane for nearly a decade, decided to throw her hat in the ring after state Rep. Marcus Riccelli, D-Spokane, decided against it. She faults Condon for being too cozy with business interests and for not bargaining more aggressively with the Spokane Police Guild over police reform.
"Spokane deserves a mayor who listens to everyday people," she says. "I don't think we've had that mayor in the last three mayors."
If elected, she says she'll bring greater accountability to the police, increase funding for the Fire Department and push for reforms of the criminal justice system.
In the past, Lichty has campaigned on behalf of statewide referendums to grant same-sex couples domestic partnerships and later full marriages. Lichty has never held elected office, and she says that Spokane City Council's progressive wing reflects her values.
So far, Lichty's most prominent endorsement comes from Breean Beggs, a civil rights attorney who ran unsuccessfully for county prosecutor in 2014.
As of press time, Condon has raised nearly $244,000 for his re-election campaign. Lichty, who has raised no money, is unfazed by the mayor's war chest.
"Oh, I'll let him run that big money campaign," she says. "And I will run a grassroots campaign because that's what I know how to do." (JAKE THOMAS)
WHO YOU KNOW
The Washington State Executive Ethics Board has found "reasonable cause" to believe three administrators at the Community Colleges of Spokane may have violated state NEPOTISM laws in the process of hiring their children.
The sons of Human Resources administrator Greg Stevens, his executive assistant Frances MacDonald-Davis and information systems director Melody Matthews were hired for temporary, part-time $10.30-an-hour jobs to assist in digitizing personnel files. The openings were not advertised.
The community colleges' nepotism policy, the ethics board outlines, forbids parents from serving in a direct supervisory role with their children, a stipulation HR administrators attempted to get around by promoting an office assistant to serve as a legal buffer. But the ethics board suggested the roles the three administrators played in hiring their children still violated policies.
In his written response to the ethics board, Stevens explained that by hiring their children, they could better protect the sensitive, private information contained in the personnel files. "Essentially, HR managers would have a means to 'enforce' confidentiality even after these workers' seasonal employment ended," he wrote.
Chancellor Christine Johnson says that she knew about the hiring decision and urged them to make sure they were following the colleges' nepotism policy. "These are very ethical employees whose lives are spent protecting confidential information," Johnson says. "They know more things about every employee than I do."
Each violation could result in a $5,000 fine. The employees have filed an appeal. (DANIEL WALTERS)