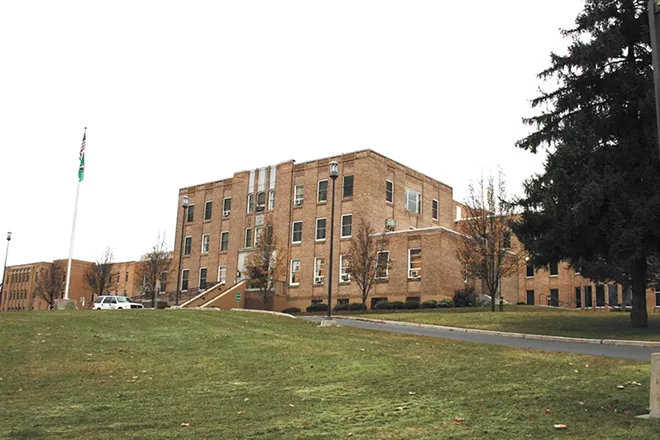 On the third floor of the Spokane County Courthouse, Court Commissioner Steven Grovdahl weighs what to do with an Eastern State Hospital patient who is accused of assaulting a hospital staffer — by alleged attempted strangulation.
The man, David M. Campbell, was committed to Eastern through a court order to undergo 180 days of treatment to restore his mental competency so that he can face charges in another case. He sits at a table in the Spokane County Jail in a prison uniform alongside a public defender and the prosecutor on the case, communicating with the judge and an attorney representing Eastern through a live video stream that is displayed on a television in the courtroom.
A lawyer representing the hospital argues that Campbell should remain at the Spokane County Jail due to concerns for the safety of Eastern staff, asserting that the jail is "much more secure than what Eastern State Hospital has."
Meanwhile, Campbell's public defender, the prosecutor, and staff with Spokane County Jail's mental health staff argue that the aging and overcrowded correctional facility is not equipped to serve to treat him as is required under the standing court order.
"We're not a treatment facility," says Amy Hood, a mental health professional with the Spokane County Jail.
Later, public defender Andrea Crumpler chimes in: "He should be transported back."
Eventually, the judge orders that Campbell be sent back to Eastern, and he's released that same day.
The case highlighted an ongoing dynamic where psychiatric patients at Eastern State Hospital routinely are arrested for assaulting hospital staff and booked into the Spokane County Jail — only to be released back to the hospital to continue their court-ordered treatment. Don Hooper, a lieutenant at the Spokane County Jail, tells the Inlander that patients from Eastern get booked at a rate "somewhere between once a week and once a month."
Now, public defenders and defense attorneys are lobbying state lawmakers to formally give law enforcement discretion to not arrest current psychiatric patients who allegedly commit crimes and, instead, keep them at the facility that they were originally committed to. (The measure would be an amendment tacked onto a larger bill moving through the Legislature that would implement mental health reforms responding to a recent settlement in the Trueblood case, where the state was sued for not giving mentally ill inmates timely competency evaluations.)

While individual law enforcement officers already have broad discretion when assessing whether or not to make arrests, it's standard practice for deputies with the Spokane County Sheriff's Office — the agency that provides policing services to Medical Lake, where Eastern is located — to book patients who assault hospital staff into jail.

"Most people who commit violent felony acts are going to be arrested and booked into jail," says Mark Gregory, a corporal with the Spokane County Sheriff's Office. "We're not doctors."

The rule change pushed by public defenders wouldn't absolve patients of facing potential criminal charges later. Instead, it would provide law enforcement with an explicit legal endorsement to keep patients at hospitals (like Eastern) to avoid disrupting their care while prosecutors decide whether or not to file charges.
"It's basically trying to make clear that police do not have to arrest someone and take them to jail if a crime has occurred," says Christie Hedman, executive director of the Washington Defender Association, one of the organizations lobbying for the amendment. "There should be discretion for them to say, potentially, 'the person may have not been on their medication or such, so acted out.'"
"In most cases, they're going to be returned — because they are mentally ill and not incompetent — to right back to where they came from," she adds. Keeping patients who allegedly commit crimes at psychiatric hospitals is "more cost effective and less stressful and traumatic for the mentally ill individual," Hedman says.


Kristie Ray, supervisor of Spokane County's jail mental health staff, tells the Inlander that booking psychiatric patients into jail is detrimental to their mental health, and, ultimately, their recovery.
"You're taking them from a therapeutic environment at the state hospital where they have their medication regimen and treatment providers and disrupting them and sending them into jail," she says. "We're not a therapeutic environment."
She adds that while jail mental health staff try to ensure that any patients that get booked continue to receive their medication, they don't always stock the full gamut of drugs that the hospital has. Additionally, the process of transporting and booking patients can be disruptive to their scheduled medication treatment, Ray says.
"As far as missed medication, you have to think about the time process. By the time that they get transported down to the jail, you're talking about hours," she says.
Lt. Hooper at the Spokane County Jail also points to the impact that the cycle of arresting and releasing Eastern patients has on county jail transport staff. With severely mentally ill inmates, additional transport officers are required to bring a patient back to Eastern.
"It would be above and beyond our normal duties. Typically it would be an overtime shift," he says.

Officials with the state Department of Social and Health Services, the agency that oversees Washington's psychiatric hospitals, argue that staff at Eastern generally only call the police and press charges when they deem that a patient was relatively stable and cognizant of their actions. Factors such as whether or not the involved patient was on psychotropic medications at the time of the incident are considered.
"It's done based on a clinical assessment of 'did they understand what their actions were' and 'did they do it purposefully,'" Sean Murphy, assistant secretary for DSHS's Behavioral Health Administration, tells the Inlander. "A staff person who is assaulted certainly has the right to call law enforcement."
Staff safety is a very real issue at state psychiatric hospitals, Murphy says, pointing to studies showing that health care workers experience high rates of assault. (Staff at Western State Hospital also have increasingly been assaulted by patients, a recent Associated Press investigation found.)

Currently, staff at the hospital are able to place aggressive or violent patients in "seclusion rooms" or restraints if preliminary de-escalation techniques fail, Murphy says. Some critics of booking aggressive patients have pointed to these tactics as evidence that the hospital has the ability to control patients and doesn't need law enforcement to forcibly remove them from the premises.

However, Murphy says that federal law prevents them from utilizing these facilities beyond immediately incapacitating a patient while they weigh wether or not to call law enforcement.

"We want to make sure that no one goes to work any day wondering whether or not if they will be assaulted," he says. "Jail is not always the best option for our patients but there are some times when our law enforcement have no other options than to take them into custody."

Kari Reardon, a public defender with Spokane County, contests Murphy's assertion that only stable patients who are cognizant of their actions get arrested at Eastern. She says that a patient that she's frequently represented who was booked in early March for allegedly biting a nurse's arm was "grossly psychotic" when he was booked into the Spokane County Jail. (He was also released back to Eastern within 48 hours.)
"I've known this individual for quite some time and it was the worst that I have ever seen him," she says.
Andrew Biviano, a local defense attorney who has had both patients and employees at Eastern State Hospital as clients, says that assaults at the facility are a "big issue" for staff that pits the interests of employee safety and patient well-being against each other.
"You have people who are small people, staff, who can't defend themselves against large patients," he says. "The deputies have expressed amazement that they don't have more tools at their disposal."
"[The patients are] supposed to be in a therapeutic environment to get treatment and recover," he adds. "It poses a tough question of how to provide a therapeutic environment that's safe for both the patients and the staff. It's easier said than done."


The amendment that public defenders — including Reardon — have been pushing for in Olympia hasn't yet caught the attention of lawmakers. It has yet to be voted on to get added to the bill, which has passed the Senate, and now sits in the House Appropriations Committee.
"This particular amendment seems to have dropped through the cracks," Hedman of the Washington Defenders Association says.
Rep. Laurie Jinkins (D–Tacoma), a prime sponsor of the House version of the bill that defense attorneys seek to amend and a member of the Appropriations Committee, tells the
Inlander
that the proposal will likely be put on the back burner.
"I don't have any objection to the policy they're trying to get," she says. "[But] it's most likely that that's going to have to be a bill for next year."
This post has been updated to correct assertions about patient medication scheduling.