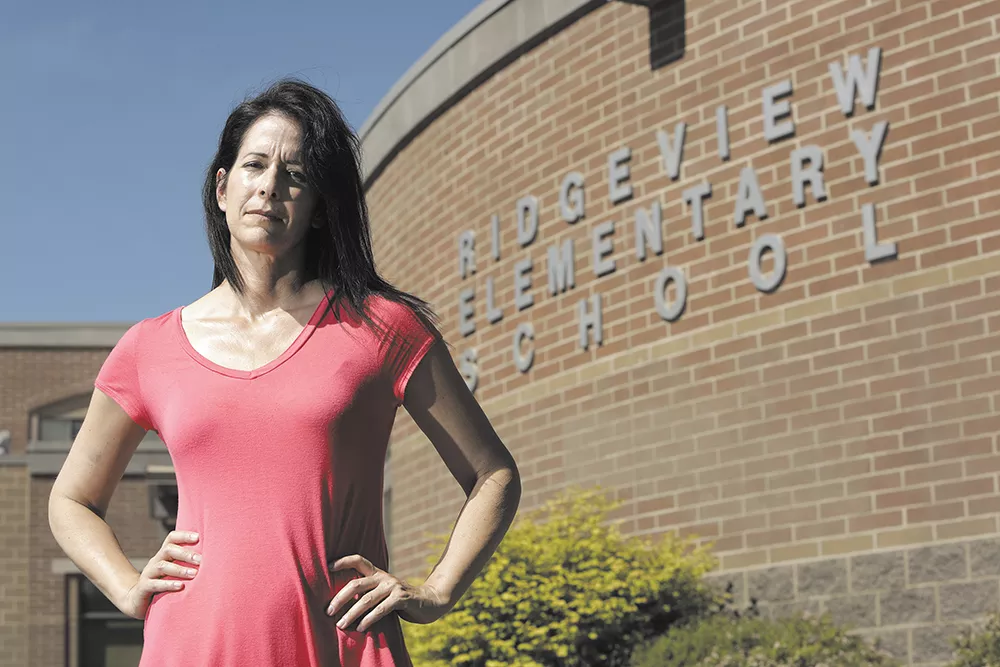 For the second day in a row in mid-October, René Bross got a call from Ridgeview Elementary about a problem with her 10-year-old son. She feared it was another altercation with his teacher, like the day before.
When she arrived this time, she found her son, who is diagnosed with Autism Spectrum Disorder, face down on the ground, with the principal and a teacher's aide on top of him.
Bross took him away and told the school he was never coming back. She was notified shortly after that her son had been suspended for three days and charged with fourth-degree assault. To this day, she says she has no idea what her son did to end up on the ground.
"It traumatized him greatly," Bross says. "He has a fear of officers taking him to the ground like that. He had nightmares for a long time."
Bross told this story in front of representatives from Spokane Public Schools and other community organizations in a meeting May 9 on how to improve school discipline practices in the district. Her account represents just one side of a complex issue in Spokane: For every parent who says their child was mistreated, there's a teacher who says they don't have the support needed to protect the classroom from a misbehaving student.
The district is trying to reduce the rate of discipline for minorities and students with disabilities, groups who are suspended and expelled more often than other students. But in doing so, schools have come across a fundamental challenge: How do you avoid suspensions, expulsions or other serious disciplinary methods that often cause further harm to misbehaving kids, while also making sure teachers and other students are safe?
Vanessa Hernandez, youth policy director for the American Civil Liberties Union of Washington, says that employing restorative practices — efforts to address student behavior without suspending or expelling students — is one major part of improving student discipline in Spokane, one that schools nationally have gravitated toward. In Washington state, she points out other school districts, like Bellingham and Tacoma, have implemented restorative practices.
But none of those districts are starting from the place Spokane is starting, she says. The changes in Spokane, she says, need to be systematic.
"There is an added layer of urgency for Spokane to take the lead and become a model," Hernandez says.
ADDRESSING THE PROBLEM
Spokane disciplines students at a higher rate than nearly any other district in the state. About 8.5 percent of all students were suspended or expelled during the 2014-15 school year, more than double the state average.
Special education students are far more likely to be disciplined than others. Though they made up 13 percent of the population in the 2014-15 school year, they accounted for nearly a third of all suspensions and expulsions in Spokane Public Schools, according to district data.
Bross knew her son could not return to the same environment at Ridgeview after what happened there. She transferred him to Moran Prairie Elementary School, 35 minutes away from her home. She says the district should strive to ultimately prevent student behavior from escalating to the point where a child is held on the ground.
The district, in theory, agrees. For years, it has urged teachers and administrators to use restorative practices and Positive Behavior Interventions and Supports (PBIS), philosophies aimed at addressing the root of student misbehavior, building student-teacher relationships, and ultimately keeping kids in school — not suspending them at the first sign of trouble. The idea is that the earlier you can intervene, the more you can make a change in a student's behavior.
Consider a student who smells like marijuana after lunch. Many schools might send that student home. But according to Fred Schrumpf, director of community partnerships and on-time graduation in Spokane Public Schools, research studies show that kids smoke more marijuana more often when they're sent home.
"It's not a logical consequence to exclude students for misbehaviors if the behaviors are going to increase, if we're concerned about the student around substance abuse," he says. "They need alternative approaches to that."
Restorative practices don't always work, and it becomes more difficult for students with severe behavioral issues. The philosophy is based on agreements between the student and teacher or administrator. If one side doesn't hold up their end, then there must be a line where more disciplinary action can be taken, Schrumpf says.
Wendy Bleecker, Spokane Public Schools' director of student services, says people have a hard time wrapping their head around the idea of restorative practices.
"Many people feel like restorative practices is an easy way out, and that you're letting kids off the hook," she says. "And really, you're holding them much more accountable. That, I think, is a misunderstanding and becomes a barrier for implementation of restorative practices."
A current lack of training and support for teachers in the classroom is also a barrier, says Jenny Rose, president of the Spokane Education Association. She says teachers are receptive to restorative practices, but they don't have the resources they need.
"We really don't want the kids to be sent home, because they're going back to an environment that is not where they should be," Rose says. "Schools are structure. We want to keep kids in school. However, they can't come back to the classroom and keep disrupting the other students, and that seems to be what's happening. There's no support, and not enough adequate staffing to actually work with kids that blow out."
More support would mean more space in elementary schools, or intervention rooms to send the students, for example. And she says the training for staff needs to be more consistent. Right now, Rose says, the system isn't working.
For whatever reason, schools are reporting more issues with student behavior, says Shawn Jordan, Spokane Public Schools' supervising director of secondary programs and special services.
"This year in particular has been one where schools have felt more challenges with student behavior," he says. "Though the data shows a decrease in incidents, the feeling among staff feels otherwise."
In a May 11 board meeting, Rose and Spokane Public Schools teachers addressed the school board with stories about kids, mostly in elementary schools, who became violent with teachers or other students in the classroom, only to return shortly after with little punishment. One teacher said she'd been trained in PBIS and restorative practices, but her general education classroom had three non-English-speaking kids, two students with behavior plans, two accessing mental health services, 13 transfers, and two who had received Child Protective Services in their homes. Without the staffing to support kids in these situations, the teacher argued, restorative practices could not be used properly. Classroom safety suffered.
"How are we going to bridge the gap with philosophy," the teacher asked, "and what we experience every day?"
UNDERPRIVILEGED, OVERREPRESENTED
As he taps his foot beneath the table at his home in Hillyard, Tucker says he doesn't like change. But the eighth-grader, identified here only by his last name, has become used to it.
He was kicked out of every elementary school in Hillyard, he says, and some in Spokane Valley, too. He spent a good part of his childhood moving around foster homes. He has Attention Deficit Hyperactivity Disorder and an anxiety disorder. That, he says, is the main reason why he's suspended so often.
Back in December, he was sent to a quiet room at Eagle Peak School, a school for kids with extensive behavior issues. The quiet room is where students are "processed," meaning a student fills out a sheet explaining what happened and what they'd do differently. It's a restorative practice, says school Principal Melinda Keberle, the kind she says the school has used for more than a decade.
But on this day, Tucker started feeling anxious because the teacher wouldn't pick up his sheet, making him sit in silence. He mumbled a curse word to himself, according to a grievance filed with Spokane Public Schools, and a teacher heard and told him to go outside and sit on a bench — another disciplinary practice used at Eagle Peak.
Tucker didn't want to. He never wanted to, especially in December. According to the grievance, a school resource officer came and slammed him to the ground. Tucker says he never fought back. He was arrested and sent to juvenile detention for disturbing the school, with a fat lip and a split ear and a bump on his head, he says. He was suspended for the next several days.
Tucker, who is represented by attorneys at youth advocacy group TeamChild, says he is tired of getting suspended for things he doesn't think he can control, that don't involve violence or drugs. After meeting with Spokane Public Schools administrators, his grievance has been resolved.
"School is for education, not to get suspended. Because if you're sitting at home, what education is that? What are you learning from it?" he says.
Keberle says the students at Eagle Peak are there for a reason. They have significant behavior problems and they typically have struggled in other schools. While not talking about any specific case, she says it's never just "one little thing" that leads a student to be arrested; instead, it's a result of many prior interventions.
Across the nation, low-income students and minorities are disciplined at a higher rate than other students. That holds true in Spokane as well. Students on free or reduced lunch accounted for almost 75 percent of suspensions or expulsions last year, according to district numbers. Black and Native American students are suspended at a rate twice their representation in the general population.
Many low-income students have experienced some kind of trauma, or what's called an Adverse Childhood Experience. That, says SPS' Bleecker, impacts student behavior and academic success down the road. Those kids need more mental health support, which is why the district continues to add mental health therapists in schools.
What doesn't help kids, says Krista Elliott, a Spokane County public defender who handles juvenile cases, is being arrested or charged with juvenile crimes. Yet Elliott says her office has seen more referrals from schools, mostly from SPS, in the past year than ever before, meaning more kids are being arrested and charged. Out of 57 juvenile cases she has seen in the past month, 20 were incidents that occurred in school. Few were serious offenses, she says, and included charges like disturbing school, a state law that can seemingly be used to charge a student for just about anything.
"I sit in this chair and get files, and I'm seeing these kinds of cases come across my desk. And then I go to these meetings and I hear the school representatives say we want to take care of children, we do not want to suspend them or expel them, but provide education to them," Elliott says. "And then somehow, from the administration to when it gets to my desk, it's still happening."
Spokane County Prosecutor Larry Haskell has cracked down on juvenile cases. Elliott suggests there may be a disconnect between school resource officers and school administration as well. But whatever the cause, she says a charge on a kid's juvenile record has repercussions down the road.
"Limiting criminal charges coming out of schools, in a general sense, is something I feel strongly about," she says.
CHANGES COMING
The district pushed for a decrease in suspensions and expulsions partly in order to fix the previously high dropout rate, which was around 30 percent five years ago, says Schrumpf, who leads efforts to improve graduation rates in Spokane.
If fewer kids are kicked out of school, the thinking goes, more will actually stay in school.
Today, the dropout rate is around 10 percent, Schrumpf says. Even though the discipline rate remains high, Schrumpf anticipates the numbers for the 2015-16 school year will show improvement.
Schrumpf notes that the discipline rates for most minority groups in Spokane are below state average and have been trending downward in recent years. He points out that some schools, including North Central High School and Sacajawea Middle School, have implemented restorative practices and have seen huge changes in student behavior.
Dan Ophardt, a staff attorney with TeamChild, says he has seen the district take positive steps to reducing exclusionary discipline, but that so far it's been more talk than action. He says the training for restorative practices needs to happen in a more coordinated way, keeping in mind that the district owes its students the right to an education without discriminating based on race or disability.
"We see some schools doing great jobs on their own, and we see other schools falling back into this legacy of exclusionary discipline and disproportionate discipline," Ophardt says.
The district has made a series of budget requests to address student discipline, totaling more than $2 million. If granted, they would provide more elementary principal assistants, more behavior support in middle schools and other resources. On top of that, restorative language likely will be added to district policy over the summer.
"Mainly when we support kids, we support teachers, too," Schrumpf says. "It's not one or the other. I think you do that simultaneously. So I think we're going in the right direction, but we have a long ways to go." ♦