Allan didn't know it was fentanyl. If things went differently, he may have never known. All he felt was a flash of euphoria eroding into nothingness, and he was gone.
He'd battled addiction for three decades, since he was a child. And on the day of his overdose a year ago, he'd recently lost his home and relapsed, once again a prisoner to heroin.
Only this wasn't heroin. This was worse.
He woke up in an ambulance after paramedics gave him Narcan, the lifesaving medicine for opioid overdoses. He walked out of the hospital still hardly coherent, but he survived. He found out later that the heroin was laced with fentanyl, a synthetic opioid 50 times more powerful than heroin and 100 times stronger than morphine.
Until a month ago, Allan, who asked to be referred to by his middle name only, avoided fentanyl, afraid the next time he used it would be his last. But blue fentanyl pills, known as "Mexis" or "Mexi Blues" or "M-30s," continued to flood the drug market in Spokane. When he relapsed again, it simply became the most convenient opioid, despite the risks.
"I was afraid to touch it until recently, just the past month or so. And then it was because there was a whole bunch of them. I'm not sure where they're getting them, but there's so many of them," Allan says.
In the Pacific Northwest, the heroin crisis has morphed into a far deadlier fentanyl crisis. And Washington has been uniquely hard hit. Just as COVID-19 began killing people by the thousands, fentanyl smuggled by Mexican drug cartels started causing more accidental drug overdoses in Washington than at any other time in recent memory.
Sometimes, it's because fentanyl is laced with other drugs. But mostly, fentanyl takes the form of those blue pills made to look like prescription oxycodone. It can fool teens and college students, who have died having no idea what they had taken. And if it doesn't kill, it can bind addicts like Allan to a new, scarier world of addiction.
"They're already struggling with addiction, and they're buying something to use without realizing they have just entered into a whole new arena," says Hallie Burchinal, executive director for Compassionate Addiction Treatment in Spokane.
And the reason for this new scourge seeping into the cracks of society, smothering the vulnerable?
In a word: profit.
THE BUSINESS OF FENTANYL
It was a Tuesday in May 2019, and it was a good day for the officers of the Tri-City Metro Drug Task Force in Kennewick. Working with federal agents, they were ready to move against members of the Sinaloa Cartel, Mexico's most dominant drug trafficking organization.
They knew for two years that the cartel was smuggling fentanyl pills into Eastern Washington, and they'd been building a case. Finally, on this day, a detective got word from his informant: One of the cartel members they were after, Josue Medina-Perez, was at the mall.
Local police, according to federal court documents, pulled Medina-Perez's blue Honda Accord over in a movie theater parking lot. When an FBI agent arrived, Medina-Perez flipped. Ready to spill everything, he told the FBI he was working with another distributor nicknamed "the Knife" — Francisco Delgado, who that day was in Seattle dealing 15,000 fentanyl tablets.
Then the day got even better: Medina-Perez agreed to call Delgado and set up a deal in the Tri-Cities. Police arrested Delgado with roughly 1,000 fentanyl tablets imprinted with "M-30," court documents show.
They eventually reached a plea deal, and a victorious news release by the U.S. Attorney's Office early this year announced that authorities had broken up a drug trafficking ring and were putting away two men responsible for distributing 5,000 to 10,000 fentanyl pills per week to Eastern Washington. They're now in federal prison.
It was a blow for the drug cartel and a success for the U.S. Drug Enforcement Administration, which provided support for local officers involved in the bust.
But it did little to deter drug cartels from flooding the region with even more illicit fentanyl. The cartel retooled and sent other distributors.
It's a business, and right now, the cartels are looking to expand their fentanyl operation in the West, says Frank Tarentino, special agent in charge of the DEA's Seattle Field Division.
"These transnational criminal organizations based out of Mexico are driving the product, getting into the United States, and then eventually onto the streets of Seattle, Tacoma, Spokane and really the entire Pacific Northwest," Tarentino says.
The surge in fentanyl in the Pacific Northwest has come a few years later than it did on the East Coast of the United States. That's largely tied to the business of the Sinaloa and the Jalisco New Generation drug cartels, Tarentino says. The last decade, the fentanyl in the eastern part of the U.S. has primarily been driven by China. Until more recently, Mexican drug cartels primarily focused on dealing methamphetamine and heroin in the West, Tarentino says.
But that's begun to change in recent years. The cartels are getting precursor chemicals from places like China and recruiting chemists to manufacture fentanyl for themselves, Tarentino says.
The illicit fentanyl they're making isn't the same as the prescription fentanyl used in hospitals to sometimes treat cancer patients. This fentanyl is synthesized in a lab, without the same quality controls. Unlike heroin, they don't need to extract opium from a poppy plant, so it can be made more quickly. It's much easier to transport in large quantities, and because it's so potent it yields significantly more profit.
Just one kilo of fentanyl is enough for 500,000 lethal doses, Tarentino says. That's because a lethal dose can be the size of a grain or two of salt.
Put another way: A kilo of heroin might yield something like $80,000 in profit. But a kilo of fentanyl could yield closer to $2 million.
"They're making a tremendous profit on something that they invest very little in," he says.
They smuggle it here any way they can. Seriously: Imagine any way to smuggle fentanyl, and the cartel has probably tried it, Tarentino says. Hiding it in fuel and in computer parts. Stuffing it in food.
"They're getting it to where the demand is, and they have varying methods of how they get their products from the source country into the U.S. and into the streets, where our young people are falling victim to it," he tells the Inlander.
Now, police from all over the state constantly encounter fentanyl on the street during relatively routine arrests. Spokane Police Lt. Rob Boothe, head of the investigative division for drug cases, rattles off two such arrests just this month. At a local university campus Boothe wouldn't name, Spokane police found 2,000 fentanyl pills along with three pistols, one of which was stolen. In another case, a foot chase ended with police seizing meth, $15,000 in cash, 5 ounces of heroin and 2,500 fentanyl pills.
"And that's not exceptional," Boothe says. "That's just in the last two weeks. ... There are a lot of pills coming here."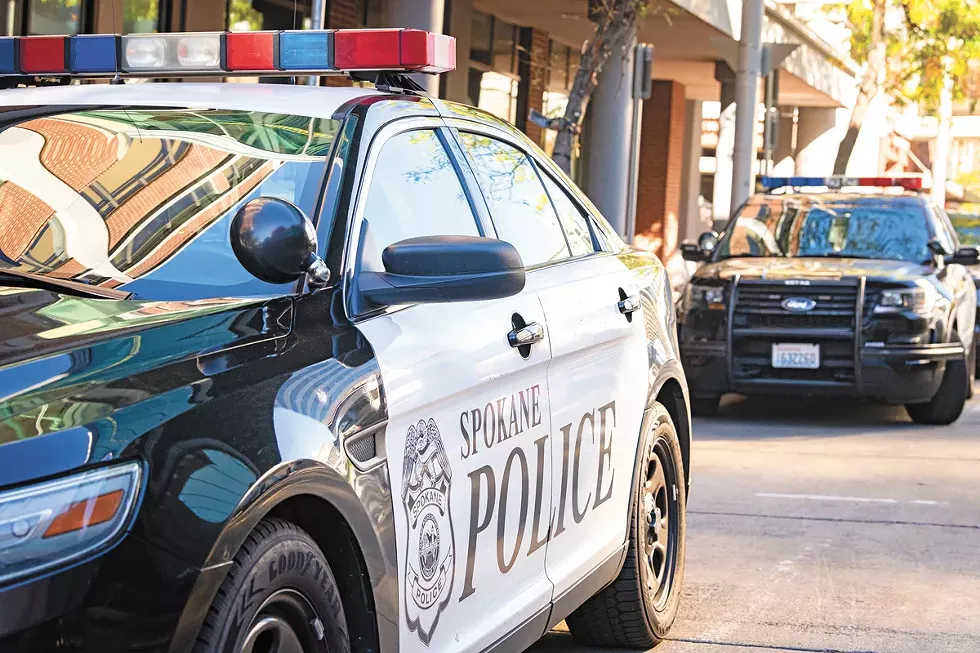 SPIKING OVERDOSES
Fentanyl's potency isn't the only reason it's so lethal. It's powerful, sure, but it's also sneaky and unpredictable. It can be disguised as something else. It can lure you into a false sense of security.
The blue pills are most common, and they look so much like oxycodone pills that even Nicole Rodin, assistant professor in pharmacotherapy at Washington State University, can't tell the difference between a fentanyl tablet and an oxycodone pill.
"Unless it's been confiscated by police, and they know this is a fentanyl batch, me looking at it, I would never know," Rodin says. "I don't think you can tell under a microscope."
In fact, it's becoming extremely rare for an illicit pill looking like an oxy to not be fentanyl. Caleb Banta-Green, an addiction researcher at University of Washington, says that every fatal King County overdose in 2020 with an M-30 tablet at the scene tested positive for fentanyl. For those who fatally overdosed and did have oxycodone in their system, they always had a prescription for it.
Plus, in these illegal labs without controls on how much fentanyl is in each tablet, you never know which pill can kill you.
"Someone can take two pills and feel nothing, then take the third one and they overdose. Because the entire dose was in there," Rodin says.
It's already killing local teens and young adults. In May, a 15-year-old high school student in Coeur d'Alene, Michael Stabile, fatally overdosed after taking what he thought were prescription pills but was actually fentanyl. Last year, Diamond Morrow, a 23-year-old Spokane woman, died of an accidental fentanyl overdose, according to the Spokane County Medical Examiner's Office.
Statewide, fentanyl is causing opioid death rates to spike at staggering rates. In 2020, the death rate from fentanyl nearly doubled, reaching 8.9 deaths per 100,000 people and becoming the most fatal opioid in Washington state by a large margin, according to data analysis from the University of Washington. That correlated with an overall 37 percent increase in overdose deaths, from 1,259 in 2019 to 1,729 in 2020 — the most in at least a decade.
"Someone can take two pills and feel nothing, then take the third one and they overdose. Because the entire dose was in there."

tweet this
So far this year, statewide overdose deaths are still outpacing last year at the same time. Nearly half of them — 191 total — are linked to fentanyl, according to the state health department. Of those fentanyl deaths, 55 were of people younger than 30. And deaths were highest among Native American, Hispanic and Black people, the state says.
In Spokane County, fentanyl deaths began surging just as it seemed Spokane was getting a handle on the heroin epidemic.
Accidental overdose deaths for any drug in Spokane had peaked in 2016 at 115. Then they dipped for three years, down to 80 in 2019.
For that, local treatment providers credit the widespread use among drug users of naloxone, which goes by the brand name Narcan and can be effective if used within minutes of an opioid overdose.
"One hundred percent, it's because of the education and availability of Narcan," says Blake Redding, executive director of Spokane Treatment and Recovery Services. "We went from having just a couple doses in our [facilities] to basically every program has them, and everyone driving transportation vehicle has them. ... We went on the offensive with the preventative measures."
But fentanyl changed the game. Preliminary data from the state indicates that overdose deaths in Spokane County last year were back around that 2016 peak. In all of Eastern Washington, overdose deaths shot up by 34 percent from 2019 to 2020, according to preliminary state data. That's because of a 130 percent increase in fentanyl overdoses in the region during the same time.
While naloxone still saves lives during a fentanyl overdose, it may take way more than the one or two naloxone doses that drug users may have on hand.
"We've heard of doses going up to 25 or 30 to bring someone back from fentanyl," Redding says.
Bobbie Lee Silva, a peer counselor at Compassionate Addiction Treatment, knows exactly how hard it can be to save someone overdosing on fentanyl. Recently, as she left work with another co-worker, they saw a woman screaming for Narcan outside the House of Charity homeless shelter.
Silva rushed back to work nearby to grab two boxes of Narcan. She came back to help a man who was overdosing from a blue fentanyl pill. But even four doses of Narcan, a nasal spray, didn't wake him up.
"I had to physically put my mouth around his nose and blow it up his nose, because he wasn't coming to," Silva says. "He was blue, gray and pretty much gone."
Finally, just as the ambulance came, he started breathing slowly. He survived.
But for Silva, a former addict herself, it was a grim reminder of a far more dangerous threat than she's used to.
"I've seen people OD on heroin quite often in my life. And it's never been that hard to bring somebody back," Silva says. "The difference is scary. It's very scary."
LONG ROAD TO RECOVERY
If you do survive a fentanyl overdose, your problems aren't over. Compared to other opioids, fentanyl hits faster, with a higher high that's shorter lived.
"The addiction potential of fentanyl is higher than any other opioids," Banta-Green says.
Or as Allan puts it, it's "better than heroin."And also more convenient. Since taking a blue fentanyl pill a month ago — nearly a year after his overdose — he says he's never been hooked this bad. And for Allan, it's not just fentanyl, but methamphetamine, too. Without meth, he has no energy to get through the day, he says.
He wants to get clean, he says, but the withdrawals from fentanyl are too much to bear.
"When you're sick, you'll compromise your values, your everything, just to get high so you're not sick," he says.
It's an increasingly common experience in Washington, where the fentanyl crisis has converged with already high rates of meth use. In that respect, Washington is facing simultaneous drug epidemics in a way few other areas of the country are.
A firm called Millennium Health studies drug trends nationally. They collect urine samples from people seeking treatment for drug addiction and pain, sharing what they find with U.S. Health and Human Services.
What they've found is a shifting drug landscape since the pandemic hit.
Typically, higher meth and heroin positivity rates have been seen in Western states, while higher fentanyl rates were found on the East Coast. But that's changing quickly, says Eric Dawson, vice president of clinical affairs at Millennium Health. The West Coast is starting to catch up with fentanyl positivity. And among West Coast states, Washington's fentanyl positivity was rising the fastest.
As of this month, Washington — just last year among the lowest in the country for fentanyl positivity — now ranks 13th in the nation with 8.3 percent positivity, Dawson says. Idaho, meanwhile, is also seeing an influx of fentanyl, but the recent fentanyl positivity rate there was still less than 1 percent — far below the national average, Dawson says.
"We have seen, and continue to see, significant growth in fentanyl everywhere out West," Dawson says. "But especially in Washington."
And while he expects heroin use will start to fade as fentanyl overtakes it as the dominant opioid, there's little such correlation with meth. In fact, Washington also has seen an increase in meth positivity, now ranking 11th in the country in that, Dawson says.
Even more striking: Of all the patients in Washington who do use fentanyl, 75 percent also tested positive for meth, according to a recent Millennium Health report. That's the highest co-positivity rate for meth and fentanyl in the nation.
Yet it doesn't come as much of a surprise for treatment providers in Spokane.
"We've been seeing many people showing up positive for fentanyl, really in the last six months, including people who use meth," says Burchinal, the head of Compassionate Addiction Treatment.
Burchinal says she thinks drug dealers are intentionally lacing meth with fentanyl, hooking people on opioids who may otherwise have stayed away.
Misty Challinor, treatment services director for the Spokane Regional Health District, also says addicts are taking fentanyl without knowing it.
"A lot of our individuals that we've seen using it are unaware they've had it in whatever substance they're using," she says.
Dr. Lora Jasman, a physician who often treats drug users at the MultiCare Rockwood Clinic near downtown Spokane, sees the same.
"We'll see sometimes people who were using methamphetamine for years and didn't have any opiate use disorder, but then it started getting combined," Jasman says. "And pretty soon they established a methamphetamine use disorder as well as an opioid use disorder."
Yet while both law enforcement and treatment centers say fentanyl is being laced with other drugs, Banta-Green from UW isn't so sure it's that common. He says that through early 2021, it was rare to find fentanyl in meth seized by law enforcement in Washington that was tested at the state crime lab. Fentanyl also stays in a person's system longer, binding to fatty tissues, so you can test positive even if you haven't used it recently.
There may well be drugs laced with fentanyl, hooking unwitting drug users to a more powerful opioid. But Banta-Green says he's not hearing as much of that now.
"What I'm hearing much more is that people are buying fentanyl. Heroin users are not mistakenly using it. They're using fentanyl because it's what's available," Banta-Green says.
Either way, he agrees with treatment centers on one thing: The best treatment for fentanyl addiction is with medication like buprenorphine or methadone.
"We know that treatment medications like methadone and buprenorphine have, by far, the biggest impact on reducing mortality," he says. "There's super strong research showing they reduce mortality by about 50 percent annually."
Those medication-assisted treatment options have increased in Spokane in recent years, and providers think that's another reason overdose deaths declined in Spokane before the fentanyl surge. Users can go to the methadone clinic at Spokane Regional Health District. Or they can find buprenorphine treatment at the low-barrier Compassionate Addiction Treatment, or at the MultiCare Rockwood Clinic. Even Spokane Treatment and Recovery Services recently brought medication-assisted treatment in-house.
Fentanyl, of course, does present its own challenges for medication-assisted treatment. Buprenorphine can be used within hours after someone uses heroin, but you have to wait longer — usually a couple days — if someone recently used fentanyl. If administered too early, it can trigger severe withdrawal symptoms.
"And that's a really long time for somebody to be miserable in withdrawal. The symptoms are like a really bad flu — chills, sweats, nausea, diarrhea," Jasman says. "And the longer they have to be in that state, the more risky it is for them, and many of them just can't do it."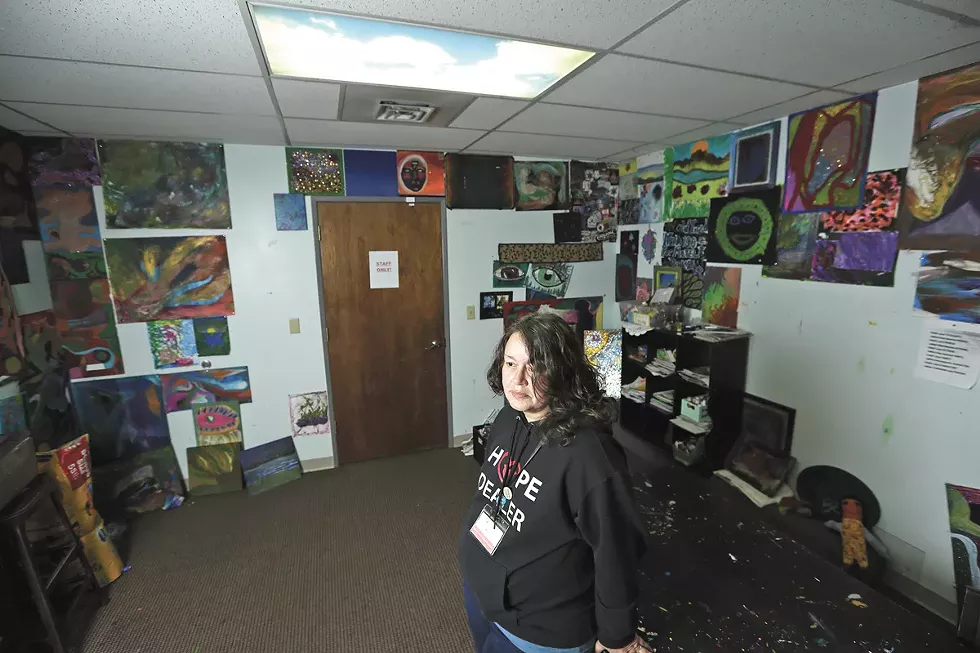 STOPPING THE INEVITABLE
If you've been following the story of fentanyl across the country, it's not hard to predict what's going to happen with the drug trade in the Pacific Northwest, says Dawson, from Millennium Health.
The continued growth of fentanyl in the region is inevitable. Meth use will also likely grow. The former opioid king, heroin, will stay flat or dwindle.
"We don't even look at heroin that closely for [Health and Human Services], because we realized that fentanyl is the star of this tragic show," Dawson says.
For the DEA, the primary focus remains preventing as much fentanyl supply from making it here.
"It's really about identifying the biggest and baddest traffickers who are bringing the majority of this poison into the streets of our cities," says agent Tarentino.
The DEA and the U.S. Attorney's Office continue to partner with local law enforcement, including in Spokane agencies, to both track down the bad guys and educate the public about the threat.
The situation may look dire, but Tarentino insists that every drug bust makes a difference.
"We're making an impact. There's no doubt in my mind. When we take 100,000, 400,000 pills off the street, that's having an impact," Tarentino says.
Banta-Green has a different sort of plan: Keep people alive at all costs. That means making Narcan even more widely available, and it means safe smoking and injecting supplies to curb the spread of disease.
Health care providers, meanwhile, need to offer even more low-barrier treatment options offering buprenorphine, he argues. And then, providing housing to those experiencing homelessness is crucial. Housing and transportation can help break cycles of addiction, he says.
Still, the power of the drug cartels, combined with the potency of fentanyl and the market for it, make it hard for Banta-Green to imagine how to put the proverbial genie back in the bottle.
"What are we going to do as a society in Washington state that is going to be powerful and potent enough to counteract those market forces around fentanyl?" he says. "Because we aren't even close." ♦