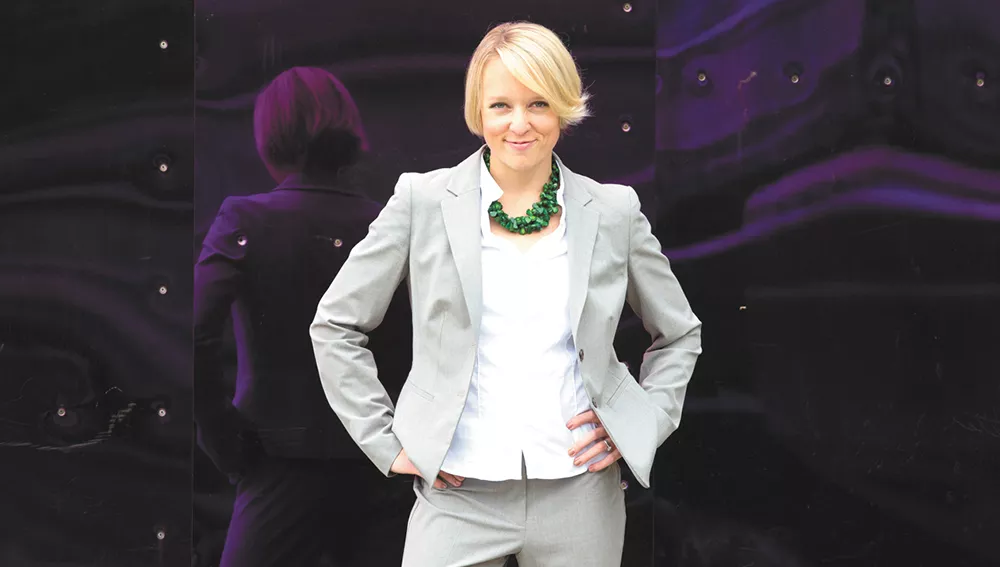 The federal Controlled Substances Act hangs over recreational marijuana legalization in Washington and Colorado like a dark cloud. In it, instead of a business opportunity, cannabis is considered among "the most dangerous drugs of all the drug schedules."
Now, a lawsuit filed against the city of Wenatchee is challenging that oft-cited reason for opposing recreational marijuana: that it's still federally illegal. A man hoping to open a marijuana retail store in Wenatchee, represented by well-known pot lawyer Hilary Bricken, is suing the city over its requirement that in order to get a city business license, he must follow federal law, effectively banning any marijuana businesses.
"Federal preemption," as it's called, is a common and powerful refrain in the debate over marijuana policy, with proponents like those in Wenatchee often citing the U.S. Constitution's "Supremacy Clause" stating that federal law "shall be the supreme law of the land." But the argument is more complex. Courts have looked at different "prongs" of preemption, including whether it's impossible to follow both state and federal law and whether a state law gets in the way of Congress' enforcement of federal law. The results have been mixed. In one California case concerning a state law requiring counties to set up identification card systems for medical marijuana patients, a court upheld the cards, saying they didn't hamper federal law enforcement. But in a similar Oregon case, the state Supreme Court found that the cards were in "positive conflict" with federal law because the system meant Oregon was explicitly allowing something that was federally illegal, creating an "obstacle" to federal law.
Wenatchee has not yet decided how it will respond. If it fights, the city could argue that nothing in Initiative 502 prohibits it from banning marijuana, pitting it only against the state's new marijuana law. Or it could argue that the ban is justified because the drug is federally illegal. In that case, the entire initiative would be at stake and the ACLU of Washington is likely to step in.
Alison Holcomb, criminal justice director at the state ACLU and one of the chief authors of Initiative 502, describes the regulation of marijuana as a sort of sub-category of a state's authority to decide how it will enforce laws — its "police powers."
"It's well settled that if Washington wanted to just wipe all marijuana laws off the books, it could do that," Holcomb says. "Washington could make it not a crime for every man, woman and child to grow, sell and possess marijuana under state law. The federal government retains the power to enforce its law, but Congress doesn't have the ability to make a state make anything related to marijuana a crime. ... We're simply changing how Washington state is exercising its police powers when it comes to marijuana."
Lawmakers in Wenatchee knew the dilemma they faced with the law on their books and remain conflicted. In interviews this week, councilmen on different sides of the issue made the same argument.
"Which state laws do you begin to accept and which to you begin to ignore as a local government?" says Wenatchee Councilman Mark Kulaas, who in October voted in favor of exempting marijuana businesses from the business license requirement (the measure failed 4-3). "Are we to start picking and choosing which ones we want to implement?"
"I believe what's at stake is people following the laws of the land," says Councilman Keith Huffaker, who voted against the exemption and wants the city to fight Bricken's lawsuit. "I don't think we should be allowed to choose which laws we want to obey and which we don't want to obey."
Wenatchee is not alone. Cities and counties across the state have banned marijuana businesses, some specifically citing federal law. Clark County, just across the river from Portland, now has rules on the books regulating where marijuana businesses will be allowed, but they won't take effect until federal law is changed. Pierce County has a similar law. In January, an opinion from the state attorney general saying he interpreted Initiative 502 to allow cities and counties to opt out bolstered the arguments of those looking for a way to block the businesses.
That means Bricken's client, Shaun Preder, won't be the last person who qualifies for a state license but can't open shop because of local laws. Wenatchee, Bricken says, was just "a very good target" for the first fight.
"You've got councilmen going on the record, literally saying we have to go to [the] federal government to get change before we'll allow our citizens to participate," Bricken says. "To me, that is ludicrous given that we voted for this and votes mean something in this country. If we want to preserve the meaning of what a citizen initiative means, Shaun Preder should be able to open his doors." ♦