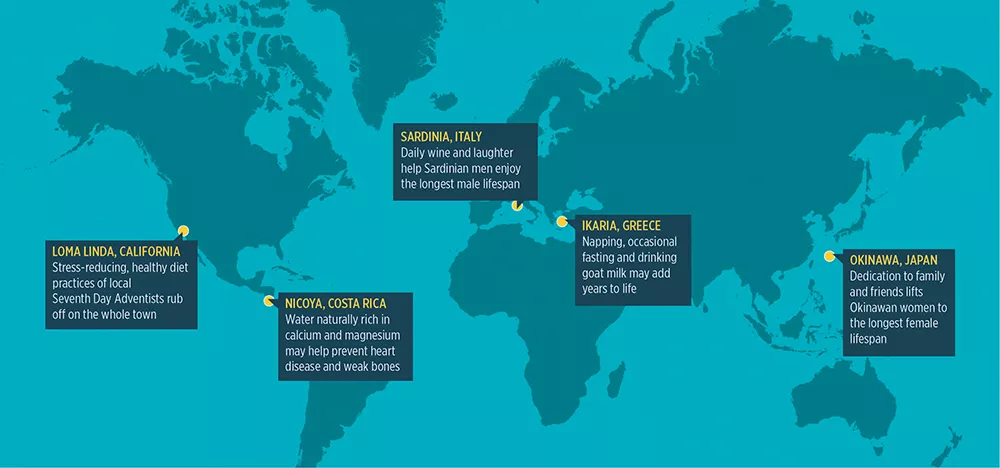 Tt was found, like many discoveries before it, on a quest. In 2004, National Geographic Fellow Dan Buettner led a team of scientists across the globe investigating one of the world's greatest puzzles. The team found itself in Okinawa, Japan, studying the secret for longevity.
Five years later, Buettner's team had discovered four other communities he dubbed Blue Zones — pockets of the world where people live to be 100 at rates 10 times greater than in the United States. These communities, they found, share nine commonalities that contribute to healthy living. (See "What People in Blue Zones Share" on the facing page.)
"We were always thinking, how can we bring these teachings back to our communities?" Buettner says. "This is how Blue Zones was born. Our goal was to make small adjustments to make the healthy choice, the easy choice."
Help in Numbers
"Our culture and environment has evolved into putting the health responsibility on the individual. We need the tools to help create an environment that curates health, instead of [one that] works against us," says Buettner.
Blue Zones is an organization that provides a framework and online tools for individuals, workplaces and even entire communities to work toward longer, healthier lives. In 2009, the organization created its first Blue Zones Community in Albert Lea, Minnesota. After just one year, participants added an estimated 2.9 years to their average lifespans, health care claims for city workers dropped 49 percent, obesity dropped 14 percent and smoking dropped 30 percent.
"The first step to a healthier lifestyle is to take inventory of what you are doing right and what small things you need to change," Buettner says. "Once you have an understanding of what needs to be adjusted, it's much more manageable than just a vague idea of 'I need to become healthier.' There is no fountain of youth or magic pill we can take to live long, healthy lives. It takes many small changes to create an environment that curates healthy living."
Buettner will speak on Tuesday in Spokane as part of Providence Health Care's Town Hall Forum series, which sponsored T.R. Reid of the PBS documentary U.S. Health Care: The Good News in 2012.
"We really wanted to focus on grassroots participation," says Joseph Robb, director of marketing and public relations for Providence. "I wouldn't say the primary goal is to make Spokane a Blue Zones Community — although we are open to it — but to bring Dan Buettner here to start the conversation."
Providence is hosting the free event in conjunction with Eastern Washington University, Group Health and the Empire Health Foundation. "It's really a multifaceted, collaborative group that's coming together for this event," Robb says. "We want the community to come with their questions about what it takes to become a healthy community."
Odds Against Tomorrow
Spokane County has inequities to overcome if it is to become a Blue Zone Community. The Spokane Regional Health District released the Odds Against Tomorrow report in 2012, examining how social factors, ethnicity and neighborhood — 40 neighborhoods in the county and city — affected life expectancy.
"What we found blew a lot of people's minds," says Adrian Dominguez, lead researcher and epidemiologist with the Spokane Regional Health District. "There is an almost 18-year difference between the most affluent and poorest neighborhoods in Spokane."
According to the report, residents of the Southgate neighborhood out near 57th and Regal lived the longest at 84.03 years; residents of downtown's Riverside lived the shortest at 66.17 years.
Disparities between races and ethnicities also existed. American Indians and Alaskan Natives live 13 years less than white/non-Hispanics; African Americans live 10 years less; Hispanics eight years less.
"We need to recognize that these gaps exist, because no one wants to admit that this could happen in their community," says Dominguez, who will speak in a community panel following Buettner's presentation. "We have to recognize that inequalities are the result of social factors that affect the decisions that people make, and that the environment a person grows up in has a huge impact later on in their lives."
The report found that residents of affluent neighborhoods have more access to resources, healthy food and physical activity, and were more educated. Underserved neighborhoods had fewer community resources and physical recreation, more fast food options and higher levels of unemployment. Dominguez says this gap will only close and people — all people — will only begin to live fuller, longer lives when our public mindset changes.
"It's not all about personal responsibility," he says. "We need to get past the 'pull yourself up by the bootstrap' mentality, because many of the people that I've worked with don't have the means to pull themselves up, because they don't have the boots or the strap." ♦
"Blue Zones" featuring Dan Buettner, followed by a community health panel • Tuesday, Oct. 28, 6-8 pm • Free • Spokane Convention Center • 334 W. Spokane Falls Blvd. • bluezones.com
What People in Blue Zones Share
• Active everyday lifestyle
• Sense of purpose
• Ways to de-stress
• Avoidance of overeating
• Plant-based diets
• Moderate wine consumption
• Attending faith-based services
• Family togetherness
• Associating with people practicing healthy behaviors
Comparing lifespans
Washingtonians are doing something right. The average life expectancy of a person born in 2011 is 80.3 years. That's about five years longer than those born in 1980, according to a 2013 report by the Washington State Department of Health.
Rates in Spokane County are slightly worse, at 79.1 years, according to a 2013 report by the Spokane Regional Health District.