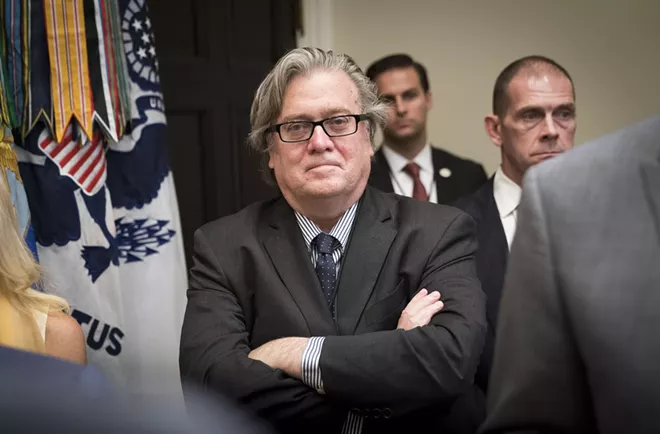 By MAGGIE HABERMAN
Stephen Bannon, the embattled chief strategist who helped President Donald Trump win the 2016 election but clashed for months with other senior West Wing advisers, is leaving his post, a White House spokeswoman announced Friday.

"White House Chief of Staff John Kelly and Steve Bannon have mutually agreed today would be Steve's last day," the White House press secretary, Sarah Huckabee Sanders, said in a statement. "We are grateful for his service and wish him the best."
Earlier Friday, the president had told senior aides that he had decided to remove Bannon, according to two administration officials briefed on the discussion. But a person close to Bannon insisted that the parting of ways was his idea, and that he had submitted his resignation to the president on Aug. 7, to be announced at the start of this week. But the move was delayed after the racial unrest in Charlottesville, Virginia.
The loss of Bannon, the right-wing nationalist who helped propel some of Trump's campaign promises into policy reality, raises the potential for the president to face criticism from the conservative media base that supported him over the past year.
Bannon's many critics bore down after the violence in Charlottesville. Outraged over Trump's insistence that "both sides" were to blame for the violence that erupted at a white nationalist rally, leaving one woman dead, human rights activists demanded that the president fire nationalists working in the West Wing. That group of hard-right populists in the White House is led by Bannon.
Bannon's dismissal followed an Aug. 16 interview he initiated with a writer with whom he had never spoken, with the progressive publication The American Prospect. In it, Bannon mockingly played down the U.S. military threat to North Korea as nonsensical.
He also bad-mouthed his colleagues in the Trump administration, vowed to oust a diplomat at the State Department and mocked officials as "wetting themselves" over the consequences of radically changing trade policy.
Privately, several White House officials said Bannon appeared to be provoking Trump and they did not see how Trump could keep him on after the interview was published.