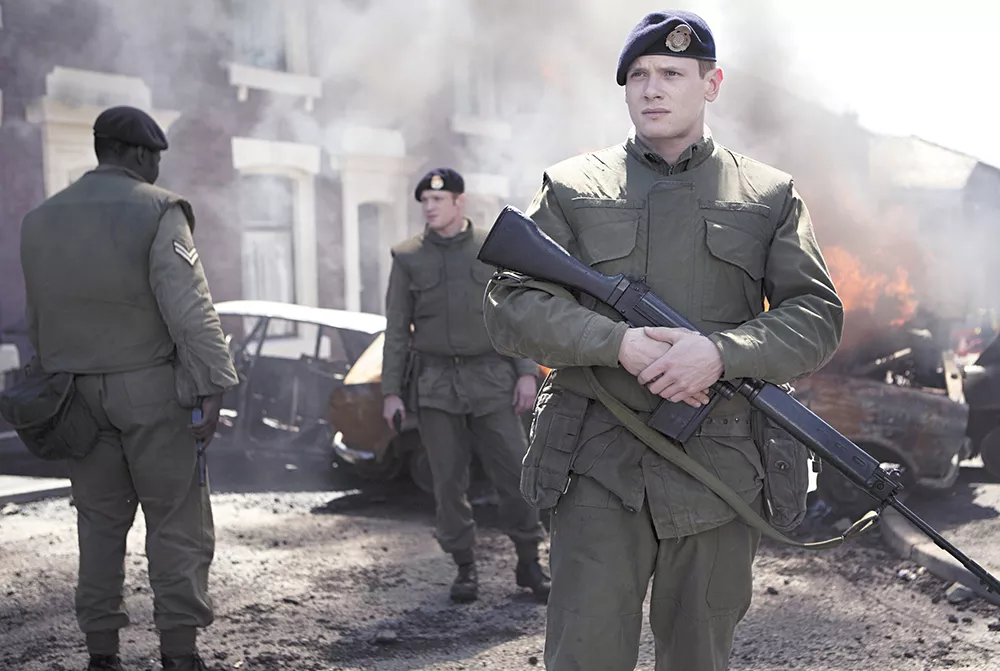 Yann Demange's debut feature is a ferociously kinetic chase movie as well as a white-knuckle piece of profoundly moving (in every sense of the word) filmmaking, but a bit of background may be in order for American audiences.
In 1971, Belfast wasn't on anyone's dream vacation-destination list, although it's not hard to imagine World's Most Dangerous Places author/adventurer/maniac Robert Young Pelton eying the Provisional Irish Republican Army stronghold and booking a flight. Adventure tourism aside, though, the vicious urban warfare — or terrorism, depending on one's allegiances — that convulsed parts of Northern Ireland beginning in the late 1960s was a bloody, nightmarish affair that lasted for about 30 years and is known as the Troubles. British security forces and army sought to contain the expanding violence between the unionist Protestants and the nationalist, republican Catholics who sought to break away from the United Kingdom.
Jack O'Connell, recently seen in Unbroken, is the raw, young, and ultimately naive British Pvt. Gary Hook, who is sent with his squad to Belfast under the command of the very much in-over-his-head Lt. Armitage (Sam Reid). Almost immediately, things go horrifically awry, as a seemingly simple guarding action performed in conjunction with the local police ends up with one young soldier's brains blown out by an IRA assassin.
Instantly, a mob forms, Hook's gun is grappled away from him by a young boy, Hook gives chase, and ends up savagely beaten and trapped behind enemy lines. All of this happens in about a five-minute span on screen, but it's just the start of Hook's own troubles. With ruthless IRA leader Quinn (Killian Scott) in hot pursuit, Hook attempts to make his way back to his squad, a nearly impossible task given the endless maze of claustrophobic back alleys and potential civilian assailants who bar his way.
Innocence not merely lost but totally obliterated is the looming subtext of '71. Demange pointedly opens his film with Hook saying goodbye to his little boy and assuring the child that "nothing bad will happen." Later, Hook is rescued by a scrappy, 10-year-old street urchin who leads him to the relative safety of a unionist pub. But "safety" is an illusion in 1971 Belfast, and Hook is soon on his own again, and wounded as well.
There have been other impressive films about the Troubles (1984's Cal, The Crying Game and Bloody Sunday, among them), but '71 is just plain relentless and visceral. A perfectly paranoiac score by David Holmes and downright stunning camerawork, courtesy of cinematographer Tat Radcliffe, enhance and embody Hook's manic flight. Take the politics out and you'd still have a powerhouse action film. But please, don't take the politics out. ♦