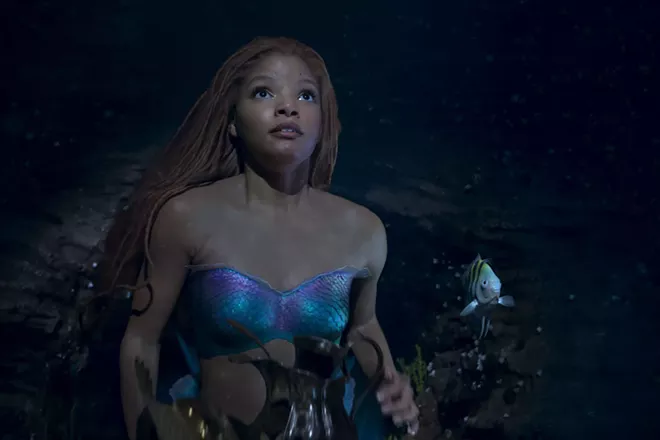 It was most certainly a mistake to revisit 1989's The Little Mermaid before watching the latest in an increasing number of live-action adaptations of beloved animated films getting released by Disney. Where that original work still holds up with its classic songs and vibrant animation, this new take is defined by a lifelessness to much of its presentation that it can't ever shake. For every alteration or addition that hints at a potential thematic boldness, there are far more that dull any brilliance.
Seeing the two films in quick succession brings into focus how the recent trend of supposedly "realistic" live-action adaptations can sand down the imaginative potential of animation in favor of hollow digital effects. Even with a dynamic lead performance from singer-songwriter Halle Bailey — who emerges as a strong screen presence here — the film remains perpetually adrift.
Following the basic structure of the original story, the film accompanies the adventurous mermaid princess Ariel (Bailey) who dreams of a future beyond the underwater world she has spent her whole life swimming in. This goes against the wishes of her overbearing father King Triton, played by a more reserved Javier Bardem, who wants her to remain where she is. When Ariel goes out swimming by a ship and catches sight of the dashing Prince Eric, played by Jonah Hauer-King of the 2019 film A Dog's Way Home, she is drawn to the world above that he represents. Enter the villainous Ursula (Melissa McCarthy), who offers her a deal: get a kiss from the Prince in three days' time and you can live in his world forever. The only catch is Ariel will have to do so without her voice which had won Eric over in the first place.
This all makes for an often rote retelling of the familiar story with sporadically interesting changes that briefly draw viewers in only to be subsumed both by tweaks that simply don't work and a general emptiness. Though there are moments where the underwater world starts to feel genuinely expansive and arresting, the majority of the experience is defined by a stiffness that holds it back from being fully immersive. Only rarely do you feel like you are actually where the characters are, preventing viewers from getting swept up in the story. Instead, it's hard not to see the cracks in the special effects that never completely work.
Where the recent Avatar: The Way of Water showed that creating entire underwater settings from scratch was not only possible but could take the breath away, The Little Mermaid only elicits a shrug. As you look closely at the scenes playing out underwater, there is never a sense that any of these characters are even in the same place together, let alone mingling in the ocean depths. There is one joyous rendition of the classic song "Under The Sea" that starts to work, but everything else just looks painfully inauthentic. Even when it does work, namely in the characters of Flounder and Sebastian, who are meant to be more realistic CGI creations as opposed to animated ones, this success is not necessarily a point in the film's favor. The crab does indeed look more like a crab and the fish does indeed look like a fish, but the infinitely more joyous expressiveness of the hand-drawn animation has now been replaced by cold, dead eyes.
Throughout all of this, Bailey is simply magnificent. When she gets the opportunity to take center stage and sing the songs, many of the other flaws begin to melt away. Even when she becomes mostly silent as part of the bargain Ariel makes, with the occasional song acting as a more internal reflection, her expressiveness and the humor that stems from it are all earned. She gives the film life in every way she can and is blameless in the banality that drags it down. In one scene with a new song — the atrocious "The Scuttlebutt" — Bailey's performance encapsulates the experience of the film itself. Ariel tries to push away its worst aspects however she can, only for the movie to continually remain hellbent on drowning her out. ♦
THE LITTLE MERMAID
Rated PG
Directed by Rob Marshall
Starring Halle Bailey, Javier Bardem, Melissa McCarthy