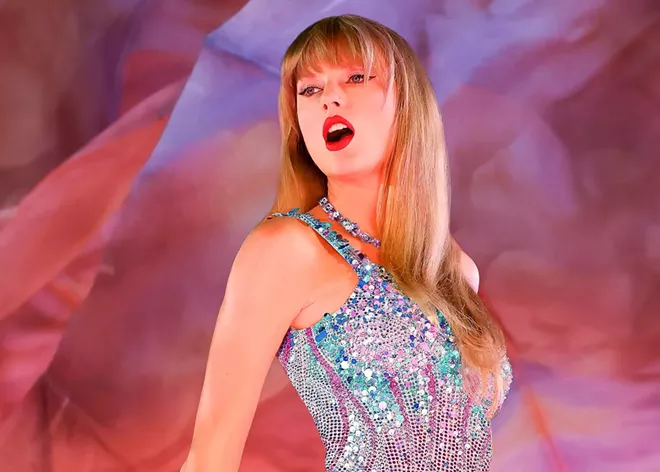 I somehow managed to do the impossible this past summer.
I secured tickets to Taylor Swift's The Eras Tour.
That's right, I came out of the great Ticketmaster war of 2023 victorious and feeling on top of the world. Most weren't as lucky as I was because of an overwhelming demand and snags inherent with Ticketmaster being the absolute worst.
But not all hope is lost, scorned Swifties. The Eras Tour is about to have an even more colossal audience, as the concert film version of the live spectacle — Taylor Swift | The Eras Tour — takes over cineplexes worldwide this weekend (at AMC RiverPark Square alone there are ONE HUNDRED AND FIVE screenings this Friday-Sunday.) Taylor's dominated the music industry, the touring industry, and now she's coming for the movie business.
Global presales for the movie have reached a record $100 million, and that's without a major Hollywood studio behind the film as Swift cut a distribution deal with AMC Theaters. And don't worry, tickets to the movie won't quite be as hard to obtain as the concert tickets. (Thankfully, Ticketmaster isn't in charge this time.)
Prior to this summer, the last time I saw Taylor perform live was in 2009 at the Spokane Arena. I have the most vivid memories of Taylor appearing on stage in a sparkly, purple dress, and how I sang along to every word and left the show knowing I would be chasing that feeling of joy for my entire life.
That was a date on her The Fearless Tour, her first-ever headlining tour. And while being there was special in its own right, it didn't prepare me for the event that was The Eras Tour.
For weeks before the tour stop at Seattle's Lumen Field, I spent my free time gluing jewels to a pink blazer in preparation for the most important concert of my life and listening to Swift's entire discography as if I were studying for a final exam.
Once I was at the show, I waited hours in line for merchandise, traded friendship bracelets with other fans and cried a (probably) unhealthy amount of times throughout the lengthy 45-song setlist while hugging my two friends who came with me. Lumen Field holds nearly 70,000 people, so having seen her at the Spokane Arena 14 years ago comparatively felt akin to having seen her in a club.
Even though I witnessed the magic of The Eras Tour with my own eyes, I'm more than ready to experience it all over again (this time without the uncomfortable shoes and hot weather!).
My Seattle seats were nosebleeds, but I didn't care where I was sitting as long as I was in that stadium. Once I'm in that comfy, red AMC theater seat, I'll be able to see my favorite performances ("The Archer" and "Don't Blame Me" in particular) about 500 feet closer than what my iPhone captured in Seattle.
The trailer for the movie begins with a sweeping drone shot into Los Angeles' SoFi Stadium — a behemoth of a venue that Swift had no problem selling out six nights in a row in August. Her sparkly outfits are the stars of the show along with the incredible set pieces built specifically for the tour.
Despite playing a pretty decent sampling of her 10 studio albums throughout the tour, Swift played two surprise songs at each show in addition to the established setlist. I saw "Tied Together with a Smile" from her self-titled, debut album as well as "Message in a Bottle," a song Swift took out of "The Vault" and put on her recently rerecorded album, Red (Taylor's Version).
Swifties who see the movie are in for another round of surprise songs as there are 12 possible surprise songs from her SoFi dates (all of which were filmed for the movie) that could make the cut: "I Can See You," "Maroon," "Our Song," "You Are In Love," "Death by a Thousand Cuts," "You're on Your Own, Kid," "Dress," "Exile," "I Know Places," "King of My Heart," "New Romantics" and "New Year's Day."
It's anyone's guess as to which they'll include. I'm hoping for "New Romantics" and "New Year's Day" for a little one-two punch of unbridled joy and then a perfect ending song to remind attendees of the sweet memories they made at the concert.
For those who weren't able to make it to a show, the movie aims to give you that experience. Though it's not exactly the same, any fan of Taylor knows that she did this for those who couldn't go.
"There's glitter on the floor after the party," Swift sings in "New Year's Day." "Girls carrying their shoes down in the lobby."
A perfect description of the aftermath of an Eras Tour concert.
"Hold on to the memories," she sings. "They will hold on to you." ♦
Taylor Swift | The Eras Tour opens in theaters on Oct. 13.