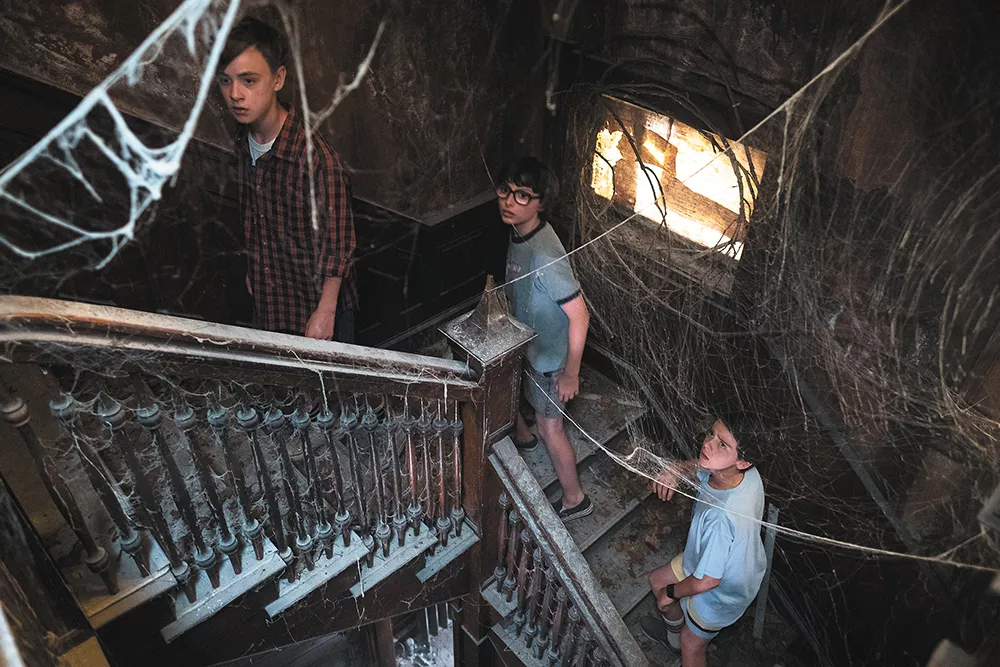 Stephen King's 1986 novel It remains the prolific author's wooziest, most sprawling deconstruction of small-town America's thinly veiled moral decay. It's an epic fable about a force of shapeshifting, supernatural evil that haunts the fictional hamlet of Derry, Maine, and the group of social outcasts (self-dubbed the Losers' Club) that team up to fight it, first as kids and then years later as adults.
It's a weird, cerebral work, weaving together the past and the present, unfurling over 1,000-plus pages and several generations, and tearing its razor-sharp teeth through the connective tissue holding space and time together.
Director Andy Muschietti's new film version of It significantly streamlines King's mad vision: It's more earthbound and concentrated, which is probably the safest approach, though it's hard not to wish it were a bit more eccentric. The movie focuses exclusively on the Losers' Club as kids (its already-planned second installment will follow the same characters as adults) and transplants those parts of the novel from the 1950s to the late '80s, harkening back to an era when big-budget King adaptations always seemed to be rotating in and out of cinemas.
Hollywood has always taken great relish in bringing King's most high-concept fiction to the screen, and the best films inspired by his writing are not necessarily faithful to plot and incident, but to his spirit as a storyteller. Muschietti succeeds at that for the most part: It is a solid, if mostly unremarkable, carnival funhouse, softening the novel's queasiest horrors, including virulent racism and sexual assault (much of which would probably be impossible to tackle in a mainstream film), for more conventional jolts.
That's not to say, however, that the movie is completely neutered or sanitized. Unsurprisingly, this is more intense than the 1990 miniseries adaptation of It — that R rating is earned within its first few minutes — and Muschietti, best known for 2013's fitfully creepy Mama, occasionally indulges in the kind of surreal nightmare imagery that's both imaginative and refreshingly depraved.
"It" appears in various terrifying forms: a leprous vagrant, a headless little boy, a cursed painting and, of course, Pennywise the Dancing Clown, played here with a cackling, psychotic glee by Bill Skarsgård. Pennywise was famously portrayed by the great Tim Curry in the old It miniseries, but Skarsgård has his own take on the character: He's more feral and conniving, moving with the herky-jerkiness of a marionette from hell.
Pennywise is the creature that, as the film opens, drags a little boy named Georgie Denbrough down into a storm drain, then goes about feasting on the children of Derry. Georgie's older brother Bill (Jaeden Lieberher) sets out to quash the evil with a group of other misfits, including Beverly Marsh (Sophia Lillis), living in a broken, violent household; the motor-mouthed Richie Tozier (Finn Wolfhard from the Stephen King pastiche Stranger Things); chubby, introspective Ben Hanscomb (Jeremy Ray Taylor); the hypochondriac Eddie Kaspbrak (Jack Dylan Grazer); the skeptical Stan Uris (Wyatt Oleff) and Mike Hanlon (Chosen Jacobs), the only black kid in lily-white Derry.
All these kids, played with impressive poise by relative newcomers, are 12 or 13, which is old enough to recognize that the world is built upon complexities and contradictions, and yet still young enough to be confused by them. What's most surprising about the film is that it might work better as an adolescent hang-out movie than a standard horror show — it's easy to be reminded of Rob Reiner's Stand by Me, adapted from King's wistful novella The Body.
Although everyone remembers the scary clown, It has always been about pubescent anxieties, about the idea that all adults have dark ulterior motives (the parents in the film are either totally absent, duplicitous or straight-up abusive). The true specter is not Pennywise but the unsettling, unspoken mysteries of the adult world, and that most precarious stage of adolescence when maturity seems to be breathing down your neck with the ferocity of any monster emerging from a neighborhood sewer.
Muschietti seems to understand this, and I think It could come to represent a signpost for contemporary teenage viewers, much in the way that '90s kids were horrified by the TV version all those years ago. ♦