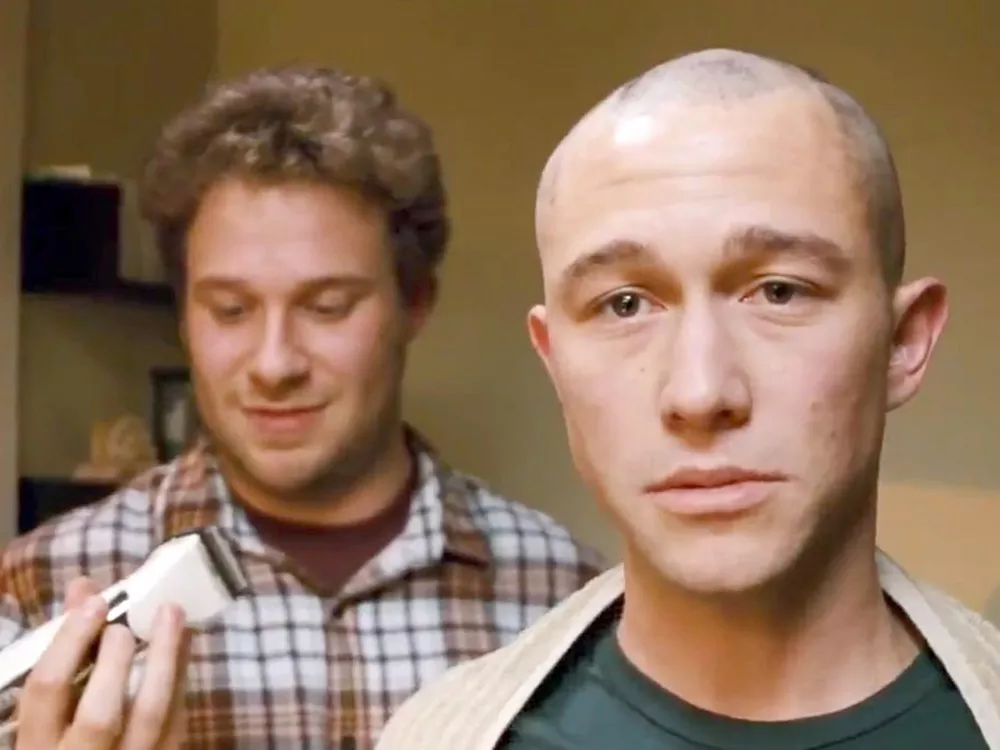 Some of the funniest, most poignant comedy comes from tragic circumstances. It's strange, then — and maybe a symbol of how much it really scares us — that cancer isn't used as a foil for comedy more often.
Of course, it's not easy to snatch laughs from the horror and, often, helplessness of a battle with a life-threatening disease. It takes care, patience and nuance. 50/50, the new cancer comedy starring Joseph Gordon Levitt and Seth Rogen, has all of that.
Director Jonathan Levine (The Wackness) has a knack for conveying unconventional drama with enough droll spice to make the medicine go down easily, even if the subject is cancer. Television-producer-turned-screenwriter Will Reiser (Da Ali G Show) fulfills his part of the bargain with a semi-autobiographical script that dares to go for the throat when necessary. 50/50 puts the pernicious disease into a manageably personal context with equal parts humor, sincerity, and cynicism.
Joseph Gordon-Levitt's Adam Lerner is a Portland National Public Radio sound editor with a minx for a girlfriend. Bryce Dallas Howard fills the wandering shoes of Rachel, an unlikeable artist with about as much loyalty as a tomcat. Rachel promises to stay by Adam's side through thick and thin, but she's just no good with handling the messy stuff of life.
Adam is the kind of guy who waits for the stoplight to change even if no cars are coming. One of the movie's most explosively humorous scenes involves Adam's best friend, Kyle (Seth Rogen), falling over himself in Adam's living room to share with his unfortunate pal video proof — captured on his cellphone — of Rachel's recent infidelity at a gallery opening. Rachel's arrival at the event avails her to deny or confirm the evidence. Kyle has reason to take special pride in outing Rachel's true colors. Adam's recent discovery of malignant tumors on the base of his spine means that he must endure painful chemotherapy treatments. If Kyle's self-righteousness
catches the audience off-guard, it's a testament to the surprise of seeing a loyal friend take such bold and decisive action.
Frequent counseling sessions with an upstart therapist named Katherine (exquisitely played by Anna Kendrick) bring out Adam's waves of conflicting emotions surrounding his illness. Katherine and Adam develop a guardedly romantic friendship, in spite of his downward spiraling health. A testy relationship between Adam and his mother, Diane (Anjelica Huston), needs addressing. The film's direct but minimalist handling of the mother/son subplot proves especially effective.
Seth Rogen's portrayal as Adam's no-B.S. best friend is a study in nuance. Rogen pulls back on his trademark chuckling tic. The film's bromance carries the burden of comic relief, but it's surprisingly authentic. I'm not a fan of the split-genre term "dramedy," but 50/50 is a perfect balance of comedy and drama. In keeping with all of Joseph Gordon- Levitt's consistently solid work, the talented actor knows just where to hold back and where to let go.
50/50 doesn't play the odds. It's a sure thing.