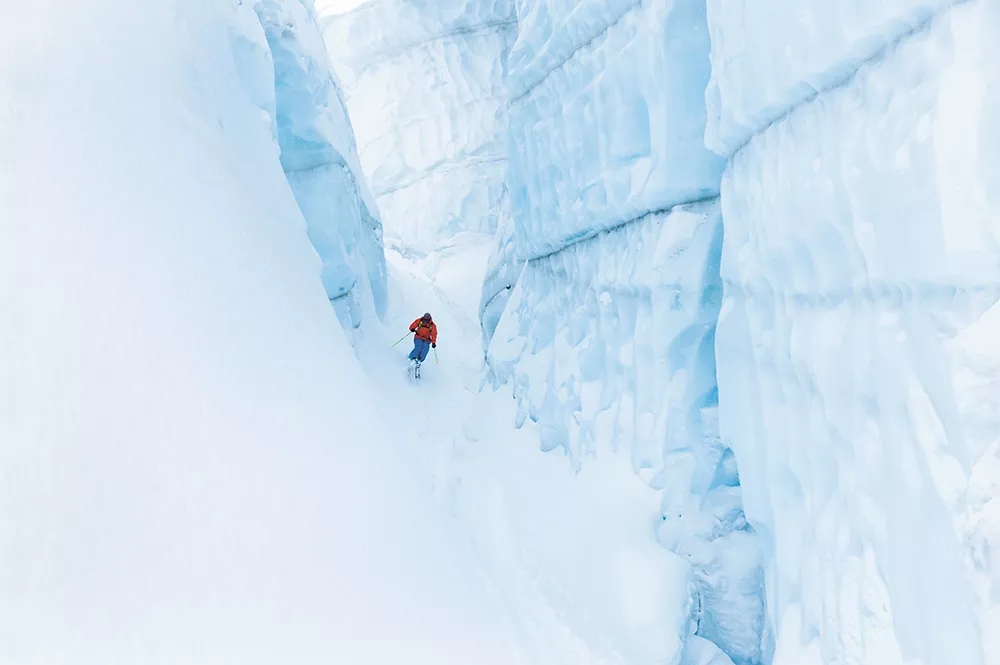 Doug Marshall has been shooting photographs for almost as long as he's been alive. At the age 5, he received his first camera, an Eastman Kodak Brownie. "It didn't last very long," he says, laughing. "I was running up the stairs, fell and it broke." These were his first years shooting photographs, which continued through his early life.
It wouldn't be until later that he would find, as he says, "The melding of two passions, skiing and photography." Fast-forward to junior year of high school, when as a member of the football team, he joined them on their annual night skiing trip to Big Bear in Southern California. "It was one of those experiences where you throw skis on, head to the top of the lift and just ski down," he explains. "The team thought it was funny to put the 'newbie' on skis and say 'See ya at the bottom.' I had to figure out how to get down. I probably fell every 30 feet, but I just fell in love with it [skiing]." From there, he just knew he had to keep skiing.
After graduating from high school in Escondido, California, Marshall moved to the mountains and never left. His first move was to Flagstaff, Arizona, to attend Northern Arizona University, where he would major in business and minor in photography. He explains, "In photography, they don't teach the business end of things. You can have the most beautiful photos in the world but knowing how to sell them is how to make it a business."
He went from NAU to a short stint in Tahoe, but Flagstaff lured him back. Then in 1994, he moved to North Idaho to call Sandpoint his home. This is where Marshall would meet his wife and start his family. In 1997, he took his photography business to the professional level, "much to the dismay of my wife," he says, laughing.
Marshall describes the most memorable image he ever sold: "It was of Nate Holland, to Snowboard Life magazine (now defunct). This was still while he was in high school, and undiscovered. It was the next year he started his professional career."
Currently, Marshall is actively on assignment, heading up to Canada on two hut trips. The first is for Skiing magazine to Icefall Lodge, in Golden, British Columbia, his 11th trip to the backcountry lodge. After that, he heads to Boulder Hut Adventures outside of Kimberley, B.C., owned by another Sandpoint couple, Mark and Sarah Yancey, for a shoot for the clothing and gear company Outdoor Research. Marshall has shot for OR the last couple of years; his photos appear in their catalog and other marketing materials.
Marshall's photographs have been published in numerous magazines, including National Geographic Adventures, Outside, SKI, Skiing, Powder and Backcountry. He currently focuses on everything from still life to ski photography, but admits, "I do a lot outside of ski photography, although those seem to be my favorite." ♦