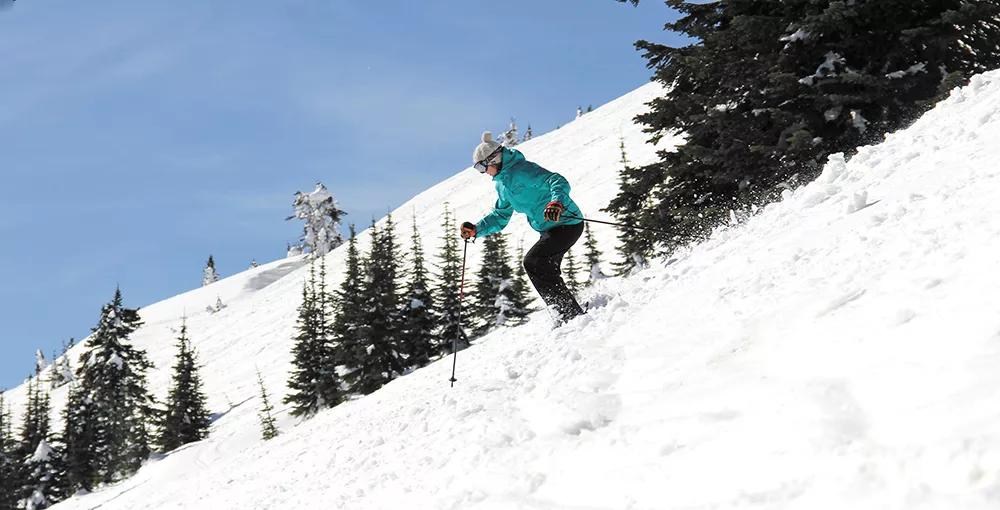 What's New
The biggest improvement that skiers and boarders will find at Mt. Spokane Ski and Snowboard Park this winter is a complete overhaul of Lodge 1. "There has been a complete remodel from top to bottom, interior and exterior to Lodge 1," says Brad McQuarrie, the ski area's general manager. This lodge is open to the public on holidays and weekends, and new entrances allow for improved access from the parking lot. New restrooms are located on the lower level, new flooring, energy-efficient windows and many other improvements give the lodge a modernized feel. "There has been significant improvement to Lodge 2 as well," adds McQuarrie.
Design is underway for the new Guest Services building; construction is planned to start next summer. This new building will be located near the main parking area. McQuarrie explains, "so instead of having to hike up the hill to the existing building, there will be a central staircase, giving the main lodge area a more user-friendly experience." This new facility will house Tickets, the Snow Sports Center, Ski School programs, daycare and an expanded Rental Shop; the goal for completion is 2017.
Terrain expansion is moving forward on the proposed Chair 6 area; the final hearing will be heard in the Supreme Court on Nov. 20. If Mt. Spokane gets the green light, McQuarrie says, "we are ready to go and will start cutting runs this winter." This terrain will include 80 new acres of groomed trails, seven new runs and the addition of the Red Chair, purchased from Bridger Bowl.
Making the Most of It
Download the Mt. Spokane Ski & Snowboard app through the Apple app store. This app, launched last season, allows skiers and snowboarders to track their runs with the GPS Run Tracker and measure themselves against other Mt. Spokane skiers and riders on the leaderboard. There is also a function that integrates with Facebook, allowing you to track where your friends are — so when they try ditching you to ski their favorite secret stash on a powder day, the tracking function will lead you right to them. Additionally, the app features the Mt. Spokane trail map and live webcams, as well as events and deals.
Special Deals
The Stocking Stuffers are back! It's a great way to get on the slopes for a discounted price. Before Dec. 31, the price is $99; it goes to $129 thereafter. This deal provides Youths ages 7-17 with five lift tickets, Adults 18 and older with three lift tickets and College Students with four tickets, and the vouchers can be used any time. The non-transferable punch card must be presented with identification at the ticket window to receive a lift ticket. Check out the Mt. Spokane website for more details on this offer and other discount programs.
Lift Tickets
Weekend and Holidays
Adult (18-61)
Day Ticket $52
PM Ticket $41
Night Ticket $20
Sunday PM Ticket $38
College/Military
Day Ticket $45
PM Ticket $34
Night Ticket $20
Sunday PM Ticket $28
Youth (7-17)
Day Ticket $42
PM Ticket $31
Night Ticket $20
Sunday PM Ticket $25
Senior (62-69)
Day Ticket $42
PM Ticket $34
Night Ticket $20
Sunday PM Ticket $25
Super Senior (ages 70+)
Day Ticket $29
PM Ticket $24
Night Ticket $20
Sunday PM Ticket $23
Chair 5 only
Day Ticket $31
PM Ticket $24
Night Ticket $20
Sunday PM Ticket $23
Child (6 & under)
Free
Midweek and non-Holiday
Adult (18-61)
Day Ticket $39
PM Ticket $35
Night Ticket $20
College/Military
Day Ticket $35
PM Ticket $31
Night Ticket $20
Youth (7-17)
Day Ticket $32
PM Ticket $27
Night Ticket $20
Senior (62-69)
Day Ticket $32
PM Ticket $27
Night Ticket $20
Super Senior (ages 70+)
Day Ticket $24
PM Ticket $24
Night Ticket $20
Chair 5 only
Day Ticket $24
PM Ticket $24
Night Ticket $20
Child (6 & under)
Free