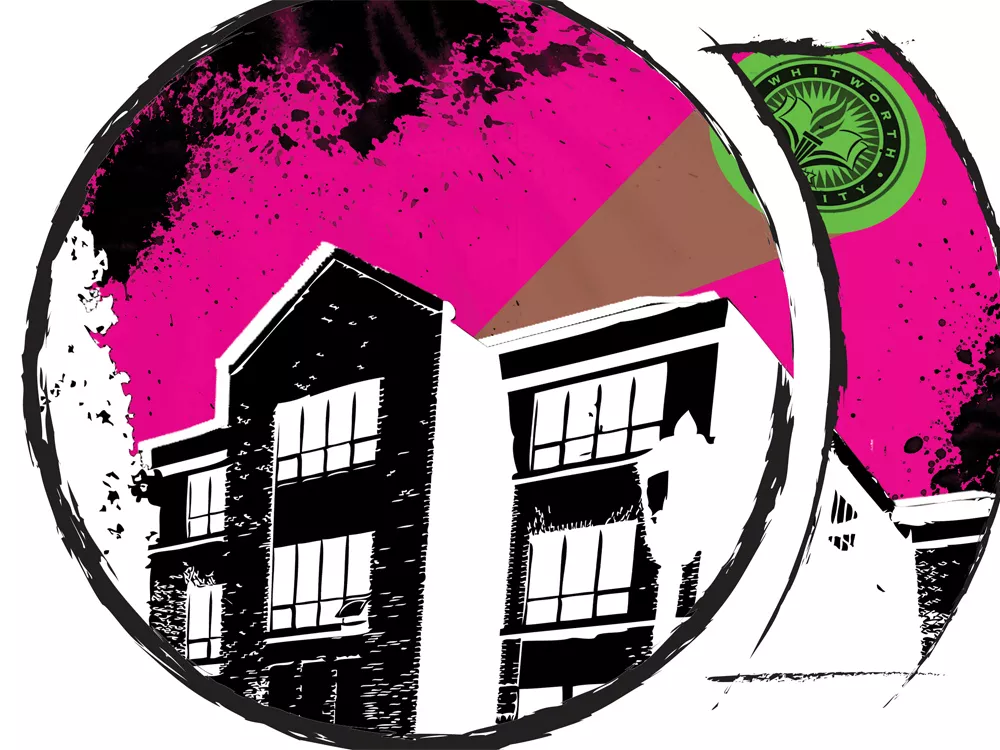 Fog chokes the lamppost lights. I staggered on, past the Frisbee crossfire, past the flocks of proposing boyfriends, past the poor, hoodied souls diving for pinecones like starving men lunging for scraps of stale bread.
Something in the air told me there would be community disrupted tonight.
THE POWER OF DOPEY SONGS
The first few weeks of school at Whitworth can seem a lot like camp. Whitworth comes with built-in friend-makers, such as "Prime Time" and "Traditiation." These activities may seem lame to the jaded 18-year-old, but they're highly effective for meeting people and solidifying friendships. Try it out. If you don't like it, you might at least find someone to commiserate with during the fourth rendition of singing "Bushy Tail."
FUN TERM
You've deliberated and debated; you've picked, changed your mind, then changed your mind again and finally found it: the perfect January term class. The key: It's easy, has nothing to do with your major and is named something like "Modern Aboriginal Dance" or "Bugs: Where to Find Them." January at Whitworth is the month of leisure. All you need now is your Nintendo and ice skates.
THE GREAT SCHISM
Religion is pretty pervasive at Whitworth. If you happen to be one of those spiritually minded people, congratulations. You have entered into a community of supportive peers with all the small groups and root-beer pong you could ask for. If you're not quite as religious, avoid going to Sunday brunch in your pajamas until the other sort has gone to church. Yes, it is obvious how hung over you are.
SKIP THE DIP
I'm about to speak Whitworthian blasphemy: French Dip Fridays are overrated. It sends students into a frenzy every week, and with that frenzy comes long lines. Wait in that line, and what do you get at the end of at all? A stomachache.
DODGING THE BIG THREE
Only three itty-bitty, tiny rules at Whitworth University. No on-campus "cohabitation." No on-campus drugs or alcohol. And no "disrupting community." Sounds easy. Problem: There's a lot of leeway within that supposed simplicity.
While something as mundane as a 3 am dance party during exam week can earn you a dean-sponsored chat with Mom and Dad, there are several ways to avoid punishment:
1) Know Your Exits: Whitworth dormitories are rife with side doors and fire escapes, allowing students to slip past the crowded lounges. A definite bonus when toeing the line on that tricky "no co-habitation" rule which — depending on who you ask — can encompass anything from napping in the wrong room to all-out orgies.
2) Foster a "Good Little Whitworth Student" Rep: Never underestimate the power of seeming to obey the rules. Cozy up to your RAs. Wander in to a couple prime-times, drop in on a few hall dinners. Next thing you know, you'll be seen as a model student, a beacon of mind and heart. Then if you want to slip in some community disturbing, you can skate through free, clear and unsuspected.
3) Don't break them all at once: You have at least four years. Take your time and spread your indiscretions out. Opportunities will be plentiful.
POWER UP HERE
Try the Taste of Thai. It's cheap, it's delicious and they have take-out.

SUMMON ALLIES HERE
Pattison's North Skating Rink is perfect for a kitschy roller skating date, while the Service Station is the ideal spot for Christian concerts and Christian coffee drinks. Crowds of Whitworth students over 21, meanwhile, gather at the Bigfoot Pub and Eatery on Mondays.

FORTRESSES OF SOLITUDE
For total escape, the best place is the Back 40. Long walks through this wilderness haven give plenty of time for reflection. To study, avoid the upstairs part of the library, a location more about seeing and being seen. Instead, head into the research section. It's usually empty, and the possibility of actually accomplishing work is dramatically increased.

SECRET PARKING LOCATION
At night, try the Boppell parking lot. It's packed during while the sun is up, but vacancies appear during the evening. During the day, behind the library is the best-case scenario. Your best bet? Ride your bike instead.