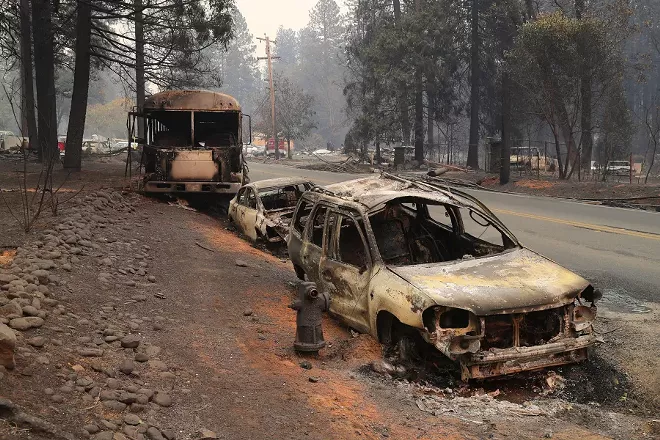 By Jack Nicas and Thomas Fuller
New York Times News Service
PARADISE, Calif. — The inferno that ravaged the wooded town of Paradise in Northern California became the deadliest wildfire in the state's modern history Monday when officials said they had discovered the remains of 13 more people, bringing the death toll to 42.

The Butte County sheriff, Kory L. Honea, has said more than 200 people remain missing in and around the town, which sits in the foothills of the Sierra Nevada and was popular with retirees.
The fire, which continues to rage in the hills and ravines east of the city of Chico, is also the most destructive fire in California history, with more than 7,100 structures destroyed, most of them homes.
President Donald Trump on Monday evening said on Twitter that he had approved a request to declare the fires in California a major disaster, making people affected eligible for various types of federal government support.
Fires whipped by strong winds were also raging through thousands of acres of forests and chaparral in Southern California.
An estimated 435 structures have been destroyed in the Woolsey Fire west of Los Angeles, up from the 177 figure provided on Sunday night. Another 57,000 structures are believed to be under threat. Two people have died in that fire, which is 30 percent contained and has charred more than 90,000 acres in communities like Malibu and Thousand Oaks.
Another blaze that has torn through 4,500 acres in Ventura County, the Hill Fire, was 85 percent contained.
While the Woolsey Fire chased residents from one of the wealthiest ZIP codes of California, near Malibu, the Camp Fire hit a low-income retirement community in Paradise. Some residents now wonder how — or if — it will be rebuilt.
"It had no real economy," James Hana said of Paradise, where he has lived since 2002. The town was a haven for residents who were elderly or retired, many of them in mobile homes.
He was worried about the state of his home's insurance because of a divorce, and he said he did not know when he would be able to get back to work or what he would do until then.
"But I'm really concerned about what's really going to happen with the town," he said. "It'll never come back to what it was."