49 Degrees North
Chewelah, Washington • ski49n.com
1,851 vertical feet • 82 runs
First-timers and thrill-seekers alike will find plenty to rave about among the groomers, glades and long ridges that make up 49 Degrees North, now under the ownership of CMR Lands LLC. Carved from the flanks of Chewelah and Angel peaks, the resort blends big mountain appeal — 2,325-acres worth — with an approachable, downhome atmosphere. Lean into some serious turns on the nearly 3-mile-long Dutchman run, soak in the surrounding Colville National Forest along 10 miles of Nordic trails, and wash it all down with a craft beer at the base area's Boomtown Lounge at the end of the day.
Anthony Lakes
North Powder, Oregon • anthonylakes.com
900 vertical feet • 21 runs
What's the secret to accumulating drool-inducing amounts of powder? Having the highest base elevation in Oregon is a good place to start, but Anthony Lakes doesn't end there. The area's 1,100 acres attracts an average of 300 inches of snow a season, meaning every rider is sure to find a fresh stash among the mix of intermediate and expert runs. And if plunging downhill isn't your shtick, Anthony Lakes has more than 18 miles of nearby Nordic trails to explore.
Apex Mountain Resort
Penticton, British Columbia • apexresort.com
2,000 vertical feet • 79 runs
For the past half-century, snowsports devotees have been drawn to Apex Mountain Resort in south-central British Columbia for a chance to shred the Pacific Northwest's storied champagne powder. Apex Mountain averages upwards of 20 feet of snowfall annually, making its groomers and steeps a true rider's paradise. The more adventurous out there can also use the resort, just a 30-minute drive from the town of Penticton, as a springboard to access more than 12,000 acres of backcountry terrain.
Big Sky
Big Sky, Montana • bigskyresort.com
4,350 vertical feet • 300 runs
Big Sky Resort sprawls about the base of southwest Montana's Lone Peak like an endless web of chutes, groomers, open bowls and ridge runs. Endless is the key word here, too, considering Big Sky boasts a jaw-dropping 5,850 skiable acres across four mountains, accessible from 24 chairlifts and 12 surface chairs. An annual average of 400 inches of snow makes every descent decision the right one, and a town teeming with après-ski activity just down the road guarantees that the party will continue even after the lifts shut down.
Big White Ski Resort
Kelowna, British Columbia • bigwhite.com
2,550 vertical feet • 119 runs
Big White Ski Resort's official slogan cuts straight to the heart of what every skier and snowboarder is looking for: "It's the snow." And with an annual average of 25 feet of champagne powder, Big White delivers. The resort boasts 2,765 acres of steeps, glades and groomers, as well as 38 acres of night skiing — the most night skiing in western Canada. Big White is just a short 35 miles from Kelowna, and once there, a village with more than 20 restaurants, cafes and nightclubs will give you every reason not to leave.
Blacktail
Lakeside, Montana • blacktailmountain.com
1,440 vertical feet • 24 runs
Blacktail Mountain was tailor-made to trigger envy in every Instagram follower. Thanks to Blacktail's upside-down design, with the "base" area perched on the summit, every day here starts with a breathtaking view of western Montana's Flathead Lake and the Mission Mountains. From there it's a shredfest to the base of Blacktail's three chairlifts, spread out over 1,000 acres. Choose from the powderladen glades beneath the Thunderhead Double or the rolling groomers off the Crystal lift, then polish off the day with a cozy cocktail in the lodge or cruise back down the road to nearby Lakeside for dinner and a local craft beer.
Bluewood

Dayton, Washington • bluewood.com
1,125 vertical feet • 24 runs
If you're looking for proof that smaller is better, look no further than Bluewood, nestled in the Umatilla National Forest 52 miles northeast of Walla Walla. The ski area's roughly 400 acres pack a powdery punch, with 300 inches of average annual snowfall and the second highest base area elevation in Washington. A trio of terrain parks, immaculate groomers, gladed tree skiing and a summit yurt with a brand new deck are sure to give every member of the family exactly what they're looking for this season.
Bridger Bowl
Bozeman, Montana • bridgerbowl.com
2,700 vertical feet • 75 runs
It's not unusual for ski areas to build a loyal following, but the fandom around Bridger Bowl is something else. Locals can't wait to rave about their latest descents down the resort's numerous powder bowls, or about their thrilling trek into the transceiver-required Ridge Terrain. Bridger's numerous chutes, bowls and groomers get pounded with an average of 350 inches per season, and a thriving après-ski culture in the base village and nearby Bozeman (20 minutes away) put a cherry on this particular snowsports sundae.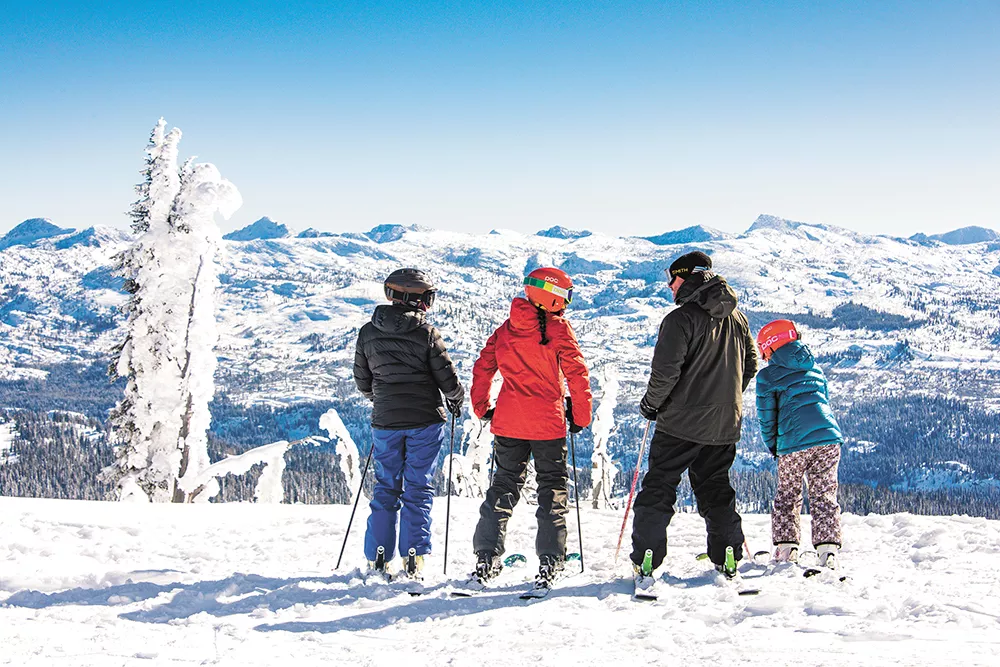 Brundage Mountain Resort
McCall, Idaho • brundage.com
1,921 vertical feet • 51 runs
Nestled in the southwest corner of the Payette National Forest near McCall, Idaho, Brundage Mountain offers a diverse array of snowy faces, treed glades and groomers across more than 1,900 skiable acres. Winter is kind to the area, dumping an average of 320 inches of annual snowfall on its slopes as well as the 18,000 acres of guided backcountry terrain accessible by snowcat. Younger riders will get a thrill from the beginner-centric Beartopia portion of Brundage, and a shuttle system to and from McCall makes it that much easier to relax when the day is done.
Crystal Mountain
Crystal Mountain, Washington • skicrystal.com
3,100 vertical feet • 57 runs
With the jagged, snowy peaks around Mount Rainier dominating the horizon, it's hard to believe Crystal Mountain Resort is just a two-hour drive from Seattle. But there it is, all 2,300 life-accessed acres of it, boasting a dizzying selection of bowls, moguls, groomers, chutes and glades. Crystal gets its fair share of winter too, with an average annual snowfall of 486 inches, and a bevy of lodging and dining options in the village mean riders can stick close to the slopes all weekend long.
Discovery
Anaconda, Montana • skidiscovery.com
2,388 vertical feet • 67 runs
Few things make winter more annoying than lift lines. Fortunately those are a foreign concept at Discovery Ski Area, or "Disco" as the locals call it. The area is spread across multiple aspects of Rumsey Mountain above western Montana's Georgetown Lake, making it a prime 2,200-acre playground for skiers and snowboarders at all skill levels. Cruise down long groomers off the backside Granite Chair, charge the steeps in the Limelight basin, or take a slow, easy ride down greens like Gold Bug and Red Lion. When the lifts stop turning, there's no better place to soak up the local color and boast about the day's highlights than the brewery in nearby Phillipsburg.
Fairmont
Fairmont, British Columbia • fairmonthotsprings.com
1,000 vertical feet • 13 runs
Snow and hot springs are a winning wintertime pairing. Fairmont Hot Springs Resort in southeastern British Columbia keeps both close at hand, with a mountain full of family friendly terrain and an expansive natural mineral springs just waiting to soothe those weary muscles. Nordic ski trails, a tubing park and the Bear's Paw Bar & Grill add more opportunity to round out the day, and Fairmont's "Ski and Soak" deal guarantees that anyone with a lift ticket gets a complimentary dip.
Fernie Alpine Resort
Fernie, British Columbia • skifernie.com
3,550 vertical feet • 142 runs plus 5 alpine bowls
Fernie is one of those resorts that generates buzz on chairlifts across the Pacific Northwest. And it's a reputation well earned, as Fernie boasts 2,500 acres of truly epic terrain blanketed by an average of 30 feet of snow annually. The resort's base village has a variety of lodging and dining options for weekend visitors, and the nearby city of Fernie looks every bit the quaint Western mountain town, from its historic brick storefronts and streetlamps to its art galleries and après-ski bar scene.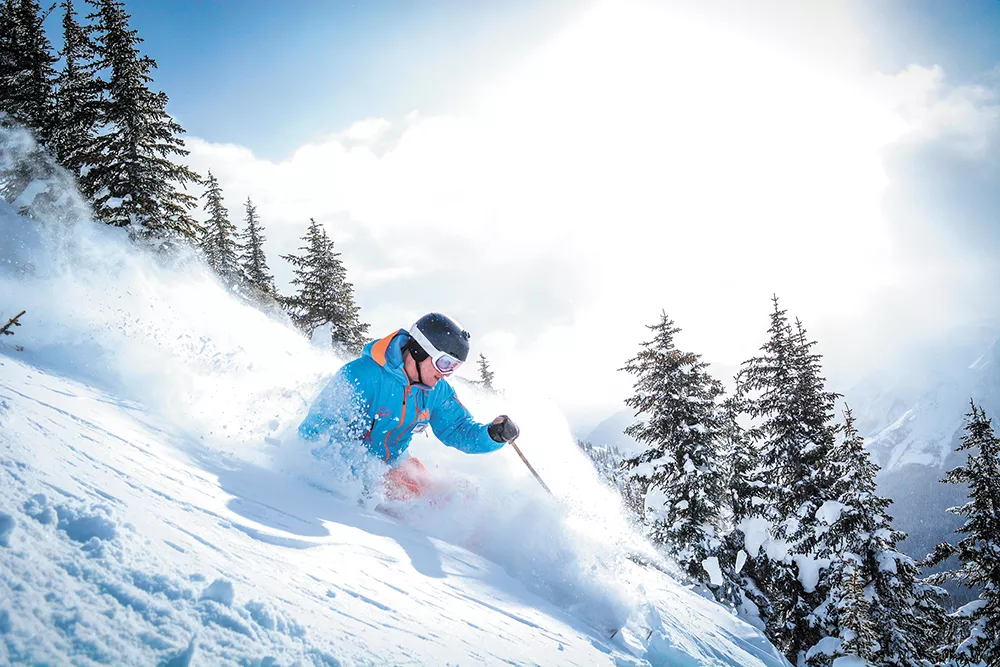 Kicking Horse
Golden, British Columbia • kickinghorseresort.com
4,314 vertical feet • 120 runs
Fans of steep, snowy terrain don't need to look any further than Kicking Horse this winter. The resort is a double-black paradise where 3,400 acres of chutes and open bowls combine with an annual average of more than 20 feet of tantalizing champagne powder. For those with a more mellow day in mind, Kicking Horse's base village features opportunities to snowmobile, cross-country ski, ice skate or simply relax with a hot meal and a cool beverage while soaking in a view that includes the towering and impressive Terminator Peak.
Kimberley Alpine Resort
Kimberley, British Columbia • skikimberley.com
2,465 vertical feet • 80 runs
If Kimberley's known for anything in snowsports circles, it's tree skiing. More than half of the mountain's 1,800 skiable acres are punctuated by secret stashes and shreddable glades, which get covered with an average of 150 inches of snow each season. Kimberley is also home to the longest lit run in North America, and night skiing is included with every full-day lift ticket. The base area offers plenty of opportunities beyond skiing and snowboarding as well, from fat bike trips through the surrounding forest to a slopeside snowshoe tour that ends with chocolate fondue inside Kimberley's iconic Kootenay Haus.
Lake Louise
Lake Louise, Alberta • skilouise.com
3,250 vertical feet • 145 runs
Set against the breathtaking backdrop of the Canadian Rockies, Lake Louise Ski Resort is as picturesque as it is skiable. Groomers rule the resort's lower reaches, while its upper peaks and ridges host an array of powder bowls and expert-level chutes. All told, skiers and snowboarders have 4,200 acres of terrain to choose from, including a 5-mile-long run that's guaranteed to get the muscles burning. Numerous on-mountain dining and lodging options allow for a full weekend of slopeside fun, and the resort's proximity to the town of Banff opens the door to even more après-ski adventures.
Lookout Pass Ski Area
Mullan, Idaho • skilookout.com
1,150 vertical feet • 35 runs
Lookout Pass has made lapping even easier heading into the 2019-20 season, upgrading the old frontside double chair in favor of a fixed-grip quad. Don't expect the change to alter the mom-and-pop vibe, though. Lookout's 540 skiable acres and 400 inches of average annual snowfall have a tendency to put everyone in a friendly mood, and getting to the slopes is a breeze given Lookout's location just off Interstate 90 on the Idaho-Montana border. Snow may be what brings first-timers to Lookout, but it's the warmth between the runs that keeps them coming back.
Lost Trail Powder Mountain
Sula, Montana • losttrail.com
1,800 vertical feet • 60 runs
You don't need first tracks to find powder at Lost Trail. This particular swath of the Bitterroot Mountains, located roughly 90 miles south of Missoula, gets hit with an average of 325 inches annually, and Lost Trail's 1,800 acres are littered with enough stashes to keep every powderhound happy well after the latest storm has passed. The locals are friendly, the lift lines are short, and for those who truly want to keep the powder turns coming, the yurt at the area's eastern edge offers a chili-dog respite without ever leaving sight of the nirvana that is Chair 4.
Loup Loup Ski Bowl
Okanogan, Washington • skitheloup.com
1,240 vertical feet • 10 runs
Don't let size throw you. Loup Loup Ski Bowl, cut from the forested slopes of Little Buck Mountain in Washington's Cascade Range, has plenty of terrain to challenge beginners and expert riders alike. The nonprofit that operates the 300-acre area is dedicated to educating the public through outdoor recreation — a mission every skier and snowboarder can get behind — and the more than 7 miles of groomed luge trails accessible from Loup Loup's parking lot offer a chance to learn something new about playing in snow.
Mission Ridge
Wenatchee, Washington • missionridge.com
2,250 vertical feet • 36 runs
Encircled by steep chutes and snowy bowls just 12 miles from Wenatchee, Mission Ridge is the type of resort that lives up to its name. Intermediate and advanced riders won't have to look hard for shred-worthy terrain, but neither will beginners, given that Mission Ridge's 2,000 acres include more than a few wide and gentle groomers. History buffs should be on the lookout for the B-24 bomber wing perched on the slope above Bomber Bowl — a remnant of the Liberator, which crashed into the mountain during a training exercise in 1944.
Mount Bachelor
Bend, Oregon • mtbachelor.com
3,365 vertical feet • 101 runs
When it comes to snow, Mount Bachelor has plenty of it — an average of 462 inches a year, to be exact, meaning the season can extend well into spring. Nearly every aspect of the mountain is skiable too, with 4,318 acres of summit descents, snaking groomers, terrain parks and spacious glades surrounded on all sides by the Deschutes National Forest. The town of Bend is just a 22-mile drive away, and along with it a host of cozy lodging options and numerous breweries to post up in for that irreplaceable après-ski refreshment.
Mount Baker
Glacier, Washington • mtbaker.us
1,500 vertical feet • 32 runs
Tucked amid the towering peaks of Mount Baker and Mount Shuksan, Mount Baker Ski Area is an expert rider's dream made real. Craggy faces mingle with steep bowls, and the spaces between lifts contain stashes of out-of-bounds backcountry for thrillseekers looking to take full advantage of the 650 inches of snow that fall here on average each year. Those in the mood for a mellower day will find plenty of groomers to shred on the area's Shuksan side, while three lodges scattered across two base areas give families and friends a chance to reconvene over tales of harrowing descents.
Baldy Mountain Resort
Oliver, British Columbia • skibaldy.com
1,300 vertical feet • 35 runs
Sometimes the view from the top of a chairlift makes you suck in your breath. Baldy Mountain is one of those sometimes, with the Okanagan Valley stretching out to the edge of the horizon. Closer at hand are two mountainsides carved with an intricate network of blue groomers and snowy glades that get hit with an average of 25 feet of snow a year. Three miles of nearby Nordic trails give visitors a chance to venture deeper into the forests of southern British Columbia, and Baldy Mountain's disc golf course remains open year-round for an extra bit of fun.
Mount Hood Meadows
Parkdale, Oregon • skihood.com
2,777 vertical feet • 85 runs
Gazing up at Mount Hood, the first word that usually comes to mind is "gnarly." A 2,150-acre playground blankets the slopes below its summit, promising skiers and snowboarders a smorgasbord of steeps, chutes and winding groomers all topped with an annual average of 430 inches of snow. Gated access allows those with expert skills and backcountry savvy a shot at the cliffs, gullies and glades in Mount Hood's Heather Canyon, Clark Canyon and Private Reserve areas. When you've had enough, curl up with a cold microbrew in one of several on-mountain eateries, or cruise the mere 90 minutes to Portland.
Mount Hood Skibowl
Government Camp, Oregon • skibowl.com
1,500 vertical feet • 69 runs
Diversity is how Mount Hood Skibowl rolls. Families that ride at different paces will find beginner- and intermediate-friendly groomers perched below enough steep descents to quench the powder thirst of any expert skier and snowboarder. Freestylers can jump and grind to their heart's content in the area's terrain parks, and the littlest cruisers can live it up on the tubing hill or inside the heated indoor play zone. Before the day is done, everyone can come together for some final turns down 34 lit runs — one of the country's largest night skiing operations.
Mount Norquay
Banff, Alberta • banffnorquay.com
1,650 vertical feet • 60 runs
One of the Banff area's fabled Big 3, Mount Norquay packs a lot into its modest 190 acres. Wide groomers, treed gullies, heart-racing steeps, all situated underneath a visually stunning ridge of rock in the heart of Banff National Park. For a truly spectacular view, stop into the resort's Cliffhouse Bistro, situated at 6,900 feet, for a cold beer and an upscale lunch.
Mt. Spokane Ski & Snowboard Park
Mead, Washington • mtspokane.com
2,000 vertical feet • 52 runs
Mount Spokane may sit in the heart of a state park, but with downtown Spokane a mere 28 miles away, getting there is a breeze. The area offers skiers and snowboarders 1,425 acres worth of powdery steeps, lazy groomers and terrain parks, as well as five and a half hours for just $23. Wrap the day up with a drink at the Foggy Bottom Lounge, then hop on the mountain's bus for an easy, stress-free ride back to Spokane.
Nakiska
Kananaskis, Alberta • skinakiska.com
2,412 vertical feet • 79 runs
Three decades ago, Nakiska played host to a number of alpine events during the Winter Olympics. These days, though, it's all about glades, with roughly one-third of the resort's 1,021 acres dedicated to a host of treed blues and blacks that are sure to get riders whooping and howling. Long steady groomers occupy Nakiska's lower flanks, while the nearby Kananaskis Village offers a number of spas and dining options to fill up those off-slope hours.
Panorama Mountain
Panorama, British Columbia • panoramaresort.com
4,265 vertical feet • 129 runs
If you're a fan of heart-in-your-throat skiing, Panorama Mountain Resort has just the terrain you're looking for. Half the resort's runs fall squarely in the advanced and expert categories, and all 750 acres of the Taynton Bowl are double-black diamonds. But with a total area of 2,975 acres, there are still ample groomers and snaking cat tracks for riders who prefer a slower pace. Panorama's base village also boasts hot pools, an art gallery and an artisan craft store.
Phoenix
Grand Forks, British Columbia • skiphoenix.com
800 vertical feet • 18 runs
Overseen and operated by the nonprofit Phoenix Mountain Alpine Ski Society, this area keeps alive the community-minded spirit that sets skiing and snowboarding apart from so many other sports. Skiing at Phoenix is a bit like traveling back in time, with a single T-bar ferrying riders to the top of 18 runs and a breathtaking view of south-central British Columbia's Monashee Mountains. This particular cocktail of fun terrain and hometown feel that is what earns ski areas the status of hidden gems.
Red Mountain
Rossland, British Columbia • redresort.com
2,919 vertical feet • 119 runs
When it comes to maximizing terrain, Red Mountain is at the top of the game. Riders can shred all 360 degrees of the resort's Granite Mountain, and nearly as much of neighboring Grey Mountain. Snowcats even offer rides from the top of the latter to the summit of nearby Mount Kirkup, where skiers and snowboarders can cruise down open powder fields or sniff through the trees for fresh tracks. With an average of 300 inches of annual snowfall at Red Mountain, fresh tracks should be easy to find no matter where you turn.
Revelstoke Mountain
Revelstoke, British Columbia • revelstokemountainresort.com
5,620 vertical feet • 75 runs
Set below the imposing spur of Mount Mackenzie, Revelstoke Mountain Resort definitely puts the "stoke" in winter. The groomers and mogul alleys of Revelstoke's lower reaches gradually give way to chutes, cliffs and expert-caliber bowls. An average annual snowfall of more than 34 feet combines with 3,121 acres of lift-accessed terrain, guided backcountry tours and catskiing and heliskiing operations to make for an unforgettable ski season experience. Two different beginner slopes located in the base village ensure that every member of the family has a chance to hone their snowsports game.
Schweitzer Mountain Resort
Sandpoint, Idaho • schweitzer.com
2,400 vertical feet • 99 runs
Schweitzer has been catering to powderhounds in the Idaho Panhandle since the early 1960s, offering up a glut of glades and groomers that now encompass 2,900 skiable acres above Lake Pend Oreille. And the resort still isn't done trying to make winter even better. Schweitzer replaced its classic Snow Ghost chairlift with a high-speed quad and a fixed-grip triple ahead of the 2019-20 season, making it even easier to shred the Outback Bowl. The resort's village is packed full of activities as well, including Saturday morning yoga classes and a complimentary movie theater.
Silver Mountain
Kellogg, Idaho • silvermt.com
2,200 vertical feet • 73 runs
A day at Silver Mountain Resort starts with a gondola ride from a parking lot just off Interstate 90 and quickly escalates to a series of thrilling descents down Kellogg and Wardner peaks. Choose from snaking ridge runs, snowy glades and mogul fields, all of which benefit from an average annual snowfall of 340 inches, then drop in at one of two on-mountain lodges or ride the gondola back down for a dip in the resort's Silver Rapids Indoor Waterpark.
Silver Star Mountain
Vernon, British Columbia • skisilverstar.com
2,500 vertical feet • 132 runs
British Colubmia's third largest ski resort offers an all-in-one experience, with 3,282 acres of shreddable slopes and a quaint, colorful, Western-style village. Silver Star gets an average of nearly 23 feet of crisp, dry champagne powder per season, enhancing the appeal of the black and double-black diamonds that dominate its back side. The village itself is home to enough spas, shops, bistros and pubs to fill every second of a rider's off-slope hours.
Sitzmark Ski Area
Havillah, Washington • skisitzmark.org
650 vertical feet • 10 runs
There's something delightfully retro and unpretentious about Sitzmark Ski Area, nestled on an 80-acre swath of the Okanogan Highlands less than half an hour from the towns of Tonasket and Oroville. This is what skiing was a half-century ago, with its lone double chair, enchanting views and open, snowy faces. It's also what skiing, at its most fun and family-centric, still is.
Snoqualmie Pass
Snoqualmie Pass, Washington • summitatsnoqualmie.com
2,280 vertical feet • 62 runs
Snoqualmie Pass unfolds bit by bit along Interstate 90 — or, rather lift by lift. The ski area, just 54 miles east of Seattle, is split into four distinct sections totalling 1,994 acres and offers a bit of everything for riders of all levels. Experts will certainly want to hit the steeps and chutes at Alpental, while more advanced and intermediate riders will find challenging faces and easy groomers at Summit East. For the complete Snoqualmie experience, take advantage of the extensive night skiing available at both the Summit West and Summit Central areas.
Snowbowl Ski
Missoula, Montana • montanasnowbowl.com
2,600 vertical feet • 42 runs
There's a fierce loyalty to Snowbowl among locals, one that's not hard to understand. The area is just a short 12-mile drive from downtown Missoula, and the bowl below its summit hides stash after stash of untracked powder. Snowbowl's LaVelle Creek chair offers a mix of moguled steeps and open cruisers, and when the hunger builds mid-day, all that stands between riders and a wood-fired pizza in the Snowbowl bar is a steady, picturesque descent down the summit-to-base Paradise run.
Stevens Pass
Skykomish, Washington • stevenspass.com
1,800 vertical feet • 52 runs
Set against a rocky crest in the heart of the Cascades, Stevens Pass has everything skiers and snowboarders spend their winters hunting for. Steep lines, open bowls, rolling groomers and lots of powder. The 1,125-acre resort averages 460 inches of snow a season, and offers night skiing five nights a week. From Stevens Pass' perch between Seattle and Leavenworth, riders will find plenty of lodging options within a couple hours of the slopes.
Sun Valley Resort
Ketchum, Idaho • sunvalley.com
3,400 vertical feet • 100 runs
Sun Valley's slopes are steeped in history. The resort first opened in 1936, less than a year after Austrian Count Felix Schaffgotsch recognized the mountain's potential, and in the decades following it drew celebrities like Marilyn Monroe, Ernest Hemingway and Warren Miller. Today Sun Valley gives riders a chance to shred 2,054 acres on the Sawtooth National Forest, with a mix of gentle groomers and steep bowls. The town of Ketchum sits at the base of Sun Valley's Bald Mountain, ensuring visitors ample lodging choices and world-class après-ski dining.
Sunshine Village
Banff, Alberta • skibanff.com
3,514 vertical feet • 137 runs
Rounding out Banff's Big 3 is a trio of mountains sprawled across the border of Alberta and British Columbia, all under the welcoming name of Sunshine. The resort encompasses 3,358 acres of rolling blues and greens, extreme chutes and basins and the Delirium Freeride Zone between Lookout Mountain and a pair of peaks called the Eagles. Winter dumps an average of 30-plus feet of snow a year on Sunshine's many slopes, and the nearby Sunshine Village is home to plenty of cozy bars, eateries and a gourmet burger joint.
Tamarack
Tamarack, Idaho • tamarackidaho.com
2,800 vertical feet • 45 runs
Perched above the crystal waters of Lake Cascade, Tamarack Resort fuses impressive vistas and breathtaking descents across 1,100 acres of skiable terrain. Riders can enjoy mellow groomers off Tamarack's summit or venture beyond the resort's boundaries for a taste of powder in one of numerous backcountry glades and bowls that feed back to the lifts. The Mile High Cantina is a prime spot to fuel up over tacos and soak in the summit scene.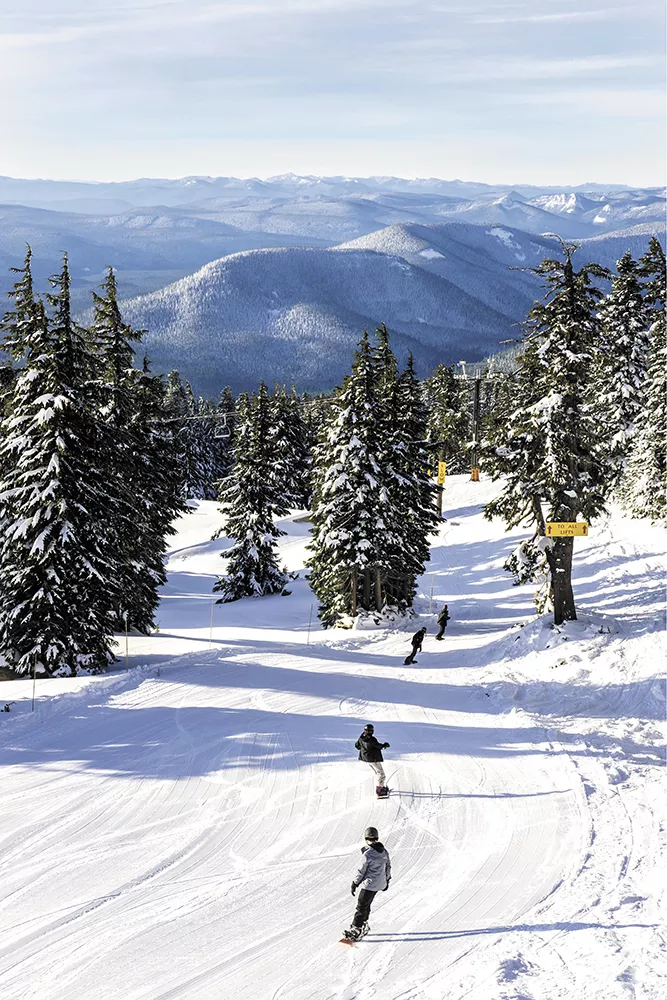 Timberline
Timberline Lodge, Oregon • timberlinelodge.com
3,690 vertical feet • 41 runs
Scheduling is hardly an issue at the iconic Timberline Lodge. The resort operates year-round, though winter is certainly the time to take full advantage of its 1,415 acres. Timberline's upper reaches are open, steep and treeless while further down, terrain parks and groomers weave through Mount Hood's forested flanks. Numerous bars, restaurants and breweries in the surrounding area offer a dizzying array of après-ski options.
Turner Mountain
Libby, Montana • skiturner.com
2,110 vertical feet • 22 runs
One of western Montana's best kept secrets is Turner Mountain, a laid-back community ski area nestled deep in the Kootenai National Forest 22 miles north of Libby. A single chairlift gives skiers and snowboarders access to a veritable winter wonderland, with several gentle blues and a bevy of black diamonds that charge straight down the fall line. It's not unusual to find locals tailgating in the parking lot, and the nonprofit that runs Turner rents the mountain out on any day that it isn't open for the public.
Whistler/Blackcomb
Whistler, British Columbia • whistlerblackcomb.com
5,280 vertical feet • 200+ runs
The possibilities at Whistler/Blackcomb are staggering. Two massive peaks connected by a gondola, 8,171 skiable acres that include 16 bowls and scores of lengthy groomers, and access to an endless sea of backcountry in British Columbia's Garibaldi National Park. Whistler's village isn't so much a village as a town, teeming with shops, restaurants, cultural activities and a lively nightlife.
White Pass
Naches, Washington • skiwhitepass.com
2,050 vertical feet • 45 runs
A family-friendly atmosphere and big mountain descents are what White Pass is all about. The area's 1,402 acres include groomers, glades and steep, treed alleys that get hammered with an average of 400 inches of snow annually. There are 11 miles of nearby Nordic trails for the flatter-track crowd, and White Pass' summit gives riders a stunning view of Mount Rainier.
Whitefish Mountain Resort
Whitefish, Montana • skiwhitefish.com
2,353 vertical feet • 105 runs
From the steep faces of the East Rim to the powderladen Hellroaring Basin, every inch of Whitefish Mountain Resort's 3,000 acres screams weekend shredfest. Winter dumps an average of 320 inches of snow a year on the slopes just west of Glacier National Park, and the resort's corduroy-rich groomers are perfect for laying down fast turns. On-mountain lodging options and the classic Bierstube make for an incredible slopeside weekend, while an adventure into downtown Whitefish mixes ski culture with a true Western vibe.
Whitewater Ski Resort
Nelson, British Columbia • skiwhitewater.com
2,044 vertical feet • 82 runs
Pure, simple and real deep. That's how Whitewater bills its winter offerings, and the resort, located just 20 minutes from Nelson, British Columbia, doesn't disappoint. This mix of groomers, glades, chutes and bowls gets nearly 40 feet of light, dry powder on average a season. Neighboring snowcat and heliskiing operations opens the Selkirk and Purcell mountain ranges to the more adventurous snowsports rabble. And with Nelson's collection of hopping bars, restaurants and nightclubs, the après-ski entertainment is guaranteed to be as abundant at the snow.♦