Best Bloody Mary
PRESS
A Bloody Mary has a few basic components. A tall glass. Ice. Some vodka. From there, the success of the morning favorite relies on several variables, and at Press, the options are plentiful and range from the traditional (olives, celery) to the daring (bacon, pickles, pepperoni!?!). The people love choices, and the people love Press' build-it-yourself Bloody bar every Sunday. (DAN NAILEN)
2nd PLACE: Twigs; 3rd PLACE: Satellite Diner; NORTH IDAHO'S BEST: Curley's at Hauser Junction
---
Best Bowling Center
HUGO'S BOWL
Part of being the best is never resting on one's laurels, and Hugo's Bowl takes that to heart. This winter they've added a trivia night to go with their regular array of tasty cocktails (served right to your lane), yummy grub and specialty nights dedicated to everything from a Dry Fly food-and-drink pairing to participation in "The National Day of the Dude" celebrating The Big Lebowski. (DN)
2nd PLACE: Lilac Lanes; 3rd PLACE: North Bowl; NORTH IDAHO'S BEST: Sunset Bowling Center
---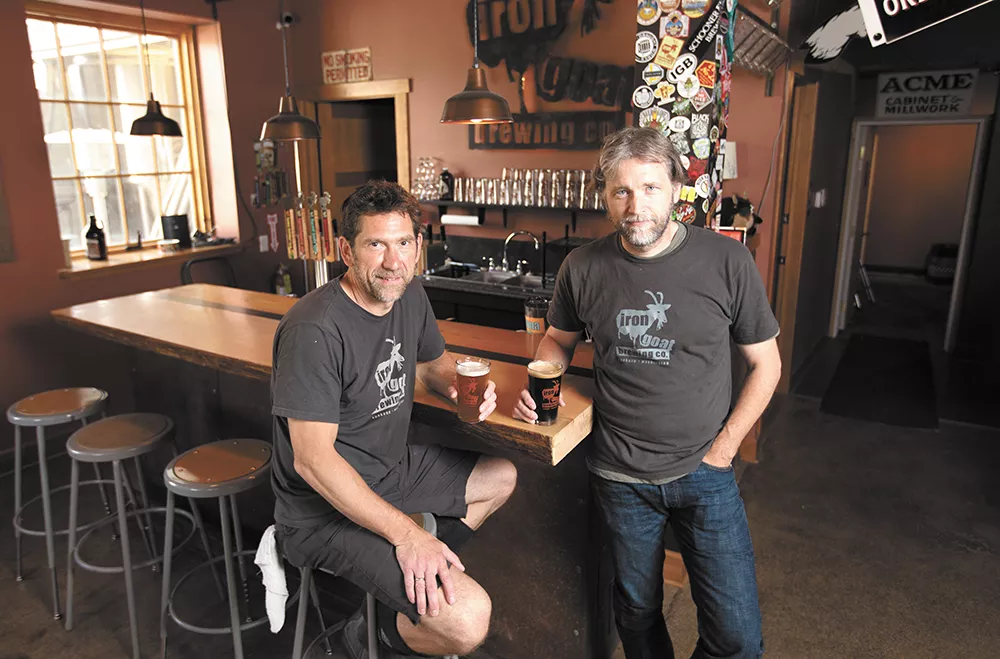 Best Brewery Tasting Room
IRON GOAT BREWING CO.
With Iron Goat moving its tasting room downtown (to 1302 W. Second) in early April, this win is a last hurrah for the funky little spot where the brewery got its start, closing at month's end. Nights tasting the wares or playing trivia in the remote digs make for great memories, but it just wasn't big enough to handle Iron Goat's growth. No doubt people will miss the old tasting room years from now when they're reminiscing from the new one's barstools. (DN)
2nd PLACE: Perry Street Brewing; 3nd PLACE: River City Brewing; NORTH IDAHO'S BEST: Slate Creek Brewing
---
Best Casino
NORTHERN QUEST RESORT & CASINO
When it comes to gaming options, Northern Quest has everything you need, but it just might keep winning this category among readers thanks to all the non-gaming options. From concerts year-round to excellent and diverse food options to cushy rooms, it's an entertainment oasis in Airway Heights for high rollers and neighborhood regulars alike. (DN)
2nd PLACE: Coeur d'Alene Casino Resort; 3rd PLACE: Kootenai River Inn Casino & Spa
---
Best Dance Club
NYNE
If you're unaware of the time when you're hanging at nYne having drinks or watching a game on a weekend night, the eruption of a serious dance party can be jarring. With DJs blending old-school hip-hop, camp classics and current club bangers, the dance floor fills almost instantly at 9 pm on Friday and Saturdays when the first beats drop, and the moving and grooving doesn't stop for hours. (DN)
2nd PLACE: Impulse at Northern Quest Resort & Casino; 3rd PLACE: Irv's; NORTH IDAHO'S BEST: Nashville North
---
Best Happy Hour
ZOLA
Not all Happy Hours are created equal, and our readers say Zola delivers on a higher level than its peers. Any place can offer cheap drinks — and you can find great deals on beer, wine and cocktails here — but few offer scratch-made mac-and-cheese, Kobe beef burgers, pork sliders and other delicacies sure to satisfy the post-workday munchies. (DN)
2nd PLACE: Twigs; 3rd PLACE: Safari Room at the Davenport; NORTH IDAHO'S BEST: Beverly's
---
Best Karaoke
MONTEREY CAFE
When it comes to karaoke, the Monterey Café doesn't play around. In fact, they make it easy, offering the public the microphone every night of the week after 9 pm. They have a massive catalog of tunes, and you can sing along to the words buzzing across no less than nine different screens dotting the place. Throw in regular drink specials and stellar pizza, and there's no reason for Spokane's shower singers to go anywhere else. (DN)
2nd PLACE: The Star Restaurant and Lounge; 3rd PLACE: nYne; NORTH IDAHO'S BEST: The Iron Horse
---
Best Local IPA
NO-LI BORN & RAISED IPA
Possibly Spokane's signature beer, the award-winning No-Li Born & Raised IPA is not just a brew for IPA lovers, it's also the beer they introduce to their more IPA-wary friends. It's hoppy, but not too bitter. It's malty, but just enough. Its blend of flavors seems to always hit the spot, whether it's on tap at your favorite local bar or in a 22-ounce bottle. (WILSON CRISCIONE)
2nd PLACE: Iron Goat Head Butt IPA; 3rd PLACE: River City Riverkeeper IPA; NORTH IDAHO'S BEST: Slate Creek 6 Weight IPA
---
Best New Nightspot (Opened 2015-16)
THE OBSERVATORY
Implied astronomy is not the only reason to stop by one of Spokane's newest haunts (there's actually a telescope behind the bar). There's the garage-band stage, the (relatively) cheap munchies and some serious cocktail know-how. "Their Cuban sandwich may be my favorite in town," says Inlander reader Megan Charles. "And as for drinks, the fresh squeezed juice makes all the difference." (MITCH RYALS)
2nd PLACE: The Globe Bar & Kitchen; 3rd PLACE: Gaslamp
---
Best Pub
MANITO TAP HOUSE
No surprise here. For the fifth year in a row, it's Manito for the win! Killer specials, great food, and a constant rotation of hard-to-find beers. They have 50 handles behind the bar, and professional beer guides to help you choose. Plus, all employees must pass a 45-question beer test. "It is super laid-back, the servers are all excellent and the food is AMAZING," says Inlander reader Lindsey Cantelme. (MR)
2nd PLACE: O'Doherty's; 3rd PLACE (tie): The Elk and Waddell's; NORTH IDAHO'S BEST: Coeur d'Alene Taphouse Unchained
---
Best Whiskey Selection
DURKIN'S LIQUOR BAR
Rye whiskeys, corn whiskeys, single-malts and blends, the selection at Durkin's Liquor Bar knows no ends. They have whiskeys from near and faraway places, and crafty mixers to get it all into your faces. Some whiskeys young, some aged to perfection; about 100 varieties — an agonizing selection. Prices range from a lot to a little; the burgers are tasty if you're in the mood for a nibble. (MR)
2nd PLACE: Volstead Act; 3rd PLACE: Table 13
---
Live Music Venue
All-ages Venue
THE BARTLETT
Since opening its doors two years ago, the locally owned, 150-capacity space has continually pushed to bring in top musical and artistic talent. This year, the Bartlett took best All-ages Venue as well as best Live Music Venue overall, showing just how beloved Karli and Caleb Ingersoll's acoustically sound establishment is in this community. Local music lover Ian Cunningham pointed out: "The Bartlett is doing a great job providing a consistent venue for local, regional and emerging acts. This is what I believe will keep live music going in Spokane." (LAURA JOHNSON)
Live Music Venue 2nd PLACE: Knitting Factory; 3rd PLACE: Zola
All-ages Venue 2nd PLACE: Knitting Factory; 3rd PLACE: The Pin!
---
Best Trivia Night
PRESS
The booming yet jovial voice emanating from the bearded emcee Monday nights at Press is that of Colin Burk. Several times a week, Burk dips into the vast depths of his random pop-culture knowledge for the multiple trivia nights he hosts around town. Expect a music round, a visual round, a general knowledge round and a prize for the best team name. (Big Lebowski puns encouraged.) Trivia night specials include $2 or $3 pints and $3 shots. (MR)
2nd PLACE: Flamin' Joe's; 3rd PLACE: Iron Goat Brewing; NORTH IDAHO'S BEST: The Moose Lounge
---
Best Movie Theater
AMC 20 RIVER PARK SQUARE
In 2015, AMC had shelled out millions of dollars to upgrade the theater's screens, sound systems, concession offerings and, yes, fully reclining seats. So when the Inlander news team went to see The Big Short in January, and ended up in the seats way up front, the reclining seats turned what could have been a neck-bending experience into more of an amusement park thrill ride. Think Star Wars, except with collateralized-debt obligations instead of the Millennium Falcon. (DANIEL WALTERS)
2nd PLACE: The Garland; 3rd PLACE: Magic Lantern; NORTH IDAHO'S BEST: Regal Riverstone 14