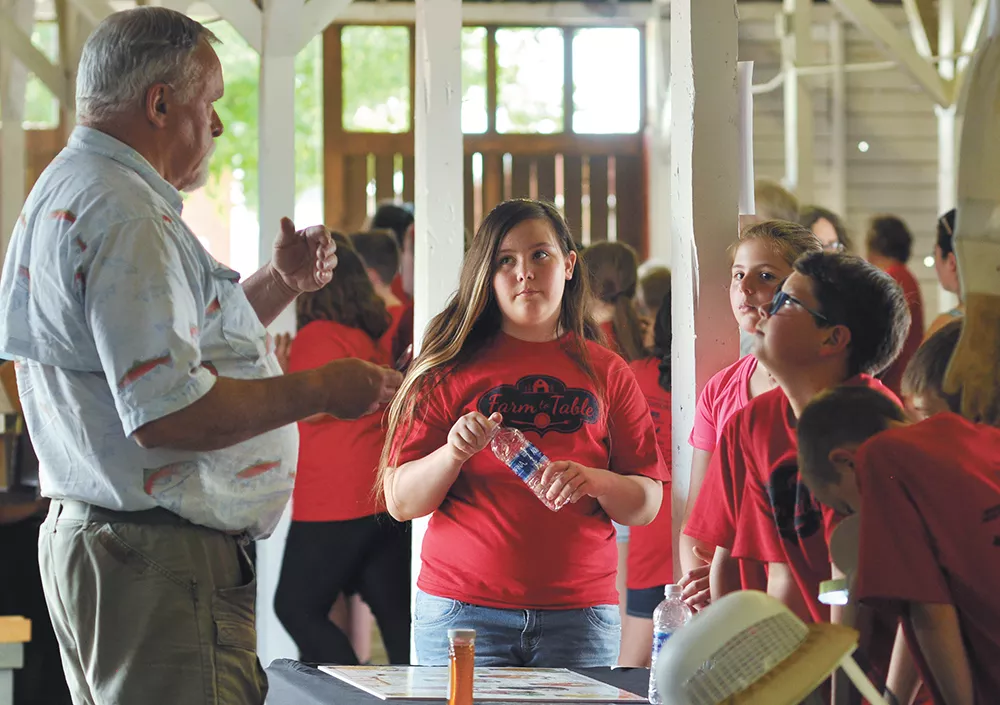 With barely two weeks before school lets out for summer, it's the perfect sunny day for a field trip to the Kootenai County Fairgrounds' annual Farm to Table event.
Until the school buses arrive, though, the only kid on site is a young goat bleating for all to hear. Nearby, cows and sheep join the chorus as industry experts from area farms, ranches and related businesses clad in boots and jeans set up learning stations — 18 in all — about bees, pollinators, soil and water systems, apples, corn, livestock crops, sheep, beef and, of course, goats.
Soon, more than 1,000 area fifth-graders will descend on the fairgrounds for a hands-on day of learning about where their food comes from with volunteers who take time off from producing for and managing the region's food system to participate in the event.
"Either you have it in you [to share your knowledge with kids] or you don't," says the Kootenai County Fairgrounds' board member Linda Rider, who co-founded the program four years ago along with retired educator and longtime horsewoman Joy Crupper.
Rider has it in her to work with kids, and has long been a mentor to students from the University of Idaho Extension and Four-H Club. Like many of her family members, she's involved in ranching and farming. When she joined the fairgrounds, Rider saw an opportunity to develop an interactive, authentic program for regional school-aged kids. In 2016, the Farm to Table event was recognized by the International Association of Fairs and Expos.
Students involved with the event this year include classes from three Coeur d'Alene district schools, including its newest elementary, Northwest Expedition Academy. The students' year-long focus in the classroom has been on Idaho agriculture and making the world sustainable, says Principal Bill Rutherford, a lifelong educator and former executive chef and food service director at North Idaho College.
"Learning about where our food comes from is super important to build schema in kids who have never seen a dairy cow or harvested an egg from a chicken," says Rutherford.
Farm to Table is just one on a growing list of events educating local kids about food, from environmental health and growing food, to personal health and cooking.
The Inland Northwest Food Network, for example, operates its Power of Produce (PoP) club at the Kootenai County Farmers Market's Saturday market in Hayden.
The PoP Club, which is free and last year served 336 kids, teaches children ages 5-12 about growing and preparing food, and provides tokens for participants to spend on produce and food-bearing plants sold at the market.
"Our relationship to food is formed when we are young," says INW Food Network founder and Executive Director Teri McKenzie. "Engaging kids in growing and cooking their own food provides them with critical skills that will support their well-being for a lifetime."
Owner of the Culinary Stone in Coeur d'Alene and former child therapist Sandra Gunn says parents and kids both express an interest in the store's cooking classes. This summer, its staff is hosting two-day cooking camps for beginning, intermediate and advanced levels, as well as an invitation-only master class (more info at culinarystone.com).
"Our classes inspire the children's inner creativity and provide organization skills, team-building and lifelong skills," says Gunn.
In Spokane, Modernist Cooks & Catering regularly hosts themed cooking classes, including sessions for Father's Day, girls' night out, speed dating and more. The upcoming kids' "movie and a meal" class on June 5 teaches how to cook Emperor's New Groove character Kronk's spinach puffs.
Second Harvest food bank in Spokane also hosts cooking and nutrition education sessions for kids in its community teaching kitchen, the Kitchen at Second Harvest, and this summer is hosting two four-day kitchen skills camps for ages 8-12. The first session in late June explores foods from Brazil, Mexico, India and the Middle East.
Second Harvest also offers nutrition classes for adults involved with children's care centers operating outside of regular school hours, such as Head Start, which follows the U.S. Department of Agriculture Child and Adult Care Food Program (CACFP). Similar to the National School Lunch and School Breakfast programs, CACFP outlines government reimbursement for organizations adhering to their guidelines. An ideal meal for children ages 6-12, for example, includes 8 ounces of milk, an additional protein — animal protein, beans, peas, tree nuts, etc. — plus a half cup of vegetables, a quarter cup of fruit and whole grains.
CACFP guidelines reflect the "MyPlate" standards, which the USDA rolled out seven years ago to replace the grain-heavy food pyramid. MyPlate calls for increased fruits and vegetables, balanced and complete proteins, whole grains, and reduced salt, sugar and saturated fats.
Schools can only do so much, however. As they grow, children eventually begin making their own choices about what to eat. Moreover, existing adult populations of all ages experience everything from food insecurity to general confusion about what constitutes healthy eating. In other words, "it takes a village" to educate the village about food and nutrition.
Promising trends include the USDA's Supplemental Nutrition Assistance Program (SNAP), formerly called food stamps, increasing its acceptance at farmers markets, including many across the Inland Northwest.
At Kootenai Farmers Markets, SNAP benefits usage is incentivized with "Double Up Bucks," a collaboration between Kootenai Environmental Alliance and the University of Idaho Extension's "Eat Smart Idaho" program, another organization that offers kids' classes throughout the state. The incentive allows SNAP's electronic benefits transaction users to earn more tokens to redeem towards the purchase of fruits and veggies.
Kootenai Environmental Alliance's involvement in Double Up Bucks strengthens the case that personal health is tied to environmental health, which the INW Food Network's McKenzie agrees with.
"Educating kids about where their food comes is important for a number of reasons, ranging from the personal to the planetary," she says. "In a day and age where so many kids have little-to-no connection to where their food comes from, helping to connect them to it seems like the best gift we could give them."♦