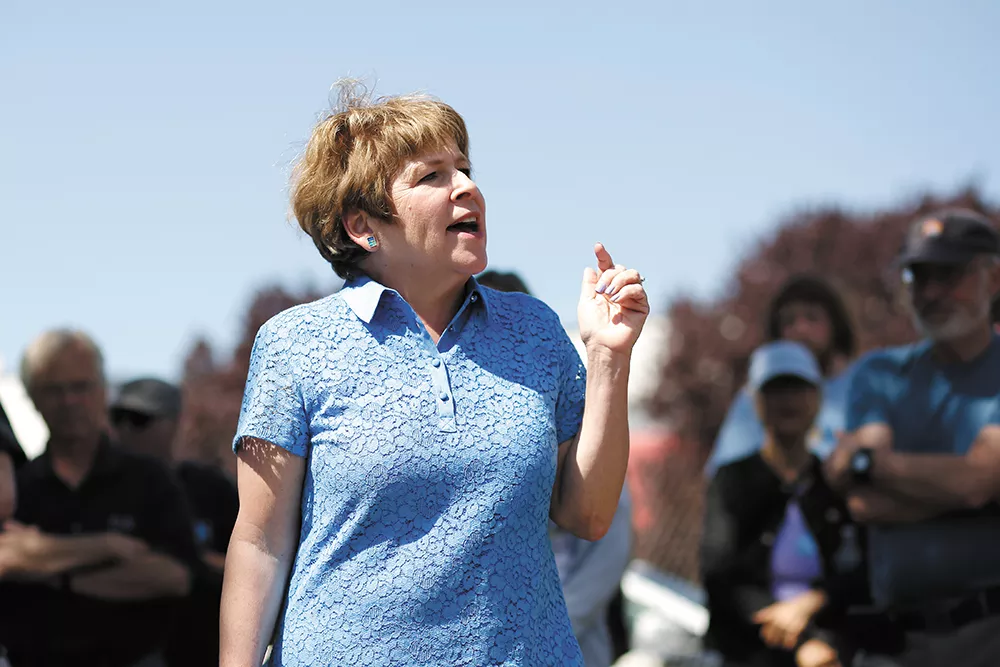 It's only May — there are still six months of campaigning to go — and yet Lisa Brown has already accomplished something that eluded previous challengers who tried to unseat Rep. Cathy McMorris Rodgers: actual hope, backed by polling, that she stands a chance of knocking off the highest-ranking Republican woman in Congress.
Yes, true-blue hope... to say nothing of the money she's raised or attention she's already attracted from the national media predicting a "blue wave" of Democrats in November's midterm elections.
Hope is visible on the faces of a handful of Spokane women who've come out on a Saturday morning in early May to have coffee with Brown at a downtown market. Two of the women, planning to doorbell for her later that afternoon, are already sporting Lisa Brown T-shirts and blue-and-yellow swag emblazoned with her logo.
One of them is Robin Brodt, who shares that she's the mother of a recovering drug addict who only found effective rehab because of the Affordable Care Act. She knows something more must be done about the opioid epidemic.
"It has nothing to do with how much money, or education, or family help you have," Brodt says, holding back tears, as Brown listens intently.
"There's no reason not to have prevention and services throughout our district," Brown replies. "I have a good friend who lost her son to drug addiction. It's so hard."
Later, Meg Curtin Rey-Bear, a mother with children still in school, asks, "What do we do about what has to be one of the most blatant problems? There's week after week of deaths. ... What about gun violence?"
"What I'm hearing throughout the district is that Columbine was almost 20 years ago, and there's been no real action in the federal government," Brown says. "It goes beyond what happens in schools, to self-inflicted gun violence and in other public places."
These women are enthusiastic about Brown's goals to address the costs of higher education, close loopholes in gun background checks, reinstate net neutrality and address immigration policy to provide clarity for people whose futures are up in the air right now.
But there's something else on their minds: These women live in a progressive bubble, and they know it. Most of their friends are Democrats. Their streets are lined with houses that already have Brown's campaign signs in the yards. Ultimately, they're not the people Brown needs to be worried about.
To flip the 5th, Brown will need more than hope and an enthusiastic base. She'll have to appeal to a much broader group of voters — moderates and independents, at least, and probably some conservatives — while at the same time fighting off messages being pushed by the state Republican Party and other conservative groups that she's an "ultra-liberal career politician" who raised taxes and tuition.
Michael Baumgartner, a Republican who served with Brown as a state senator, says Brown is a very competent politician. But he also says that it was her leadership that gave Republicans an opportunity to snatch away the Senate majority in 2012, after she alienated more moderate Democrats by punishing them for straying from the party instead of offering them olive branches.
She also championed an income tax — a position too far left for even liberal Washington state. She not only opposed the initiative that required a two-thirds of the Legislature to raise taxes, she also sued to overturn it.
"None of this is to say that Lisa is a bad person. But I think Lisa is pretty far left," Baumgartner says. "Her challenge is that she frankly has to convince the district that she's more moderate than she truly is in her 20-year record."
But Brown says that her Republican critics distort her more nuanced record.
"It's a selective and distorted perspective that they're putting forward," Brown says. "The capital and transportation budgets that I worked on were almost always bipartisan. ... I also sponsored tax decreases."
For her part, Brown says she's up to the task of building a coalition and that, ultimately, there are plenty of people across the political spectrum who are united in their distaste for Congress.
"We are not going to have as much money as the other side, so we're basically reaching out to voters who are on board but don't always vote, and to independents, and moderates," Brown says. "I think that many Democrats have been motivated by things they consider to be really inappropriate in terms of our president's actions and behaviors and policies. But also what I'm hearing is a desire for more independence across the board."
Brown is quick to point to her work crossing the aisle during the 20 years she served in the Washington State Legislature, when she helped secure investments in Eastern Washington for everything from a second medical school to the central YMCA.
"It is an aspect of my record of accomplishments that's appealing, because I got results," Brown tells the Inlander. "It's a big contrast with what's going on in Congress right now, where even the Farm Bill has become partisan, where it's always been bipartisan before."
Rather than focus on blasting Trump in a district that voted 52 percent in his favor, Brown is also tapping into frustration constituents have directly with McMorris Rodgers on things like health care.
While McMorris Rodgers has repeatedly voted to repeal the ACA, Brown supports the act and points to her time serving as state Senate Majority Leader, when she helped expand access to health care for children, provided help with costs of prescription drugs and improved mental health coverage.
Brown also helped create the Elson S. Floyd College of Medicine, which she supported as a legislator and helped to get running while serving as chancellor at Washington State University Spokane.
There's where Baumgartner offers Brown some praise.
"She was an important and useful ally in the creation of the medical school," Baumgartner says. "I enjoyed working with her."
With major name recognition in the district already, and significant campaign contributions, Brown is stirring up enthusiasm: Polls have put her just a few points behind McMorris Rodgers, national Democrats have listed her race as one of more than 40 they hope to flip from red to blue, and the nonpartisan Cook Political Report downgraded McMorris Rodgers' race from a certain win for Republicans to leaning in their direction.
Brown believes she absolutely has a shot at winning.
"This race will be close, I will make that prediction," Brown says. "I feel very hopeful that I will be in Congress next year representing Eastern Washington because of the frustration people feel with my opponent. They want things to change, and they feel after 14 years they've kind of given her a chance, let's give someone else a chance."
To be certain, Brown faces a huge uphill battle. Ousting an incumbent House member is rare.
McMorris Rodgers has raised a war chest of more than $2.7 million, while Brown has more than $1.2 million. They're nearly equally matched in individual contributions, which total about $1.1 million for each, but McMorris Rodgers also boasts more than $1 million in committee contributions, compared to Brown's $88,000.
"Few things in life are more predictable than the chances of an incumbent member of the U.S. House of Representatives winning re-election," the nonprofit Center for Responsive Politics concludes, alongside a graph showing nearly all incumbents winning re-election for the past 50 years.
Still, multiple polls have put Brown in a better position than any Democratic candidate who's challenged McMorris Rodgers in over a decade.
Brown was within 6 points of McMorris Rodgers in an early April Elway poll, with McMorris Rodgers leading 44 to Brown's 38. The figure is notable, considering she's beat her last few opponents by about 20 points or more.
In fact, the closest a Democrat has come against McMorris Rodgers since she took office in 2004 was Peter Goldmark, who lost his 2006 challenge to her sophomore run by 13 points.
Brown hopes to be different, pointing to her experience in Olympia.
"I have this record of 20-plus years of really accomplishing things, like the medical school, like investments in jobs here," Brown says.
Brown, now 61, first moved to Eastern Washington in her mid-20s and took a job teaching at Eastern Washington University while finishing her Ph.D. in economics from the University of Colorado, Boulder.
In 1992, as a single mom with an infant son, she ran to represent Spokane in the state House and won, staying there until '96, when she ran for state Senate and secured the seat she'd hold until finishing her last term in 2013. Throughout her time in the Legislature, Brown also taught at EWU and Gonzaga University.
In 2005, Brown became the first Democratic woman to be Senate Majority Leader, a position she held until leaving office in 2013. At the time, it was rumored she might run for governor, but instead Brown became chancellor of WSU Spokane. That gave her the chance to return to Spokane for a time and make up her mind about running for higher office.
"I don't think that's typical, to leave politics and go to a university when you're Senate leader," Brown says. "But when you're in the beltway, you're not as much in the community. I really enjoyed it. I got rejuvenated."
Brown says she wants to run in part due to a lack of willingness on the part of Republicans, including McMorris Rodgers, to stand up against the president and their own party.
"I think our congressional leaders are reluctant to criticize the administration," Brown says. "That's part of the underlying issue of why I'm running for Congress, is that idea of speaking out for your district, even if you have to speak out against your political party."
When asked for examples from her time in the Legislature where she stood up against Democrats, Brown points to her work pushing to amend the state constitution to create a rainy-day fund.
"I worked with a Republican leader on the budget side, and we introduced a rainy-day fund for the state," Brown says. "We had to get a two-thirds vote in the Senate and the House, and then a vote of the people, and we successfully created this rainy-day fund that I felt would help stabilize our fiscal situation. And that was not something that my fellow Democrats were initially on board with."
Separately, in 2009, some Democrats pushed a bill that would have limited the anti-union rhetoric companies could force on employees, but leadership, including Brown, killed it after labor groups directly said they expected the legislation in exchange for their financial contributions. She drew fire again from her party in 2011, while working on a reform to the workers' compensation program. Unions didn't want to potentially lower payouts for lifelong injuries, but Brown says the changes were necessary to lower costs for employers.
Brown says she spent a lot of time in Olympia breaking down stereotypes about Eastern and Western Washington.
"One of the things that really bothered me was that people would say Eastern Washington just doesn't get anything from the state budget, Seattle runs the show," Brown says. "I worked really hard to build relationships so that we could make investments here. We wouldn't have the WSU medical school had there not been Democrats and Republicans and legislators from all four corners of the state who ultimately agreed that we needed another medical school."
Her national agenda is ambitious: She's hitting hard on prescription drug costs, calling for Medicare to be able to negotiate better prices. She believes some gun protections passed in Washington state, such as extreme risk protection orders, could be beneficial on a national scale. A deal to reauthorize Deferred Action for Childhood Arrivals (DACA) is necessary, she says, as is a legal path to citizenship for the many others who "are living in the shadows."
"People have a real choice," Brown says of the race. "We're both women, we're both leaders, we both have a record. I think they'll look at those records and say, 'Yeah it's time to give Lisa Brown a chance to do the same thing at the federal level that she did at the state level.'" ♦