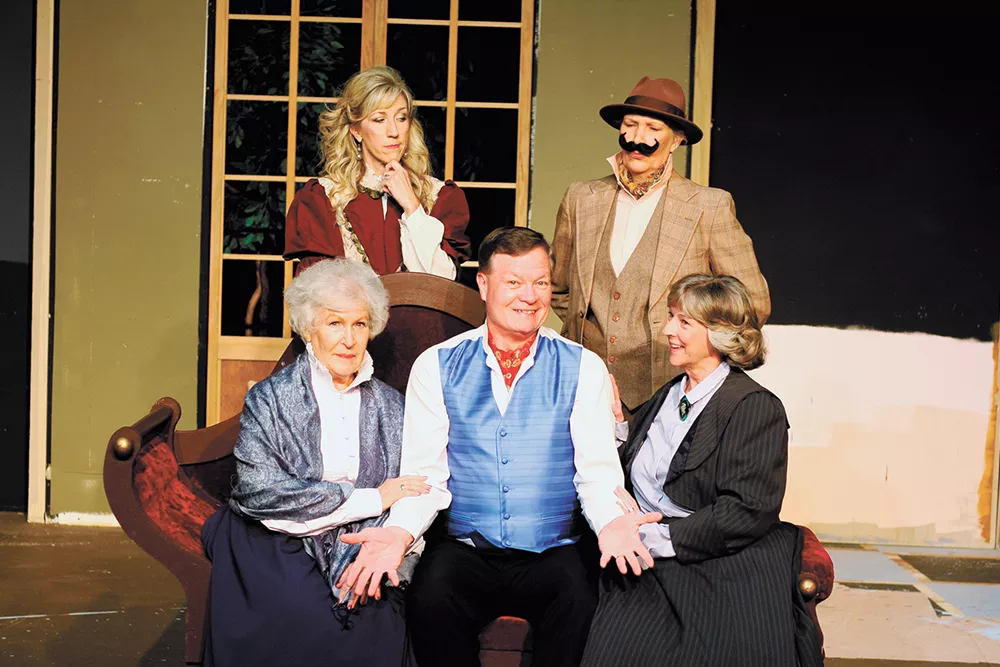 There's a pivotal and rather sinister moment in It's a Wonderful Life when Henry Potter — the warped, frustrated old miser whose life's work is more about crushing souls than accumulating money — makes the point that will soon drive Jimmy Stewart's despairing character to contemplate suicide: "You're worth more dead than alive."
A similarly depressive thought must have occurred to Samuel Clemens, better known as Mark Twain, at a time in his life when he was desperately generating literary output like Pudd'nhead Wilson in an unsuccessful attempt to tiptoe around bankruptcy. Without a burgeoning American film industry to turn to, he instead ran with the idea as the basis for a three-act comedy with the no-frills title Is He Dead?
Written in 1898, Is He Dead? is an invented tale about a real-life painter, Jean-François Millet, who fakes his own death to win the appreciation of art collectors and increase the monetary value of his work. To better curate his posthumous reputation, he dons a dress and impersonates his own twin sister. The play was long absent from the stage until it was revived after more than a century by Twain scholar Shelley Fisher Fishkin.
"He tried to have it produced in London and New York, but something happened — bad timing, bad luck, and this cross-dressing farce conspired to foil Twain's plans, so it was never produced," says Jerry Uppinghouse. "It was put away in the archives, and it wasn't discovered until 2002. And then when it was finally changed to a two-act play, it had its premiere on Broadway in 2007."
Uppinghouse is directing a new production of Is He Dead? for Ignite! Community Theatre. He confesses to "a feeling of intimidation because you're dealing with one of America's greatest humorists," but he's chuffed by the play's relative novelty to local audiences.
"For plays, it's really new. It's only been produced in Spokane once, and that was four or five years ago by Whitworth. It's been done three times on the west side, but this will be the first time for a community theater in Spokane, which we're very excited about. After reading it, especially about the fifth time, I couldn't stop laughing. It's just hilarious."
Dan Griffith, recently in 12 Angry Jurors at Ignite!, is playing Millet and his absurd alter ego, the widow Daisy Tillou.
"We are very definitely in farce territory," he laughs. "Mark Twain based [my character] on the famous French painter who did The Gleaners and The Angelus. I am the prototypical struggling artist. I'm in debt to a guy and ready to end it all. And then my friends come up with a plan to save me by having me die."
Uppinghouse says he hand-picked Griffith and other members of the cast — which includes Troy Heppner, Steve and Tricia Petrinovich, C.J. Pieroni, Pat Marvel and Scott Finlayson, among others — on the basis of their ability to play Twain's material straight.
"When it came to casting, I needed veteran actors, because this play, like all comedy, requires timing, and Mark Twain's philosophy about humor is that he doesn't think a rubber chicken is funny. He thinks that humor is serious and has to be delivered seriously in order to be accepted as funny," he says.
"It's a huge challenge to play both a man and a woman onstage and to make them both credible," says Griffith. He credits the collective talents of the ensemble, Uppinghouse's direction and Twain's writing with making the challenge more manageable.
"A lot of the characters are easy to play. Bigger than life. Because that's the way he wrote them. Like the three friends that I have, who are my students. One of them is nicknamed 'Chicago.' He's American. One of the others is O'Shaughnessy. He's definitely Irish. And then the other one is 'Dutchy,' and he's German," he says, noting that their exaggerated personalities are also augmented by "the physicality, the movement" of the performance.
Though it might have originated in a somber thought, Is He Dead? is unapologetically light entertainment, something this production will embrace wholeheartedly.
"Entertainment is worthy unto itself," Griffith says. "This show will have people leaving smiling, and I think that's worth an awful lot."
"'Humor is mankind's greatest blessing,'" adds Uppinghouse, quoting Twain himself. "I don't know what the world would be if we couldn't laugh." ♦
Is He Dead? • June 8-24; Fri-Sat at 7:30 pm, Sun at 2 pm • $15 • Ignite! Community Theatre • 10814 E. Broadway Ave., Spokane Valley • igniteonbroadway.org • 795-0004