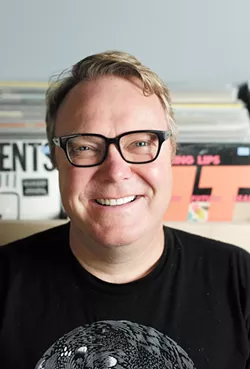 As the flanged guitar of Ween's "Spinal Meningitis" blares over the speakers at Total Trash Records & Vintage, JJ Wandler and Travis Harris are busy installing a system of waist-high plywood bins. Newly constructed last night, they're now chock-full of hundreds, perhaps thousands, of 12-inch LPs.
A point-of-sale system sits atop a glass display case/check-out counter, empty but for a short stack of custom rectangular decals. Faded Billy Squier, Motley Crüe and Heart T-shirts mingle with Renaissance faire-worthy tunics and a half-dozen pairs of leather shit-kickers with the patina of decades past.
The ambience of the joint, formerly a hair salon, screams "under construction," but a printout of store hours is taped to the corner entrance and a logo, featuring the iconic black donut of a vinyl record, graces the building's candy-apple red facade.
"We're off to a slow start, by design," says Wandler, 47, sporting an Afghan Whigs tee.
As the Giant, played by Carel Struycken, mysteriously pronounces in David Lynch's Twin Peaks (Wandler and Harris are mutually obsessed fans of the show and its director), "It is happening again."
Total Trash, namesake of the itchy Sonic Youth rock anthem, rises from the ashes of Garageland, Wandler's first foray into the world of wax. Garageland (230 W. Riverside) carries on as a pub-grub eatery under new ownership, and Wandler describes the demise of its record inventory as "a long, sordid tale," one that coincided with the end of his marriage and a health scare.
"I ended up with shingles because of the stress," he says, ultimately deciding to send about $80,000 worth of records into hibernation in his garage. Most, under Harris' direction, have since re-emerged for sale on the online music marketplace Discogs, and (at a discount) in the bins of Total Trash Records & Vintage."I'm a very important piece of the puzzle," Harris, 27, says with a smirk. With an encyclopedic grasp of rock 'n' roll lore, he became something of a fixture at Garageland, investing much of each paycheck into a burgeoning record collection and consequently impressing Wandler, a fellow traveler of eclectic and arcane counterculture byways.
"He knew the records, he knew the movies. He had a background working at Goodwill so I knew he was up for abuse," Wandler says. Harris is now known as "Mr. Manager," an allusion to the sitcom Arrested Development, and is, in many regards, Wandler's right-hand man in the new venture. "I hired my best customer," he says with a chuckle. "He calls me boss/friend."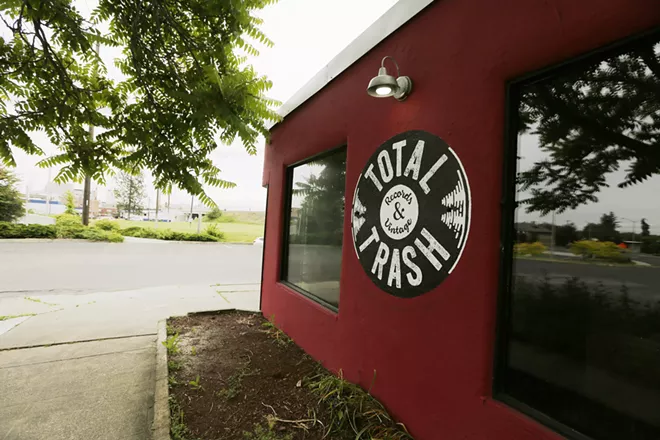 The gritty hardcore sound of the punk band Pissed Jeans is now tearing through the speakers. A despondent young man walks in and asks Wandler if he can buy the bicycle parked outside. He has $10. Needless to say, he leaves empty-handed.
Wandler envisions Total Trash Records & Vintage, perched on the eastern edge of suburban Browne's Addition with periscopic views of Spokane's blossoming west end, as a kind of nexus "where you can come and experience art and music," adding with a grin, "and you can purchase it, too."
"We'll even trade records, as long as people bring the cool stuff in," he says.
Wandler also plans to invite local bands for Saturday afternoon matinee shows (dream-pop duo Newman played a "Grand Opening weekend" set last month) and to host a revolving door of visual artists from LauraLee White's multidisciplinary collective La Resistance for each First Friday. And later this summer, his friend Scott Kellogg, a member of local "weird rock" outfit Motherload, will open a hi-fi audio equipment store out of an adjacent space.
It's a place, Harris hopes, where outcasts can "feel at home," an alternative to the "cold and detached" fast food-style of internet crate-digging popularized by streaming services like Spotify, the convenience of which Wandler and Harris acknowledge is undeniable; a place not unlike the beloved but defunct neighborhood shops of yore, say Minneapolis' Oar Folkjokeopus or New York City's Other Music.
Box sets by the recluse Jandek and the Flaming Lips rub shoulders with cult classics by Big Star and A Tribe Called Quest. Television's Marquee Moon, Kendrick Lamar's lauded opus DAMN., Let It Be by the Replacements, Angelo Badalamenti's Twin Peaks score — it's all here, even a long out-of-print release by obscure SoCal group Sin34 from Wandler's own reissue label, Sinister Torch Records.
"The best way to lose a bunch of money is to start a record label," he deadpans.
Wandler credits a student exchange visit to the Soviet Union ("at the very beginning of détente," he notes) for a shift in consciousness that opened his mind to alternative modes of thought and art and, most explicitly, rock.
"I suddenly realized, the government lied to me," he says, flabbergasted. "This wasn't an evil empire of automatons; it was a bunch of human beings. I sat down at the age of 14 across the table from other young people and the discussion was about how our governments were the problem and we were just people that wanted to talk with each other, and we just wanted to get along."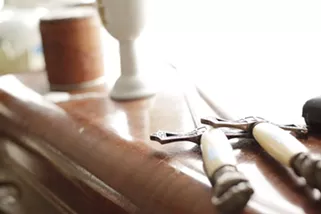 To a boy from Wenatchee, it was revelatory.
"That planted the punk-rock seed, I guess," says Wandler. "This anti-authoritarian, anti-government, anti-whatever-they're-spoon-feeding-you type of attitude. It was the first time I had seen a mohawk in person."
His later discovery of California punk trio Minutemen, particularly their third studio album Double Nickels on the Dime, was visceral; the drawing of an anchor, which graces the B-side label of the first record therein, is now tattooed on his arm.
"The message is still there in that music," says Wandler. "Here's the soundtrack to your rebellion."
Total Trash Records & Vintage • 1601 W. Pacific Ave. • facebook.com/totaltrashinspokane • 217-8672 • Open every Tuesday through Saturday, 11 am-6 pm


---
Wandler is also the brainchild behind the Spokane Record Expo, a semi-annual gathering of record vendors from around the Pacific Northwest converging on the Lilac City with caravans of used and new wax to benefit KYRS Thin Air Community Radio. It returns to the Community Building at 35 W. Main on Sat, June 9, from 10 am-4 pm. Admission is just $2, though eager collectors can pay $10 for early admission at 9 am.