Chris Stapleton is the big name on the ticket for the All American Road Show, and for good reason. The bearded frontman has managed to take old-school country songs and turn them into modern commercial gold. He's sold millions of albums and won awards by the armful in the years since breaking through with his 2015 album Traveller. And he's done it in an environment that tends to reward bro-country and slick twang-pop more than traditional sounds, making Stapleton's success all the more impressive.
When Stapleton takes the stage at Spokane Arena next week, he'll be the headliner, but he won't be the elder statesman on the bill. And no matter how successful or long a career Stapleton enjoys from here on out, it's hard to imagine it matching that of one of his openers, Marty Stuart.
The 59-year-old Stuart has blended traditional country, rockabilly and honky-tonk for years, earning Grammy Awards and a dedicated following. And between his collaborations with virtually everyone in Nashville, his hosting a long-running country-themed TV show and his incredible collection of music memorabilia, Stuart's become the unofficial historian of country music, even as he keeps performing and recording excellent music like his latest album, Way Out West.
As such, he has a great perspective on the Chris Stapleton phenomenon.
"I think his authenticity is what's speaking to everybody," Stuart says. "In Nashville, they always say, 'It all begins with the song.' The song that introduced Chris to the world, 'Tennessee Whiskey,' it was a good song 40 years ago, it was a good song when George Jones cut it, it was good when David Allen Coe cut it. But Chris introduced it in a way where the whole world got behind it, and that's beautiful. He's a song man.
"He's flying the flag for the entire culture of country music right now, and he's doing it in a very real way. It's him and three guys on stage. And he's delivering, it's not bells and whistles. It's not bullshit country music, it's not anything other than true, authentic music coming from his heart and soul."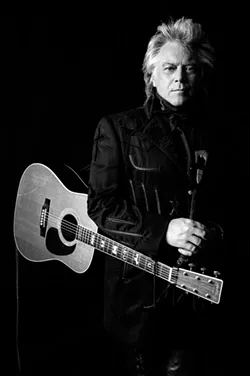 T
hat's why Stuart says he and
his longtime band the Fabulous Superlatives are happy to saddle up and hit the road for an arena tour where most fans will have no idea who they are, "playing to a lot of kids who have never heard country music before. They just know Chris Stapleton is
the guy
."
It's exciting for an old pro like Stuart who's played venues large and small, a challenge that "don't scare me because I lived through that when I was in Lester Flatts' band, and I lived through that when I was in Johnny Cash's band."
Yes, you read that correctly.Stuart had stints in country legends Flatts' and Cash's bands well before he launched his own solo career. In fact, he's as well known for his personal biography than his music. Consider this: Not only was Stuart a member of Cash's band for five years, he was married to one of Cash's daughters for a spell, he took the last photo of the Man in Black before he died and he co-wrote the last tune Cash ever penned ("Hangman"). He was "family" to soul legends the Staples Singers, was adopted into the Lakota Sioux nation, and his collection of music memorabilia is such that organizations like the Country Music Hall of Fame and the Rock and Roll Hall of Fame hit him up to borrow objects for their shows.
What shouldn't get lost among all the interesting tidbits of Stuart's personal biography — and a few minutes spent clicking the "history" menu on martystuart.net is time well spent — is his incredible facility with all manner of country music. He's a hell of a "song man" himself, and performing and writing has been part of his life since he first played Buck Owens' "Tiger by the Tail" as a 9-year-old growing up in Philadelphia, Mississippi.
Stuart comes full circle a bit to that early cover of a "Bakersfield sound" classic with his 2017 album, Way Out West. After recording 156 episodes of The Marty Stuart Show, "a very traditional country, Nashville-centric" kind of TV show, Stuart says he felt it was time for him and his band to push themselves in a new direction and "put our hearts on the line."
"We talked about what inspired us that came out of the West," Stuart says. "We talked about the Byrds, and go-go boots, The Munsters, cool cars, go-go girls. We just kept riffing on all these things, and it sort of became a love letter to the West, and the Mojave (Desert). I didn't want to do a Bakersfield record; that's been done to death. I didn't want to do a tribute to Buck (Owens) and Merle (Haggard). I said, 'Let's go to the Mojave Desert and make it a psychedelic trip through the desert, the spirit world.'"
The result is a wide-ranging album that touches on everything from classic campfire sing-alongs (a la Marty Robbins) to Beach Boys harmonies to border-radio rock stompers, all produced by Mike Campbell of Tom Petty's Heartbreakers. It's an album that should thrill fans of the Byrds' 1968 pioneering rock-country mashup Sweetheart of the Rodeo, which makes some sense as Stuart was heavily influenced by that album as a kid — and he's about to hit the road with the Byrds' Chris Hillman and Roger McGuinn to showcase that record for its 50th birthday.
Just another amazing chapter in a country career that's been very good to Stuart, just as he's been very good to country music.
"I've said it 100 times: Whether you get on [country music] by way of Florida Georgia Line, or you get on by the way of Jimmie Rodgers and the Carter Family, just get on and start looking around," Stuart says, with evangelistic zeal. "You will plunder through some stuff that's not going to matter to you, but you will also come heart-to-heart, face-to-face, with a lot of things that inspire you, inform you, and have the power to change your life and enrich your life.
"That's what the world of country music is." ♦
Chris Stapleton with Marty Stuart and Brent Cobb • Thu, July 19 at 7 pm • $40/$50/$80 • Spokane Arena • 720 W. Mallon Ave. • spokanearena.com • 279-7000
Five songs to prep you for the All American Road Show
Chris Stapleton, "Tennessee Whiskey"

Marty Stuart, "Way Out West"

Brent Cobb, "Ain't a Road Too Long"

Chris Stapleton, "Broken Halos"

Marty Stuart, "Hillbilly Rock"