It's a typical summer evening at the Wednesday Kootenai Farmers Market, and kids are salivating over sweet kettle corn, buzzing around the taco truck and licking their fingers at Lucid Roots' booth, where Dani Lundquist and her partner, Lucas Cole, can barely keep up with offering samples. Why are the hungry herd of kids so enthralled, one wonders? Would you believe it's because of salad?
Believe it.
Lundquist has gained a following for infinitely nutritious salads that are infinitely likeable. She promotes and completes orders via Facebook and sells direct at both the Wednesday and Saturday Kootenai Farmers Markets, as well as Gaiwan Teahouse, Fine Brewed Coffee and Downdraft Brewing.
Her Aloha bowl, for example, is extremely popular: roasted beet poké, carrots, purple cabbage, sushi rice, kale, house-made furikake — a common Japanese seasoning with sesame seed, seaweed and dried fish — hibiscus-pickled red onion, edamame, green onions, cilantro and ginger sesame dressing.
"Most of my inspiration comes from my travels," says Lundquist, who moved to Los Angeles a few months after graduating from high school to begin what would become several years of modeling internationally.
So, the Mediterranean bowl — roasted beet hummus and quinoa tabbouleh — and the Okinawa bowl — carrot jicama slaw, cucumbers, cabbage — are from gigs in the Middle East and Japan, respectively.
The Aloha bowl, however, is from a different kind of travel, explains Lundquist. In 2016, she and Cole spent a year-and-a-half on Hana Farm, a remote Maui organic outfit where one of Lundquist's jobs was to cook for the staff of 20.
Turns out, not only did she have a knack for cooking, but the improvisational quality of seasonal cooking really resonated with her and became her staple approach.
Lundquist uses all organic produce in her salads — she rotates through four types — and juices, as well as in her catering. Come fall, Lundquist will begin offering soups.
Her dressings are one key to her success. She designed them to enhance, not cover, the ingredients in the salad, says Lundquist, whose most recent collaboration with the Inland Northwest Food Network was teaching a class for their Seasonal Cooking series about infused oils and vinegars. Two years ago, Lundquist taught a class about essential fats, including ghee, lard and avocado oil.
Another key to Lundquist's success is her marketing savvy. When she launched her first product — granola — in 2014, she says she realized her approach needed retooling, so she came back the next year, finding her sweet spot with salads. When she had leftover salads on market days, she dropped by local salons, reasoning that it's harder for some people to get away and get lunch than others. Now Lundquist offers local delivery and has embarked on a new facet of Lucid Roots' business: growing her own produce to use in her products.
Not bad for a gal who freely admits she didn't know spinach was a leaf until she moved to Los Angeles.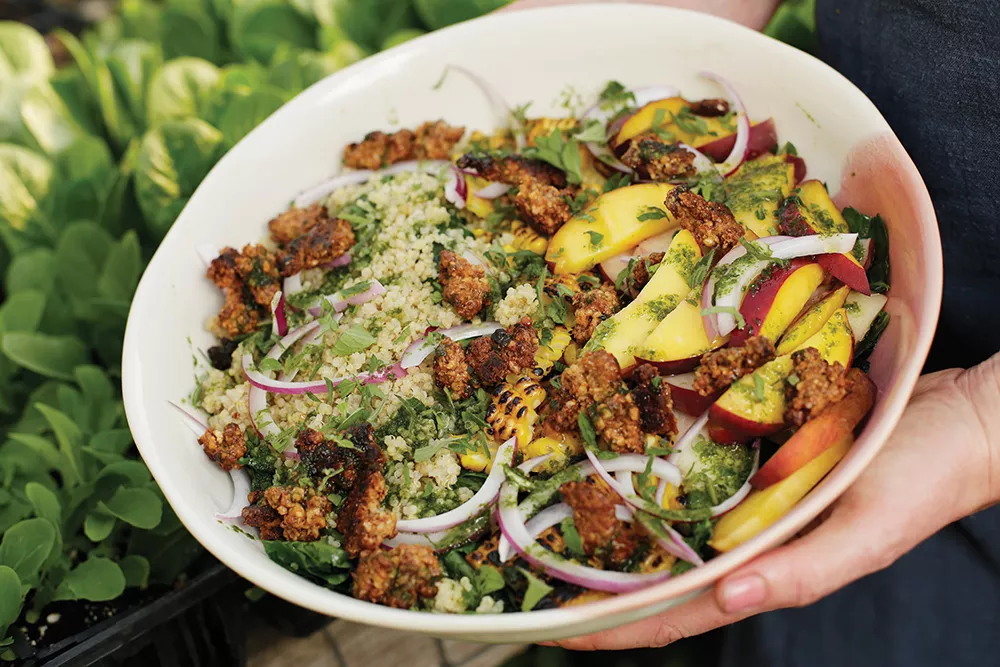 TRY IT FOR YOURSELF
Charred Corn and Peach Salad with Walnut-Date Clusters
Everyone can find something to like in this beautiful salad that's teeming with nutritional value. Although vegan and gluten-free, you get protein in the walnuts, lots of vitamins in the fruits and vegetables and just the right balance of sweetness to make this a new family favorite. This recipe will serve four as a side salad, two as a main dish.
Salad
2 ears corn, shucked

8 cups kale (washed, dried, de-stemmed

and ripped into bite-size pieces)

2 tablespoons olive oil

1 tablespoon lemon juice

1/4 teaspoon salt

1 cup cooked quinoa, cooled

2 peaches, cut into thin wedges

1/4 of a red onion, thinly sliced

1/2 cup mint, chopped

Salt and pepper as needed

Dry roast corn on grill or in broiler, turning to get all sides.

Once cool enough to handle, stand corn on end and slice corn off the cob.

Prepare kale by pouring olive oil, lemon juice and salt over leaves and massage in to break down leaves and remove kale's bitter taste.

Lay kale on platter, pile with quinoa, peaches, red onion, corn and mint.

Top with walnut-date clusters and drizzle with additional dressing and adjust seasoning as needed.

Walnut-date clusters
1 cup dates

1 cup walnuts

2 tablespoons agave, honey or maple syrup

Preheat oven to 325 degrees.

Put dates, walnuts and syrup into a food processor and process until the mixture forms a ball and starts to pull away from the sides.

On a parchment paper-lined cookie sheet, break the mixture into clusters about the size of a nickel.

Bake for 12 minutes, or until golden brown.

The clusters will harden as they cool.

Basil Oil Dressing

1 cup packed basil

1 cup olive oil

5 cloves garlic

1/4 teaspoon salt

Mix in blender on high until it turns bright green. Set aside.